The Canadian Sunday Briefing: Adam Levy Wins the Double Deuce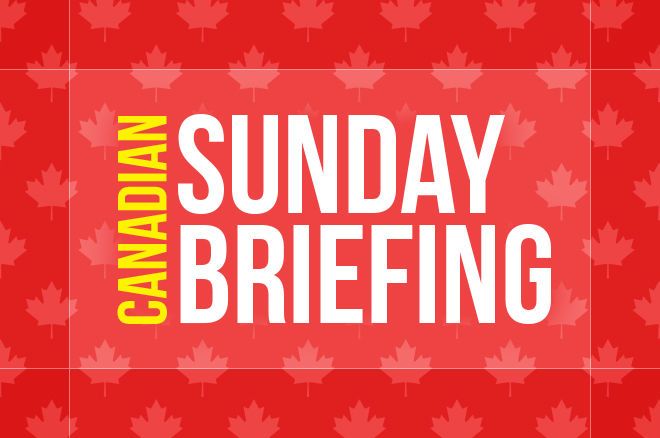 Every Sunday, millions of dollars are paid out to poker players around the world when sites like 888poker and PokerStars host the week's biggest and best online tournaments. Each week, we take a look at how players from Canada fared in the Sunday majors.
This Sunday, June 17, 2018, Adam "Roothlus" Levy from Vancouver, B.C. was Canada's big winner, when he took down the the new Double Deuce tournament on PokerStars. Levy plowed through the field of 5,767 to win the $22 event for $16,399.41. Here's the full report on major Canadian results from this Sunday:
Sunday Majors on 888poker
The $75,000 Sunday Mega Deep
The usual premier Sunday tournament on 888poker boasted a guarantee of $75,000 this week for a $215 buy-in. This week saw 273 entries with 124 rebuys creating a total prize pool of $79,400.
One Canadian made the final nine this week. "RedPantRed" managed to get sixth place, worth $3,176 while the winner of the tournament was "josetecrazy" of the United Kingdom who won $15,483 in top spot.
The $50,000 Whale
The Whale is 888poker's high-roller tournament of the day with a buy-in of $1,050 along with a $50,000 guarantee. This tournament saw a total of 47 entries with 20 rebuys to create a total prize pool of $67,000.
No maple leafs managed to find a final table spot this week. The win went to Russian player "sweet_dr34ms" worth $24,790.
Sunday Majors on PokerStars
Sunday Marathon
The biggest tournaments of the day get started on PokerStars every week with the $55 Sunday Marathon featuring a $100,000 prize pool guarantee. This week's edition had 2,130 entries creating a prize pool worth $106,500.
No Canadians managed to build a final nine stack this week. Victor Gomes "flipmm" de Castro of Brazil was the last player standing, and he took home $15,124.76 for the win.
Sunday Warm-Up
The $215 Sunday Warm-Up heats up the action with a $175,000 guarantee. After late registration there were a total of 926 who bought into the tournament to create a total prize pool of $185,200.
None of the final nine this week were flying the maple leaf. "jobetzu" from Finland took the victory, collecting $30.345.69.
Double Deuce
The Double Deuce is a turbo event, starting at 22 minutes after the hour, where players get 22,000 chips for $22, and play for a guaranteed prize pool of $100,000. This week, 5,767 entries were recorded for a total prize pool of $115,340.
Only one Canadian flag showed in the final nine, but it was right at the top. Adam "Roothlus" Levy from Vancouver, BC took down the entire thing for a score of $16,399.41
Sunday Storm
Moving on to the lowest-priced tournament that could be considered a Sunday major, the $11 Sunday Storm is the best value you'll find in online poker. Despite the tiny buy-in, the prize pool is set at a guaranteed $200,000. The tournament this week saw 19,423 players enter, meaning the prize pool never got larger than $200,000.
Canadians were unable to Storm this final table. German player "Champ3001" took down first place worth $17,775.93 after a heads up deal.
Sunday High Roller
The highest-priced regular Sunday major on PokerStars is the Sunday High Roller with a hefty buy-in of $2,100 and guaranteeing $100,000 in prizes. With 66 entries this week, the total prize pool ended up at $132,000.
One Canadian made the High Roller final table this week. "YRWTHMELTHR" managed an eighth place finish worth $4,8490, which was a minimum cash in this event. "Kesjan" from Finland took the maximum cash, worth $41,015.62 for the win.
Sunday Million
This is the most coveted online poker tournament in the world with a buy-in of just $215 but a $1,000,000 guarantee. This time around, entries came to 4,915 to create a total prize pool of $1,000,000.
Canada couldn't manage to find a spot in the final nine for this one. The win, worth $110,171.59 went to "F.mca777" from the Germany when the final three players agreed to a deal.
Mini Sunday Million
Giving the Sunday Million feel for a tenth of the buy-in is the weekly Mini Sunday Million where the buy-in is $22 with a $150,000 guaranteed. This time around there were a total of 7,886 entries to create a total of $157,720 up for grabs.
No Canadians were able to find a spot at the final table this weer. The player with all the chips at the end was Eduardo "SAFADA1" Fay from Brazil, worth $19,970.35.
Sunday 500
With a buy-in of $530, the Sunday 500 guarantees $100,000. A total of 246 entries beat the guarantee, coming in at $123,000 to play for.
Canada was blanked at this final table this week. The winner was Johannes "Greenstone25" Korsar from Sweden who pocketed $20,644.86 for the victory after a heads up deal.
Sunday Supersonic
The Sunday majors conclude on PokerStars with the $215 Sunday Supersonic — a six-max hyper-speed tournament with a $125,000 guarantee. This week a total of 586 entries pressed their luck for a prize pool that stayed at the $125,000 guarantee.
No Canadians made the final table this week. The winner was "P0KERPR02.0" from Germany, collecting $22,057.91.
That's our report of Canadian results in this week's Sunday majors. If you don't already have an account on each of these sites, make sure you download through our links and use our bonus codes to take advantage of the best promotions you can find. Good luck; see you in next week's headlines!