2018 WSOP Main Event Day 5: Dyer Races to Big Lead Before Power Outage

Mo Nuwwarah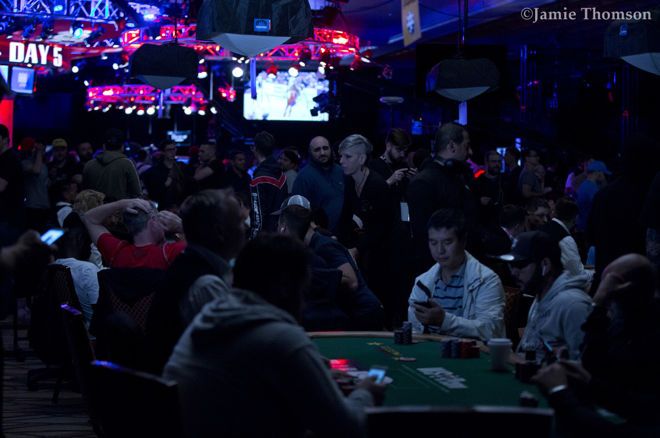 Poker isn't known for being an activity that's affected by the elements, but the weather came into play on Day 5 of the 2018 World Series of Poker Main Event.
A storm hit Las Vegas, with the first serious rainfall of the summer arriving along with howling winds. The Rio All-Suite Hotel & Casino took the hit hard. Power died in the event center and emergency lighting activated about an hour before players were scheduled to bag.
Tournament supervisors announced there would be a 10-minute break while they figured out how to react to the situation. Although the lights came on just as the 10 minutes were up, the supervisors announced everyone was bagging up in the Main and they'd return as scheduled for Day 6 at 11 a.m. Tuesday, July 10.
That means 109 players still remain after finishing out their final hands of the night in darkness. Foremost among them in terms of chip count is Michael Dyer. The Houston native finished with 12,180,000 to give him a wide lead over second-place Brian Yoon — the two-time bracelet winner bagged 8,395,000.
"It was pretty swingy early on, but then I moved to the feature table and just skyrocketed," Dyer said when asked about his day."
The key hand occurred there on the stream, during the last level that fully played out, 25,000/50,000/5,000. Cliff "JohnnyBax" Josephy opened for 110,000 under the gun, Dyer three-bet to 315,000 with ace-king suited and Josephy made it 815,000. Dyer shoved, barely covering Josephy's 3.8 million, and the former November Niner called it off with kings. Everything ran out clean for him until an ace hit the river.
"It's a trap hand," Dyer said. "He has so many chips that he can have whatever he wants to have. He had a really good hand, so I got lucky so that just happens sometimes. I just play hands. Whatever happens, happens."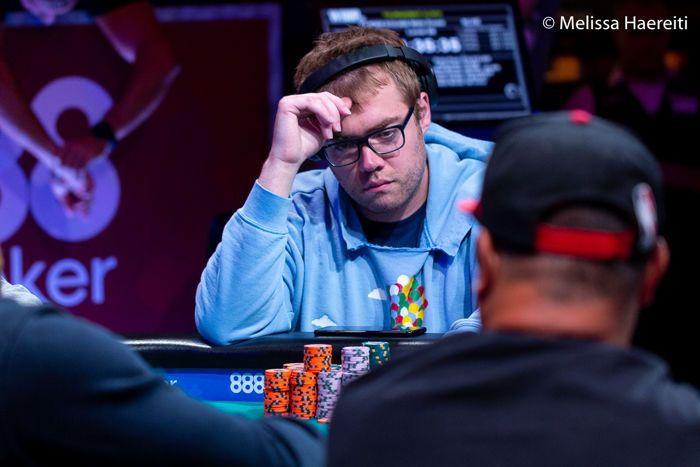 Some other players still toting above-average stacks include Bart Lybaert (7,530,000), start-of-day leader Barry Hutter (5,695,000), two-time bracelet winner Eric Froehlich (5,365,000) and high roller regular Ivan Luca (4,580,000).
Notable eliminations among the 200 or so who went down on Day 5 included Jake Schindler, 888poker Ambassador Chris Moorman, Ben Yu, Paul Volpe, Antonio Esfandiari and Brian Altman.
Three notable storylines still remain in play heading into Day 6. While several women had pulses coming into the day, Kelly Minkin remains alone among a sea of male competitors.
"It means a lot to me," she said of the distinction. "All the women who were deep in the Main Event were amazing as well. I busted a few of them in the previous days, and it doesn't feel good because I'd like to see as many women as possible go deep in the Main, but it feels amazing to do it again."
Minkin finished 29th in 2015.
She had heaps early on after making some big hands but after peaking around 5 million, slid slowly from there until she bagged just 1,205,000.
"I definitely lost a lot of steam coming into the feature table and made a bunch of mistakes, so I'm really excited that we're bagging early," she said. "It means I can get a full night's rest and come back tomorrow and bag heaps."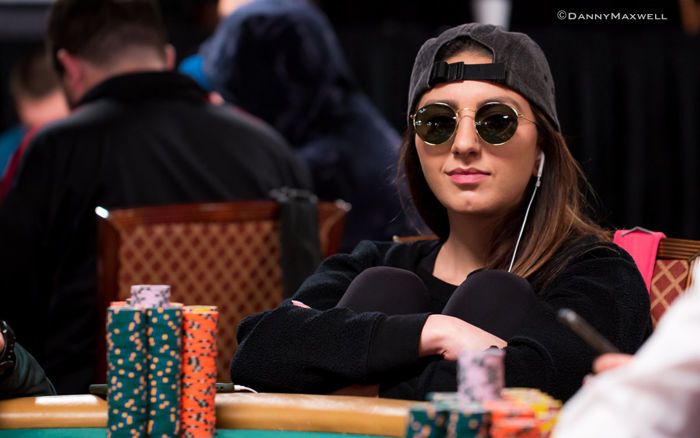 Joe Cada is the only player remaining who knows what it's like to lift poker's most cherished prize, having won the 2009 Main Event. He had something of the opposite tack compared to Minkin as he came in with one of the shorter stacks and slowly worked his way to just a little under average with just under 3 million. He ran well in the all-in pots, winning two flips, so he remains in contention to pull off a nearly unthinkable feat of winning two WSOP Main Events in the modern era.
Finally, Benjamin Pollak is trying to become the latest player to make two straight Main Event final tables. Last year's third-place finisher for $3.5 million, the Frenchman finished with 5,715,000 and could join the likes of Mark Newhouse and Michael Ruane as players to advance to the final table in back-to-back years, although Ruane only made the unofficial final table as he busted in 10th in 2017.
Follow along with these stories and more as the Main Event continues to develop with coverage right here on PokerNews, starting at 11am with Level 26 (30,000/60,000/10,000) continuing where it left off when inclement weather hit.