Kevin Martin Binks Second Title in July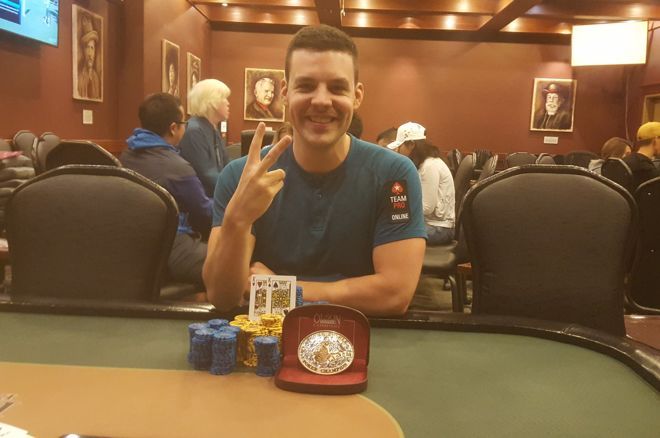 Shouts of "Yahoo!" echo around Calgary during the month of July, but local poker streamer, Team PokerStars Online Pro, and Big Brother Canada winner Kevin Martin has even more reason for celebration than simply rodeos after taking down his second poker tournament in Calgary in July.
During the first week of July, Deerfoot Inn & Casino in Calgary hosted the annual Silver Buckle Poker Tournament. Starting July 6, daily Wild Card Rounds were held for a $200 buy-in, with one in seven players earning a spot in the final day Showdown on July 15.
The Showdown was a $1,100 event that was also open for direct buy-in for players who didn't earn a spot in one of the Wild Card Rounds, and after all the Wild Cards and registration was tallied, a total of 78 players fought for the Silver Buckle. That put the prize pool at $74,100, split between the top eight finishers.
The final day was a grueling affair, lasting more than 15 hours, but at the end of it all local celebrity Kevin Martin was once again sitting with all the chips in front of him. Fresh off a win just a couple of weeks prior in Cash Casino's Calgary Classic, Martin powered his way through another local poker field. Martin, in addition to being a well-known Twitch streamer and Team PokerStars Online Pro, also competed twice on Big Brother Canada, winning once.
In a crucial hand with just two tables left, Martin shoved from the small bling into Thomas Taylor's big blind. Taylor made the call with a covering stack and the best hand showing pocket tens against the


of Martin.
With Martin's tournament life on the line, the dealer spread three spades on the



flop, giving Martin the flush. Taylor still held the

in his pocket, but with Martin's

blocking any straight flush outs, Taylor was left drawing to running tens or full house cards. Martin survived and never looked back, taking down the title heads-up against Jon Marrie. Below is a full list of cashing players.
| Finish | Player | Prize |
| --- | --- | --- |
| 1 | Kevin Martin | $24,000 |
| 2 | Jon Marrie | $16,400 |
| 3 | Andre Pui | $10,400 |
| 4 | Georgios Broumas | $7,400 |
| 5 | Kyle Crego | $5,600 |
| 6 | Darren MacFarlane | $4,000 |
| 7 | Weston Pring | $3,300 |
| 8 | Cuong Lieu | $3,000 |
Martin's win earned him $24,000 which, added to his other score this month, brings his July earnings to more than $60,000.
Oh, wait. Then there was also this right after the Silver Buckle win:
That's three wins within a couple of weeks for over $70,000.