Sam Greenwood Talks About Some of the Issues Plaguing the High Roller Scene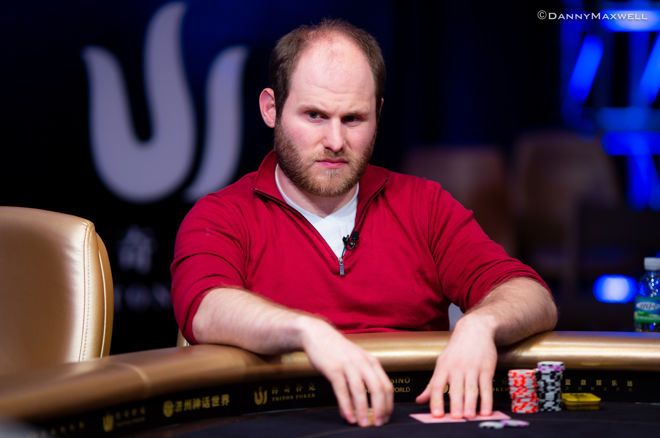 Sam Greenwood has been one of the most outspoken pros in poker's high roller community as of late, and as one of the game's best, he certainly has a right to do so.
Greenwood has a total of $11 million in live tournament winnings with cashes spanning back to 2008. He has long been a staple in the scene and is considered by many to be one of the best in the game, playing at the highest stakes in some of the toughest games with no fear.
"At some point you realize that's not the correct thing to do for your own earn. It's not the right thing selfishly or ethically."
This week, he's been playing at the Triton Super High Roller Series in Jeju, hopping into the HK$500,000 Six-Max Event where he bagged the chip lead on Day 1, but didn't advance much further than that as he was eliminated on Day 2 before the money. But before that, we were able to talk to Greenwood about some of the problems in the high roller community and get some takes on how to rectify these issues.
"Today was fine," he said about the tournament. "There was a little bit of delay but I think that was mostly… The people that were here were willing to play. I think it just took a little bit of time to get the cards in the air. But it was fine today.
"The field's about what I expected," he continued. "I know the recreational players in Asia like to show up late. So you know, they do things… I mean even having registration open for two levels more. It's a slightly different scene here where a lot of the recreationals who play the EPT's Super High Rollers get there from the start, so I think it's important to get cards in the air from the start. If you're a poker player, you want to compete; you want to play. You come prepared to play so kind of regardless of who's there. You have to have that mindset I think."
It was several months ago that he called out members of the community for scouting games and showing up on time.
The solution to the problem is still rough in Greenwood's mind, but he does think that there are ways to rectify the issue. One way he can see it happening is by adding extra incentive to showing up on time and registering early.
"I think it's weird because I both believe that being more open and transparent would be good, but [l also believe] that people have a right to their privacy."
"A simple one that the Aria tournaments have, is just to offer rake free if you reg on time," he mentioned. "Any sort of like, token benefits, like that. Like increased comps, lowered rake. Not just out of my own self-interest, but I think in general giving some benefit to people who start games, ends up creating a lot of games and creating games that might not otherwise exist. Which is good for everyone."
Along with that, he added that more options for buy-ins might help with the problems as well, but it really is dependent on the tournament and where it's played.
"I'd like for it to happen. It's tough to say. So again, I think it has to do with individual tournaments and individual tolerance. Even a good example is when I complained, I was in Australia, and in Australia there's no online buy-in option, there's no Sun City buy-in like there is here. And because of that, people are much tighter with their money… because they only have so much that they came with.
"Whereas like at EPTs, you can always reload [with your online account]. So I think it's up to each tournament or tournament operator to come to whatever decision they like. There's certain places we don't have problems starting tournaments, and there's certain places that do have trouble starting tournaments."
Greenwood also used his Twitter to talk about some of the other issues plaguing the poker community. During the drama of Alex Foxen and Kristen Bicknell's three-handed play with Kahle Burns, Greenwood took to Twitter to discuss what he thought was the proper course of action.
It's your job to try to get rid of the subconscious bias that steals EV from others. If you can't do that, punishme… https://t.co/kiZWOzfvv4

— Sam Greenwood (@SamGreenwoodRIO)
But he thinks the problem is a bit different in nature and requires a lot of self-policing in order to solve. For him, it was something he had to correct on his own.
"When I started playing online poker, there was more of a kind of understanding that pros stay out of each other's way," he explained. "At some point you realize that's not the correct thing to do for your own earn. It's not the right thing selfishly or ethically. And you need to kind of overcome that and get used to trying to play tough versus everyone."
Greenwood still finds himself in tough spots, having to make tough decisions about his play. For him, it's about separating out his biases. Something that's difficult to do, but something that he's constantly aware of.
"Luc and I have never been accused of anything, fortunately."
"Even like today, because I haven't slept that well and I have jetlag, there's times at the end of the day where I might be like 'Oh, I don't want to three-bet this hand. I don't want to play a big pot right now.' And it's tough to separate that from being like, well am I saying that because I'm tired, or because I don't want to go after a friend or my brother. There's no easy way, you can't go into your mind and separate everything out."
Greenwood doesn't think that Bicknell and Foxen had bad intentions coming into play, but that their decision making was definitely suspect. Greenwood finds it important to take these conversations to the public in order to bring these issue to light.
"The thing about Kristen and Alex is that I don't think they meant ill will, but I think what they did was bad and took a lot of money from Kahle. That's why I think it's important to have these conversations publicly because I do think it's about questioning your implicit biases and thinking of what you can do to at least try to cope or control them. Or just to be aware of what's going on.
"Luc and I have never been accused of anything, fortunately, but if somebody were to see every online hand or every live hand we've played against each other, I'm sure they would find something."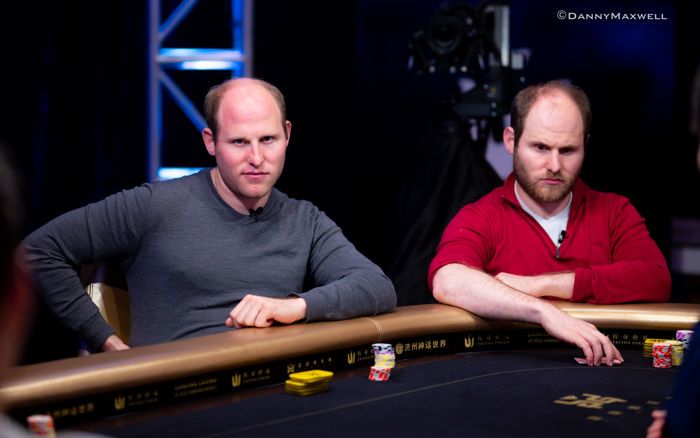 As mentioned, Greenwood has played in some of the biggest buy-ins with his twin brother, Luc Greenwood. The Triton Super High Roller series in Jeju has been no exception. For the better part of Day 1, Greenwood sat to the direct left of his brother. But for as much as they've played together, both live and online, the Greenwoods have never had any controversy surrounding their play.
The brothers also have swaps, trading their action in order to reduce some of the variance, in some of the tournaments they play. But swapping and selling has long been a problem with the high roller scene creating a problem for Greenwood that's near impossible to solve.
"That's the other thing, you don't know," he said, talking about who's swapping and for how much. "If you would give me a random tournament and ask, do you think these two players are swapping? I could probably come up with a pretty good answer or a pretty accurate guess."
But the High Rollers are a bit different at times: "I mean, especially in the Super High Rollers, there could be like an 'Oh, he has like 20% and swapped 5% with this guy.' Or it could be like, 'He sold 95%. He only has like 5% of himself and also swapped.' And it's tough because I do feel like people should have a right to keep their swaps and their personal finances private.
"The problem is that any sort of policing of swaps would be very difficult because nobody can really know."
"I think it's weird because I both believe that being more open and transparent would be good, but [l also believe] that people have a right to their privacy. Then there's the question of when something becomes so, I don't want to say sketchy because that's not the word that I want, but when something becomes so apparent or explicit, I guess that maybe [...] you lose the right to your privacy about your finances."
Greenwood thinks that these issues need to be more carefully handled, not only by players but by members of the tournament staff as well. In the future, Greenwood thinks, something should be done and brought up at the first sight of an issue or complaint.
"The problem is that any sort of policing of swaps would be very difficult because nobody can really know," he said. "When it appeared that there is some kind of collusion going on, I do think a tournament director should be stricter on handing out and punishing people, because they do have the leeway and jurisdiction to do it. I don't think that self-policing is going to end up doing all that much."
For Greenwood, there are problems that go beyond the high roller scene, spanning out further into the poker community at large, which makes these problems seem more difficult to manage and handle because of the complexity of the situation.
"It's crazy and it's tough because I do think it's a problem, but you also have people like Men Nguyen who are still like playing tournaments everywhere," Greenwood said, referencing some issues with Men Nguyen that happened at a WPT event earlier in the week.
"And if the poker community or TDAs as a whole, can't agree on someone like him, then doing something like this, which is much more nuanced and complicated and tough, it seems like a real uphill challenge."
On Jeju and Triton Hold'em
This isn't Greenwood's first rodeo with a Triton Super High Roller series, he played an earlier event in Macau back in October of 2017, but so far he's enjoying his stay at the resort, mentioning that the poker room in Jeju is one of the better ones that he's played at.
"The venue is nice. The room is great. I don't know what the stream is like, but I feel like on stream you get a sense of how nice it is to play in here. One of the things that sucks about bad poker rooms, is that they have really bad lighting. But this room has great lighting, high ceilings, stuff like that, so you don't feel claustrophobic or trapped or anything. The hotel is nice thus far, but I only slept one night in it. The food's been good. Yeah, I like it."
"The venue is nice. The room is great."
Greenwood hasn't been a part of any of the Triton Hold'em (short-deck) events just yet, but he plans to be in the future. He missed the small buy-in event this series but thinks the game is definitely interesting.
"I was actually originally going to play the 100k (Triton Hold'em) short deck, but I had some personal stuff so I couldn't leave home until yesterday. But it seems like a fun game. Any game where there's, and I say this as someone who's only played hold'em and PLO - I haven't dabbled in mix at all - , but if there's a game where there's a lot of action, then it seems like it's worth learning. And everyone I've talked to who plays short deck, seems to have a blast playing it."
He offered some strategy tips as well, just from watching the live streams of the game. He thinks it's important to stay tight at the beginning of these tournaments, especially without much knowledge of the game. The big bet games he does have experience with, have some of the same general strategies that apply, Greenwood thinks.
"I think that my idea was kind of just to play… I think that at least compared to limit game, there is at least concepts of big bet games that carry over that I get, between no-limit and PLO. I think that my general strategy when learning any new game, is just to start off playing tight and then figure it out from there. And as you get more and more comfortable, loosen up and try more stuff. So I wasn't in the mood yet to try any wild short deck strategy, but I was more just trying to get a rough idea of equities and hand strength and those sorts of things."