2018 WSOP Main Event Day 2c: Sanchez Bags the Chip Lead; Ivey Near the Top of the Counts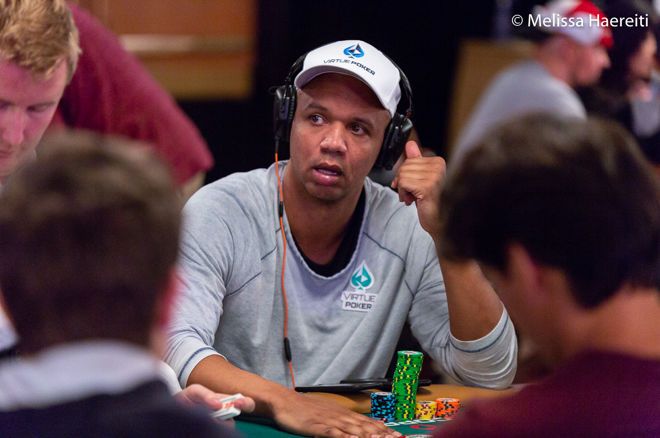 There were 3,480 survivors in Day 1c of the 2018 World Series of Poker Main Event, but at the end of Day 2c, around half of them were still standing. In total, 1,655 players will advance from Day 2c. Leading the way at the end of play on Day 2c was Ignacio Sanchez who ended up bagging the overall tournament chip lead as well with 627,200 chips, more than Shawn Daniels, his Day 2ab counterpart, who bagged up 532,500.
Sanchez put together a hell of a day, climbing up the leaderboards early, and toward the end of the night taking down a big pot from Cliff Josephy to assume the tournament chip lead. In the hand, Sanchez made a flush on the turn and shoved all in against Cliff Josephy, who also had a big stack. Josephy eventually decided to fold, but the pot worth more than 100,000 chips pushed Sanchez above all of the other players in the field.
Sanchez is a farmer who says he only plays poker one time a year, which explains why he doesn't have a lot of cashes in larger buy-in events, but this isn't the first Main Event that he's played. He cashed back in 2014 as well, finishing 582nd place for $20,228. Sanchez has fond memories of the Main Event though, one of them involving former Main Event Champion Phil Hellmuth bluffing him.
"He bluffed me but I've gotten better than then," Sanchez said about Hellmuth.
Speaking of Hellmuth, he spent much of his time in the spotlight at the Amazon feature tables on Friday as well. Hellmuth was able to run up his stack over the course of the day at the main feature table and finished the night with over 162,700 chips.
"It's the calmest I've ever been for a Day 2, I think," Hellmuth said about his Day 2c performance. "Not to say I didn't get a little Poker Brat, but not bad. It's just a calmness... I felt like I knew where I was in a lot of hands. One guy, in particular, ended up beating me 13 or 14 hands, which was OK. I actually dealt with it well. I understand more than ever that my biggest enemy in the Main Event is myself. I need to stay calm. I need to understand just how much skill there is and how many big blinds I have at all times."
But after multiple years of hiatus, it was a different Phil who caught the public eye today. Phil Ivey bagged up one of the biggest stacks in the tournament at the end of play on Friday. Over the course of the day, Ivey made some sick calls, well-timed bluffs and value bets, and was able to bag up a stack of 434,200 chips to bring to Day 3. It's been four years since Ivey's last Main Event cash. In 2014 he came 430th for $25,756. He'll look to break that streak this year.
Among others who bagged up big stacks on Day 2c were Ivan Luca (339,900), Samuel Touil (405,500), Jan Eric Schwippert (338,600), Ludovic Geilich (333,900), and Cliff Josephy (285,400). Josephy is no stranger to success in the Main Event. It was in 2016 when Josephy made the final table of the Main Event for the first time, finishing third for $3,453,035 and, while it will take a lot for him to improve upon that finish, he's putting himself in a position to do so by bagging a big stack on Day 2c.
"It was a lot different," Josephy said about his Day 2. "Day 2 has been going wonderfully for me today, so it's all good. It's more than I could've hoped for. I'm very happy with everything that's been going on."
In addition to all of those who made it through the day, there were those who fell as well. Some of those who didn't make it include Steven Wolansky, Bart Hanson, Joe Serock, Andrey Zaichenko, Adrian Mateos Joseph Cheong, Vivian Saliba, Dominik Nitsche, David Williams, and Natalie Hof, just to name a few. Mark Newhouse, who has put together solid Main Event runs over the past few years, was also eliminated today and he'll have to wait until next year to make another Main Event final table.
The survivors will combine with survivors from Day 2a and 2b for a tentative total of 2,805 players returning on Saturday, July 7 at 11 a.m. again for another five levels of play. PokerNews will be back to cover from start to finish so make sure to stay tuned in.