The 2019 Aussie Millions Schedule Released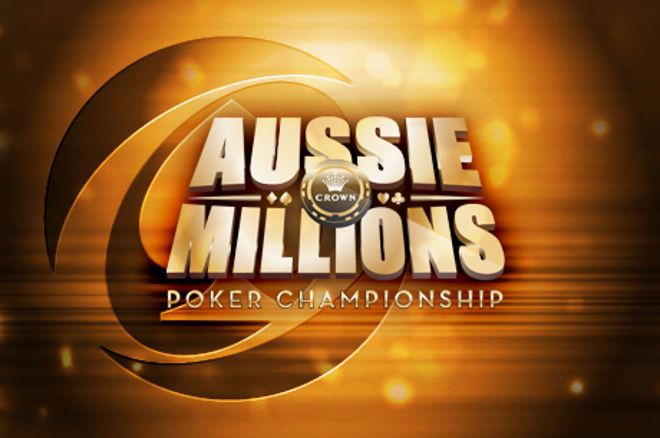 Crown Melbourne officials released the schedule for the 2019 Aussie Millions Poker Championship, Asia-Pacific's longest-running poker tournament festival.
Every year, more than 7,500 poker players flock to Crown Melbourne for the Australian summer to compete in the Aussie Millions with more than 100 poker tables ready for action. Not only is the weather perfect during this time of year but players are also competing for huge money with more than A$21 million in combined prize pools on the line.
Next year's schedule features 27 championship events along with tons of satellites and ring games from Jan. 15 to Feb. 4 representing a slightly bigger schedule than last year's 26 numbered events. Each of the championship events awards a gold ring on top of the prize pool with the winner of the Main Event awarded a coveted gold bracelet valued at A$25,000.
There is something for everyone at the Aussie Millions with buy-ins starting at just A$1,150. High rollers also have plenty of events to choose from including the A$100K Challenge, the A$50K Challenge, the A$25K Challenge, and the A$25K Pot Limit Omaha, an event newly added this year.
The highlight of the festival is, of course, the A$10,600 Aussie Millions Main Event running Jan. 27 - Feb. 3. Expectations are high for the event after it set a festival record last year with 800 entrants. United Kingdom's Toby Lewis won the A$1,458,198 ($1,156,653) top prize after agreeing to a three-way deal at the final table.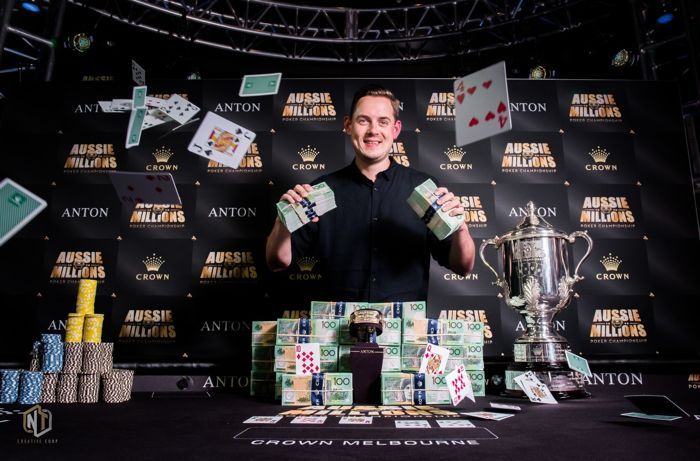 "The 2018 Aussie Millions saw the Main Event break through the magical 800-player barrier for the first time in its long history and we can't wait to see what the 2019 Series will bring," Crown Melbourne's Tournament Director Joel Williams said. "The poker stage has never been brighter and the team at Crown have been hard at work to make next year's event even better than the last."
The Main Event will feature three opening flights with players bagging chips competing in a deep structure until a winner is declared. Festival organizers expect the Main Event prize pool to exceed A$8 million with A$1.8 million estimated for the winner.
Here's a look at the full schedule:
2018 Aussie Millions Poker Schedule
| Date | Event # | Buy-in | Event |
| --- | --- | --- | --- |
| Jan. 15 | 1 | A$1,150 | Opening Event ($1 Million Guaranteed) Flight 1 |
| Jan. 16 | 2 | A$2,500 | H.O.R.S.E. |
| | 1 | A$1,150 | Opening Event ($1 Million Guaranteed) Flight 2 |
| Jan. 17 | 1 | | A$1,150 |
| Jan. 18 | 1 | A$1,150 | Opening Event ($1 Million Guaranteed) Flight 4 |
| Jan. 19 | 1 | A$1,150 | Opening Event ($1 Million Guaranteed) Flight 5 |
| Jan. 20 | 3 | A$1,150 | Shot Clock Shootout (20-second clock) |
| Jan. 21 | 4 | A$1,150 | Pot-Limit Omaha |
| | 5 | A$1,150 | Mix-Max |
| Jan. 22 | 6 | A$1,150 | Six-Max |
| Jan. 23 | 7 | A$2,500 | 8-Game |
| | 8 | A$1,150 | NLHE Accumulator Flight 1 |
| Jan. 24 | 8 | A$1,150 | NLHE Accumulator Flight 2 |
| Jan. 25 | 8 | A$1,150 | NLHE Accumulator Flight 3 |
| | 9 | A$25,000 | $25K Challenge |
| Jan. 26 | 10 | A$1,650 | Bounty Event |
| Jan. 27 | 11 | A$10,600 | Main Event |
| | 12 | A$50,000 | $50K Challenge |
| | 13 | A$1,150 | Terminator |
| Jan. 28 | 14 | A$1,150 | Hyper Turbo (10-second clock) |
| Jan. 29 | 15 | A$1,150 | NLHE/PLO Mix |
| Jan. 30 | 16 | A$1,150 | PLO Hi-Lo |
| | 17 | A$2,500 | No-Limit Hold'em |
| Jan. 31 | 18 | A$1,150 | Tournament of Champions |
| | 19 | A$2,500 | PLO |
| Feb. 1 | 20 | A$100,000 | $100K Challenge |
| | 21 | A$2,500 | Shot Clock Six-Max (30-second clock) |
| Feb. 2 | 22 | A$1,500 | Deep Freeze |
| | 23 | A$5,000 | Six-Max |
| Feb. 3 | 24 | A$25,000 | $25K Pot Limit Omaha |
| | 25 | A$1,150 | Shot Clock Turbo (20-second clock) |
| Feb. 4 | 26 | A$5,000 | PLO |
| | 27 | A$1,150 | Shot Clock Teams (30-second clock) |