A Player's Guide to the WSOP-C Playground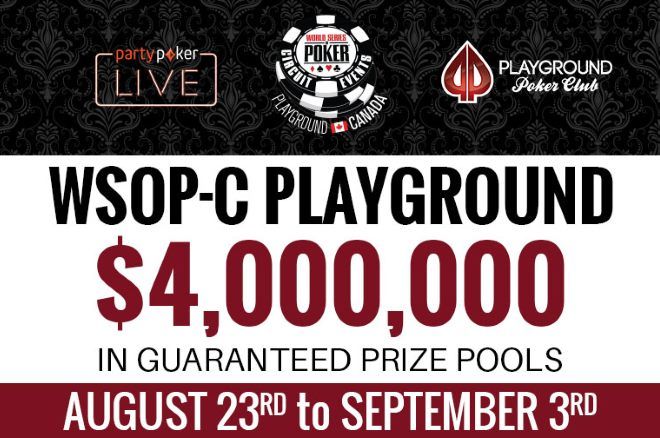 Preparations are well underway at Playground Poker Club for The WSOP-C Playground, being hosted from August 23rd to September 3rd in the iconic poker room in Kahnawake, just outside of Montreal.
The WSOP-C Playground launches Season IV of the WSOP International Circuit and marks the return of the WSOP brand to Canada following a two-year absence. The series features 7 WSOP Circuit Ring Events including the $1,100 WSOP-C Playground Main Event, which has a $2,000,000 Guaranteed Prize Pool. Overall, event guarantees for the series add up to $4,000.000!
Getting to Playground
Players that are planning their visit from further away than a comfortable car ride should be sure to visit Playground's WSOP-C Event site's Travel section, where they'll find information about the Air Canada discounts that are available for players travelling to the WSOP-C Playground.
Then, once players get to the Montreal area, it's a good idea to take advantage of Playground's free valet service if you decide to drive to and from the venue. During a huge event like the WSOP-C, there's a significant increase in parking lot traffic - so the best strategy is to let the valets take care of the whole thing.
Get an Early Start
Live events get underway on August 23rd with the Live Day 1A in the $330 Colossus ($1,000,000 Guaranteed), but players don't have to wait until then to get started. Canadian and international players can get an early start by joining one of the 4 online Day 1s on partypoker from August 19th to August 22nd.
Online players can also take advantage of partypoker LIVE Dollars to play their way into any event in the festival, including live satellites - PP Live Dollars can even be used to cover travel costs. Players that choose to build their PP LIVE Dollars bankroll also have access to a number of great promotions, including a $50K Last Longer in the Main Event! That's right, be one of the first 250 players to buy into the Main Event with PP LIVE Dollars and you will take part in a Last Longer where the last player standing will add $50,000 to any tournament winnings!
Players who can't play online, however, aren't left out from the early action. Just before the WSOP-C Events begin, there's a Three-Day Satellite Frenzy running from Monday August 20th to the 22nd with one satellite per day for each of the Monster Stack (Event #3), the Main Event (Event #2), and the High Roller (Event #6) events.
Play Mega Satellites
Earning a seat through a satellite is the best way for players to maximize their equity in a tournament, and the Main Event offers an amazing array of Satellites to help get players in for less. There are 210 seats up for grabs across 8 Mega Satellites during the festival.
And… the WSOP-C Playground Ring Events
There are a total of 7 Ring Events in the WSOP-C Playground. The action gets started with the $330 Colossus with its huge $1,000,000 guaranteed prize pool. With 4 Online Day 1s and 9 Live Day 1s, there's plenty of chance to play your way to a huge payday and a WSOP-C Ring!
The $660 Monster Stack and $330 Closer events are two additional opportunities to play for a Ring at a relatively small buy-in. For bigger shooters, there will be the $2,200 High Roller and $5,300 Super High Roller events, and capping off the festival will be a $550 PLO event for players who prefer 4 hole cards.
The $1,100 WSOP-C Playground Main Event is the marquee attraction. It gets underway online on Saturday, August 25th with the first of two online starting flights on partypoker. The Main Event will continue live with 4 Live Day 1s from the August 28th to August 31st - and if that's not enough, registration will stay open through the first two levels of Day 2 on September 1st as well! The Main Event boasts a $2,000,000 prize pool guarantee - which makes it one of the best values in poker all year!
Sponsor generated content by Playground Poker Club.