Darren Penner Wins Last Trophy at 2018 Fall PlayNow Poker Championship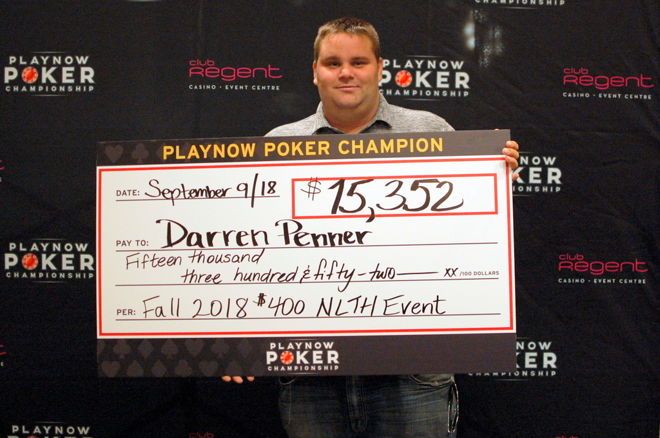 While the Main Event players were playing down into the money on Day 2, there was a last chance for players to get their hands on some prizes in Winnipeg with the $400 No-Limit Hold'em, and Darren Penner was the man who took the biggest prize from the tournament, and the final trophy awarded at the 2018 Fall PlayNow Poker Championship.
Penner, who also took home the most money from the $300 bounty tournament after a deal was made, bested a field of 152 runners, four more than registered in this tournament last spring, capping off a week with record attendance and netting the local player $11,821. The fast-paced tournament burned through players in the early level, until the bubble. Play nearly ground to a halt as players battled for over an hour of hand-for-hand play before finally getting into the money.
After that, action picked up again, and a final table was soon set that included notables like Kyle Hartree (fifth — $3,554) and Kyle Stronski (seventh — $2,264).
Hartree's day ended when he got his money in on a queen-high flop with the worst queen against Trevor Gullivan. Brian Bursheim was the next to exit in fourth for $4,744 when his pocket fours were capped by the jack-deuce of eventual winner Penner on a jack-high flop.
The final three players decided to make a deal where they locked up $10,000 each and left $1,821 on the table to play for. Gullivan fell victim to Penner in two hands. He first doubled Penner up when he called Penner's small blind ship with ace-nine-off only to see Penner flip over ace-king of spades. Penner held and collected the double. Penner also dealt the final blow to Gullivan when he spiked an ace on the flop against the jacks of Gullivan.
Penner then went on to dispatch Allan Alejandro in the first hand of heads-up when Alejandro shipped from the button with queen-jack and Penner called with ace-five. The ace-high held for the win, and Penner took home the trophy and $11,821, while Gullivan and Alejandro both won the agreed upon $10,000.