Bicknell Talks Shot in 100K, Staying Healthy in Poker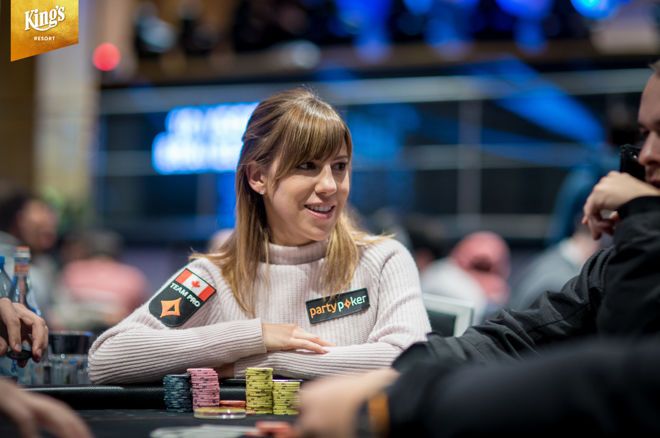 Former online grinder and now live tournament regular Kristen Bicknell took a shot at the super high roller scene after taking part in the €100,000 King's Super High Roller.
It was her first 100K and she came away thinking it's not all that different than some of her normal events.
"I guess there is a level of prestige in the room about it, and hype around it," the two-time bracelet winner said. "But to be honest, maybe I am naive, but that it is very similar to playing 25Ks. It is the same event, it is still poker, just a different buy-in and the field is smaller too, which makes it easier to do well potentially. For me, beyond the prestige, I guess the attitude around the event is not a lot different."
While the first attempt in a six-figure buy-in tournament hasn't ended with success, it is part of the learning experience for the Canadian.
"I am playing with many I have already played with and then a lot of people who I have never played against before who only play high rollers," she said. "More recreational players. It was a really fun event because of that, it is such a cool mix of people."
Bicknell was among those who took advantage of the extended late registration on Day 1 and the first levels of Day 2, and happened to get seated right next to Alex Foxen. Both talk a lot of poker strategy away from the tables and during events, and Bicknell said she didn't ask Foxen for any kind of pointers before the event.
"Well, to be honest, for one thing, me and him we play different styles, but I don't think anyone wants to be on his table," she said. "He really fights for every hand and I would rather be the person fighting for and winning the hands. I'd rather see him on the final table and until then, stay out of his way."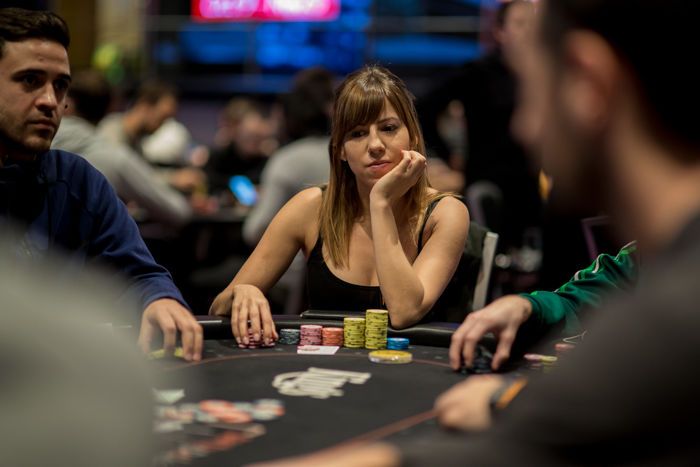 Health in Poker
Since Bicknell has become a regular face on the live circuit, her approach towards the game and the daily preparation has shifted to more quality in general in order to stay competitive. Sleep, exercise, and a healthy diet have been some of her top priorities.
For all those trying to keep an eye on their daily calories, the daily free buffet available to all players at King's Casino is not necessarily the best place to be. Right next to the healthy fruits sit sugary desserts to tempt passersby.
"I know if I eat that, it hurts my mental game a little bit," she said. "It's not good for my body, my brain is not gonna think as well as it would if I didn't. I try to avoid sugar, avoid carbohydrates, and I am really interested in nutrition and the link between your brain and mind.
"Just getting a good night sleep, trying to work out... I think I really believe in positive visualization and trying to be positive before a tournament, seeing every tournament as one I can possibly win and visualizing that."
All American Dave during the World Series of Poker is a prime example of healthier but expensive nutrition and a lot of professional poker players take advantage of that service so close to the venue. However, to Bicknell's eye, this attitude is not as common yet during most other stops of the international poker circuit.
"I think I would probably be a nutritionist, or a personal trainer."
Alcohol is another major leak she sees in her peers.
"The number of people that drink too much in my eyes…," she said. "If people would cut out alcohol, it might actually improve not necessarily their poker game but their ability to play more often and frequently."
Bicknell has been regularly working with poker mind coaches Jared Tendler and Elliot Roe in the 18 months and studies nutrition herself. She has a strong interest in nutrition as well, and if poker ever gets boring or if she had not been finding her way into the poker world, that would have been a very likely work field for the Canadian.
"I think I would probably be a nutritionist, or a personal trainer," she said. "If I had enough money I would open a gym or something like that. I love the health and fitness industry and I like business in general, so I would probably try to combine the two."
Bicknell's Favourite Spots
Of all the poker places Bicknell traveled to, some clear favorites have already emerged and a trip to Melbourne for the Aussie Millions early next year seems to be set in stone.
"For one thing, going there after Christmas and leaving wintery Canada to be in the summer in Australia is nice and it is a good atmosphere," she said. "The Crown Casino does a really good job hosting the event and that is definitely one of my favorite. Aside from that, before this trip, we went to Positano in Italy and just got an Airbnb for a few days and that was probably one of my favorite spots. It was really pretty and relaxing."
Switzerland and the Northern European countries are also very high up on the to-do list of Bicknell.
"If I had enough money I would open a gym or something like that."
As Bicknell prepared to get back to her seat after the dinner break on Day 2 of the 2018 WSOPE Main Event, fellow partypoker pro Anatoly Filatov walked by.
"How did you do last night?" Bicknell asked, referring to the big online schedule on Sundays.
"Two first places, including the one where I busted you with five-four," Filatov replied with a grin.
While the Russian got the better of Bicknell at the online tables the previous day, the Canadian had the better run live in Rozvadov in the Main Event. Filatov was up to almost half a million in chips, but lost several big pots to return with a mere 70,000, while Bicknell had amassed very healthy 410,000 on Day 2.
Follow along with the WSOPE live updates right here on PokerNews to find out just how far Bicknell will go in this event.