Aleeyah Jadavji Ends Crazy Year by Winning Poker Media Platinum Pass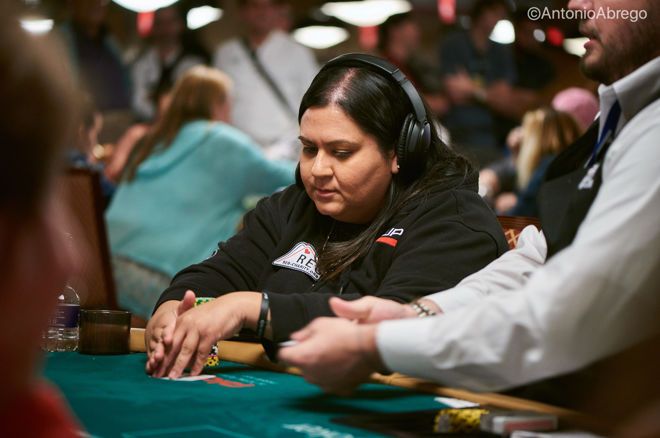 Among the latest Platinum Pass winners is one of our own — a member of the Canadian poker media battalion. PokerStars decided to reward one of those hard-working behind-the-scenes and around the poker room workers who spends more time covering the game that they love than actually playing it.
As many on Twitter have commented, Aleeyah Jadavji is well-deserving of the pass honours and a fitting representative for the industry. A poker player for more than half her life after learning the game at age 16 and playing in underground clubs in Toronto, Jadavji has been on the poker live reporting and tournament media coverage grind for more than two years. She's put in work in the tournament scene across the U.S. and Canada, doing jobs for PokerNews, WSOP, Run It Up, WPT, and WPTDS.
Reaction and Plans
"I'm still in shock," Jadavji told PokerNews. "I thought my chances were like 5% with that line-up."
She was among industry greats when the list of five finalists came out, alongside the likes of Kevin Mathers ("KevMath"), Lance Bradley, Robbie Strazynski, and Nick Jones.
"I thought my chances were like 5% with that line-up."
"People like Lance [Bradley], KevMath have been around forever, and they're just legends," said Jadavji. "I see my name among them and I feel so new compared to them. I almost feel bad because they're so deserving, but hope I can at least rep the media well and make some money for those guys and for charity."
Without divulging all the details, Jadavji will be freerolling a small percent for each of the other poker media nominees, while pledging another 5% to REG Charity. She's also planning on pledging some more of anything she wins to a charity related to mental health, but hasn't decided on which one as of yet.
After the year Jadavji has had, it would be a tough argument against her merits of being awarded the PSPC ticket.
Incredibly honoured (##) to be in the company of these incredibly hard-working human beings.

— Alee Yah (@ElleSriracha)
Weight Loss Props
It's been a challenging year for the Canadian poker lover, reporter, and grinder to say the least.
The snarky, witty, and compassionate Canadian finished 2017 with loads of positivity. She initiated a Twitch poker charity drive that raised $25,000 in December, all matched by Dan Smith's DoubleUpDrive, and was embarking on a formidable weight loss mission at the same time.
She went all in on the keto diet and, inspired by Jaime Staples' #UltimateSweat weight loss prop bet, booked a few bets of her own.
"I started my own ultimate sweat. I just put my foot down and was determined to get my health back in order."
"I just put my foot down and was determined to get my health back in order."
She ended up losing over 60 lbs. and winning the biggest of the three prop bets before summer's end. Shifting her focus to health, Jadavji embarked on entrepreneurial efforts including starting her own keto meal prep and delivery business in Las Vegas during WSOP, all while remaining an integral part of the poker community.
In July, she learned about Jaime Staples' #UltimateSweat challenge for a Platinum Pass and she snap-called. She committed to continuing the health mission and set a goal of losing another 60 lbs. in less than three months, along with raising $3,000 for REG charity.
She set out on her mission, doing daily social media updates to showcase her process, her progress, challenges, health tips, and motivational thoughts as she trucked to 100 pounds below her starting weight less than one year before.
Obstacles to Overcome
Jadavji diligently posted for 48 days before announcing on Sept. 5 that she would have to put her mission on hold due to a health diagnosis.
The intermittent stomach pains she had been experiencing since the beginning of the summer turned out to not be related to her changed diet as she had previously suspected. She went in for testing and was diagnosed with Stage 2 abdominal cancer. She soon embarked on a new mission: fight cancer.
"To end the year on this note, after being devastated that I had to drop out of Jaime's race… I can't even believe it's real."
She began going through radiation treatments to shrink the tumor that had developed in her abdomen, in preparation for surgery to remove it. She stayed positive, despite being bummed she had to drop out of the #UltimateSweat competition and give up her dream of a Platinum Pass.
Jadavji continued posting on Twitter and receiving oodles of support from her community, and focused on spending time with friends and family as she went through treatments. The surgery date was dependent on results of the radiation treatments, and up until last week, doctors still weren't sure they were going to make the surgery goal for the week of Dec. 17.
Positive Outlook
Last week, Jadavji got the nod from doctors to schedule the surgery for next week, dependent on scheduling availability — and she's ready to get the tumor out and put the year behind her.
I def can't wait to welcome 2019, but I'll also never forget 2018. As much as I wanna put it behind me, it'll alway… https://t.co/BuMpZU8dqh

— Alee Yah (@ElleSriracha)
Today, Jadavji got one of those miracles – in the form of a $30,000 Platinum Pass to play in the biggest poker tournament of her life.
"To end the year on this note, after being devastated that I had to drop out of Jaime's race… I can't even believe it's real."
You can follow Aleeyah's journey on her Twitter page @ElleSriracha