Will Floplay Revolutionize the Home Game?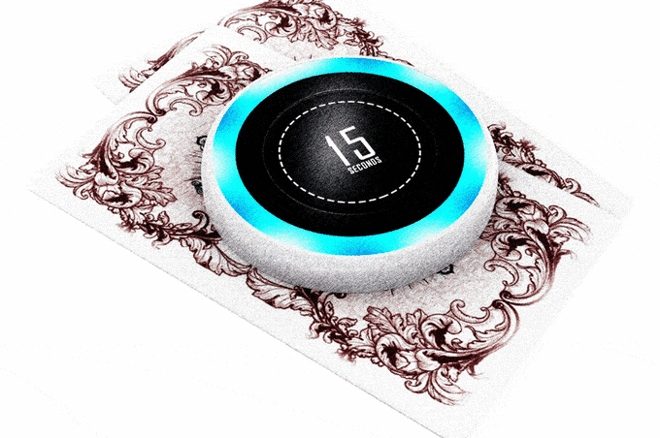 Home games are the heart and soul of poker. Big buy-in tournaments in exotic locations or lengthy sessions at the cash tables in casinos are all well and good, but there's nothing quite like a group of friends around a battered table in the basement playing cards to remind you what poker is all about.
And then everyone forgets who has the button this hand, or what the blind levels are. Let's face it, as fun as home games are, sometimes they can descend into chaos because everyone is focused on Fred's story about that time he saw Gord Downie at the airport instead of on the game flow.
The solution may come in the form of a new bit of poker technology currently under development, Floplay. The new tech comes in the form of connected card protectors that act, of course, as traditional card protectors to make sure your buddy Jim doesn't drunkenly muck your hand by mistake. But in addition to the traditional role, these high-tech protectors will also serve as your own electronic tournament director.
Hand out a Floplay device to each player, and they connect to the central device to display information about position and blind levels on each connected device. In addition to tournament information, intuitive actions on the card guard control the flow of play by letting players indicate checks, bets, raises, and folds with actions like taps, double taps, and shaking. The guards light up to indicate action, and can even display a clock for that one player who is always tanking every hand.
Still in the prototype stage, Floplay is raising funds through crowd sourcing, and have big plans for future development. Manufacturing has been lined up for the early prototypes, and the Floplay team are looking at adding a smart phone app that will collect statistics and analyze habits for you and your home game buddies.
Poker home games can be the truest poker experience, but in many ways, they are still stuck in the past. Floplay looks to bring your home game into the 21st century.
Check out the Floplay Kickstarter campaign where they have set a goal of over CA$200,000.