Top 10 Stories of 2018, #9: partypoker Breaks Records Live and Online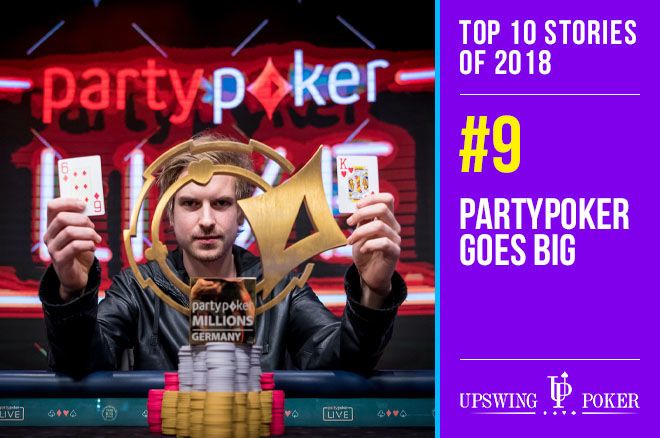 This year's Top Stories are brought to you by Upswing Poker. If you want to improve your skills and confidence at the table, look no further than the free resources and premium training courses on upswingpoker.com.
---
For many years, PokerStars was top dog in the online poker market. However, in 2018, partypoker closed any perceived gap thanks to some personnel changes from the year before that led to massive guarantees on live events and a historic $20,000,000 GTD online event.
they would spearhead an effort to make partypoker the premiere brand in online poker, and they did a good job of it in 2018.
You might recall that in 2017, European Poker Tour founder John Duthie became President of partypoker LIVE while longtime World Poker Tour commentator Mike Sexton was named partypoker Chairman. Together with Dusk Till Dawn owner Rob Yong and the rest of the partypoker team, they would spearhead an effort to make partypoker the premiere brand in online poker, and they did a good job of it in 2018.
Stable of Pros Continues to Grow
In 2017, partypoker made waves by signing some of the biggest names in the game including Jason Koon and Fedor Holz. This year, they continued to build their stable by bringing on some superstars of the game.
It started in January with the signings of Joni Jouhkimainen and Ike Haxton, the latter having recently taken down the $300K Super High Roller Bowl V.
"I've been very impressed with their growth over the last year or so," Haxton said at the time. "From expanding their online cash game and tournament offerings, to improving their software, and most of all rolling out their ambitious and innovative live events program, their commitment to growing the game and providing a great product for their players has been clear."
In August, Scottish pro Ludovic Geilich came on board with an eye toward boosting partypoker's PLO games.
"I feel when you've played a certain game for as long as I have there's always something you can bring to the table," he said. "When it comes to PLO I feel I can bring some fantastic structures and blind levels while also capping the reentry system to level the playing field. I also look forward to also sitting down and introducing some ante PLO."
Filatov Victorious in Russia
Speaking of the partypoker team, one of its members had success back in August. Anatoly Filatov topped a 916-entry field to win the 2018 partypoker LIVE MILLIONS Russia Main Event at Sochi Casino and Resort. Filatov's win was good for a career-high $944,230.
"Very tired, very exhausted, I don't realize yet that I won this tournament, especially in my home country," an overwhelmed Filatov said at the time. "On the eighth of August it was my birthday, 30 years old, such a good beginning for this year. I am very glad."
partypoker Joins Forces with WPT
The online poker company also made headlines in August when it announced they would team up with the WPT in a four-year commitment to bring players great live events in Canada and Europe.
The partnership will see up to seven events spread across the four-year span, with each sporting prize pools up to €3 million. Among the stops involved with the deal – which included a commitment from partypoker to qualify 300+ players to each WPT event – were Playground Poker Club in Montreal, Russia's Casino Sochi, and Dusk Till Dawn in the UK.
That deal will also apply to four stops in 2019, each consisting of multiple events — a WPT500 tournament, a WPTDeepStacks tournament and a WPT Main Event. It will start Jan. 18-27 in Russia, then moves on for WPT Barcelona March 9-17 and then WPT European Championship in the U.K. from April 6-14. After a break during the World Series of Poker, the second-half schedule features WPT Germany in August and WPT Montreal starting in late October.
Big Guarantees
Players paid special attention to the guarantees offered up by partypoker in 2018. In the live realm, that included a massive £8,500,000 in GTDs across five tournaments in the partypoker LIVE MILLIONS UK at Dusk Till Dawn, including a £5 million GTD on the Main Event. More on that stop below.
Likewise, November's partypoker 2018 Caribbean Poker Party proved to be a big success with players like Roger Teska, [Removed:150], Steffen Sontheimer, and Roberto Romanello taking down high roller events. Meanwhile, Filipe Oliveira bested an 1,815-entry field to win the $5,000 Main Event for $1.5 million.
However, it's worth noting that the Main Event did fail to reach its $10 million guarantee by $300,000, added value to the players.
In the online realm, partypoker became just the second international operator to obtain a gambling license in the Czech Republic.
the biggest online splash they made was holding their partypoker MILLIONS Online, which offered up an unprecedented $20,000,000 GTD
However, the biggest online splash they made was holding their partypoker MILLIONS Online, which offered up an unprecedented $20,000,000 GTD, the largest prize pool in online poker history. It was a big gamble but it paid off when 4,367 entrants took to the virtual felt over five flights in the $5,000 buy-in event. That created a $21,385,000 prize pool.
In the end, Portugal's Manuel "Sheprentao" Ruivo and Pim "ForMatherRussia" de Goede struck a deal in which they received $2,329,944 and $2,309,995 respectively. Not only that, Blaz "Scarmak3r" Zerjav turned a $5.50 satellite win into $1,364,688 for finishing in third place.
"What then happened this last week was miraculous! 2,190 (unique) players believed in the dream and pushed that prize pool to a staggering $21.9m; I mean that's very nearly double the size of the largest online MTT before that – DOUBLE!" Duthie boasted of the event. "Players wanted this to happen and they wanted to do it with us. That's what makes me really happy."
partypoker Live MILLIONS UK a Big Disappointment
Not everything partypoker did in 2018 was a hit. According to Dusk Till Dawn owner Rob Yong, the partypoker Live MILLIONS UK was a "big disappointment."
That's because the £5,300 (~$7,000 US) Main Event drew 1,014 entries, about 300 fewer than the year prior. Yong chalked it up to a number of different factors, including reigniting the re-entry debate. If Yong had it his way, MILLIONS main events would mimic those original EPT Mains and be freezeouts.
Yong subsequently worked with Duthie on some possible changes for 2019 including:
$10K buy-in, $5M – $10M guaranteed, depending on venue
Qualify 60% of the field online and live
Freezeout, reduced late registration
One Day 1 [no multi-day 1s]
200 big blinds
Double Chance option where players can take 100 big blinds at start but obviously needs debate and input from players
$10K Second Chance Tournament for DBI players that bust Main, and $500-$1K events for qualifiers
Poker Operator of the Year … Again!
Despite partypoker having a few speedbumps in 2018, they once again struck it big at the EGR Operator Awards, which attracted more than 800 industry professionals to Grosvenor House in London in October.
It was there that they won the title of "Poker Operator of the Year" for the second year in a row. Additionally, GVC Holdings, the parent company to partypoker, won "Operator of the Year" as well as "Casino Operator of the Year" titles.
It was a big year for partypoker, and they show no signs of slowing down heading into 2019!
"I'm absolutely delighted that the efforts of the team have been recognized for the second year running," said partypoker Managing Director Tom Waters. "Everyone in the team has worked so hard to get partypoker to where it is now and we are excited about how we can now take it to the next level."
Partnering with PGA EuroPro Tour
In 2018, partypoker also signed an agreement with PGA EuroPro Tour Ltd to become "Official Partner" of the tour throughout 2019.
The deal grants partypoker branding rights at EuroPro Tour events taking place in 2019 and across EuroPro Tour promotional material, complemented by targeted social media campaigns designed to promote partypoker's products and services.
"We are excited to come on board with the EuroPro Tour for the forthcoming season and further strengthen our relationship with Matchroom Sport," said Waters.
It was a big year for partypoker, and they show no signs of slowing down heading into 2019!
---
Upswing Poker gives you access to the tactics and strategies that world-class pros wish they could teach their younger selves. Check out the free resources and articles on upswingpoker.com to level-up your skills without spending a dime.
---
Top 10 Stories Since 2011
Top 10 Stories of 2011
Top 10 Stories of 2012
Top 10 Stories of 2013
Top 10 Stories of 2014
Top 10 Stories of 2015
Top 10 Stories of 2016
Top 10 Stories of 2017