The Canadian Sunday Briefing: r1d3rst0rm Takes Down Sunday Million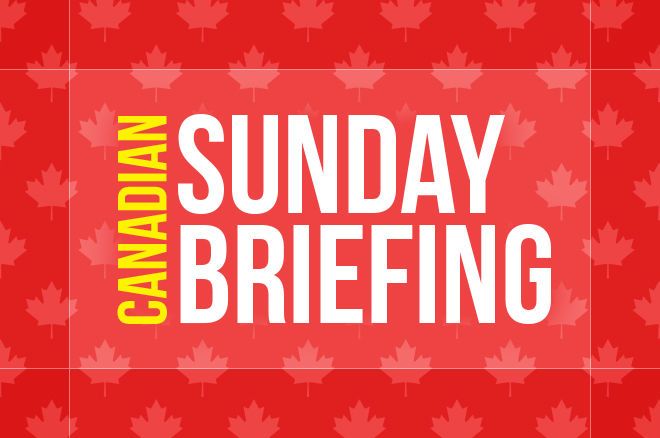 Every Sunday, millions of dollars are paid out to poker players around the world when sites like 888poker, PokerStars, and partypoker host the week's biggest and best online tournaments. Each week, we take a look at how players from Canada fared in the Sunday majors.
This Sunday, January 13, 2019, "r1d3rst0rm" had the best Canadian result after going all the way in the most coveted regular online tournament, PokerStars Sunday Million. The Canadian made their way through more than 5,900 competitors to take down the biggest prize of $159,563.64. Here's the full report on major Canadian results from this Sunday:
Sunday Majors on 888poker
The $100,000 Sunday Mega Deep
The usual premier Sunday tournament on 888poker boasts a guarantee of $100,000 for a $215 buy-in. This week saw 331 entries with 112 rebuys creating a total prize pool of $100,000.
This week one Canadian made it all the way to the final table. "PulledPorker" managed to get seventh place, worth $3,400. The winner of the tournament was "tmurdah" who won $19,350 for the victory.
Sunday Majors on PokerStars
Sunday Marathon
The biggest tournaments of the day get started on PokerStars every week with the $55 Sunday Marathon featuring a $100,000 prize pool guarantee. This week's edition had 2,804 entries creating a prize pool worth $140,200.
There were two players from our nation who managed to make the final table. Scott "D_DIGGLER99" Hill from BC won $991.19 for ninth place but "shakentoucan" took the maple leaf all the way to fourth place and a prize of $5,671.41. Bruno "bubbleboybr" de Oliveira Severino from Brazil managed to outlast the field though to win $17,832.22.
High Roller Club: Sunday Warm-Up
The High Roller Club version of the Sunday Warm-Up offers up a guarantee of $100,000 for $1,050. This week, 185 entries combined for a prize pool of $185,000.
Canada missed the eight handed final table this week. The win, worth $36,700.20 went to Brazilian Geovanne "Grande_Prego" Pereira.
Sunday Warm-Up
The $215 Sunday Warm-Up heats up the action with a $175,000 guarantee. After late registration there were a total of 1,060 who bought into the tournament to create a total prize pool of $212,000.
No Canadians made the final table of this one. Gabriel "aaurelio" Moura from Brazil took the victory, collecting $31,222.85 after a heads-up deal.
Sunday Storm
Moving on to the lowest-priced tournament that could be considered a Sunday major, the $11 Sunday Storm is the best value you'll find in online poker. Despite the tiny buy-in, the prize pool is set at a guaranteed $200,000. The tournament this week saw 25,032 players enter, creating a prize pool of $245,313.60.
No Canadians cracked the final nine of this one. The winner was "34rubk" from Belgium for a prize of $22,465.02.
High Roller Club: Sunday HR
The highest-priced regular Sunday major on PokerStars is the High Roller Club: Sunday HR with a hefty buy-in of $2,100 and guaranteeing $100,000 in prizes. With 79 entries this week, the total prize pool ended up at $158,000.
The only maple leaf on the final table belonged to US import Paul "sublime" Wellman and he carried it to second place and a prize of $30,105.57. The winner was "RomeOpro" from Ukraine who outlasted them all to collect $38,381.14.
Sunday Million
This is the most coveted online poker tournament in the world with a buy-in of just $215 but a $1,000,000 guarantee. This time around, entries came to 5,909 to create a total prize pool of $1,181,800.
Two Canadians managed to make the final nine of this coveted event. "FREDYWOLF" fell in fifth place for a score of $38,699.10, but "r1d3rst0rm" went all the way, grabbing the $159,563.64 first place prize.
Sunday Cooldown
The $109 Sunday Cooldown is an eight-max progressive knockout that guarantees $100,000. With 1,527 entries this week, the prize pool ended up at $152,700.
Two Canadians ended up in the final eight. Nova Scotia's Alex "cheese9" Allison was the first to exit the final table with $713.27 in bounties and $1,087.95 for eighth place, but "foxy7" went three spots farther to collect $266.80 in bounties plus $3,003.63 for fifth place. The win went to "satonamotoka" from Brazil who pocketed $7,841.42 in bounties as well as $11,634.23 for the win.
High Roller Club: Sunday Supersonic
The high roller version of the hyper speed six-max event that closes PokerStars big Sunday action puts $100,000 guaranteed into the prize pool for $1,050. With 183 entries this week, the final total was $185,902.38 to play for.
The only maple leaf in the final six on this one ended up on top. "FU_15" outlasted the whole field to grab $37,079.20 for first place.
Sunday Supersonic
The Sunday majors conclude on PokerStars with the $215 Sunday Supersonic — a six-max hyper-speed tournament with a $100,000 guarantee. This week a total of 681 entries pressed their luck to create a total prize pool of $139,441.56.
The only Canadian to crack the final six was "exitonlyKK" who made fourth palce money worth $9,115.16. The winner was "xSmooth" from the Netherlands, collecting $23,745.29.
Sunday Majors on partypoker
Super Sunday High Roller
The big action from partypoker got started with the Super Sunday High Roller, which offered $100,000 in guaranteed prizes for $2,600. With 43 entries, the prize pool topped out at $107,500.
Canadian player "KryptoKing420" made the final table, but bubbled the money spots with a seventh place finish, but "skitzo793" brought $16,662.50 to Canada with a third place finish. The top prize went to Swedish player "haddoken" for a prize of $40,312.50.
Sunday High Roller Bounty Hunter Fast
There was $100,000 guaranteed for the $1,050 Sunday High Roller Bounty Hunter Fast, and once registration closed, 112 entries brought that prize pool to $114,240.
Canada found a single seat at the final table, though "WWWpartyCOM" just barely missed the final eight with a ninth place score worth $1,400 in prizes and $2,080 extra in bounties. "CanadianSanta" found their way through the field to third spot for $7,000 in prizes plus $3,380 in bounties. The player with all the chips at the end was "mwhldwn" from Austria who collected $16,428.75 in bounties on their way to the first place prize of $13,720.
That's our report of Canadian results in this week's Sunday majors. If you don't already have an account on each of these sites, make sure you download through our links and use our bonus codes to take advantage of the best promotions you can find. Good luck; see you in next week's headlines!