The Three Brothers Greenwood Make the Money in the PSPC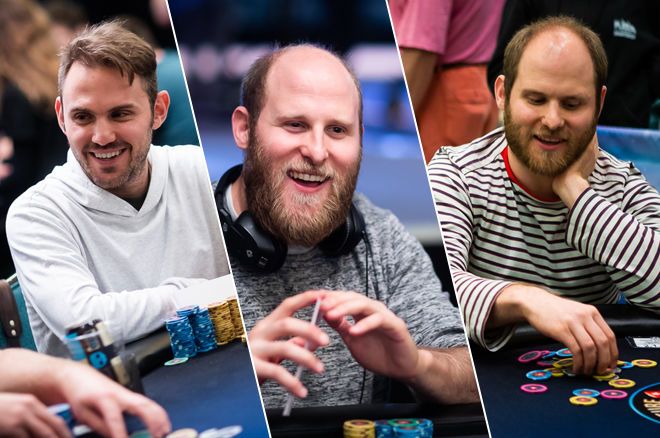 It wasn't a mistake: There were three Greenwoods in the counts. And eventually, the same three Greenwoods will appear in the payouts.
The brothers Greenwood - Sam, Luc, and Max - have all had high levels of success in poker, combining for $16.7 million in live cashes between them. While Sam and Luke continue on the full-time grind though, Max has mostly left the game behind for the past 2.5 years.
Here in the $25,000 buy-in PokerStars No-Limit Hold'em Players Championship, the three are reunited for a rare tournament, and the family is putting together a solid run.
The three brothers all made it to Day 3 with 207 of 1,039 players returning and 181 in the money. Once the bubble burst in the third level of the day, the brothers assured that the Greenwood name would appear three times in the payouts before the tournament came to a close. We chatted with all the brothers on the second break of the day.
One Greenwood Down
Unfortunately for Luc, he would be the first Greenwood to hit the payout desk, in the fourth level of the day.
"I was pretty short all day and didn't really have many spots, so it's okay," Luc said of his min-cash.
"Hopefully one of them can take it down for the family."
Though a bit early to get too excited about the familial deep run, Luc was proud of how Max was handling his return to live poker.
"Max hasn't been playing very much the last few years, but he's been playing really well and doing a nice job."
The three brothers have been talking hands via text throughout the tournament and, as would be expected, they all swapped some action.
Luc, who is now relegated to watch from the sidelines, is hoping his siblings can add a large sum to the $14,500 profit he notched for his 98th-place finish. And while he would have liked to go further, he's glad he at least cashed and at least he still has a sweat (two, actually).
"Hopefully one of them can take it down for the family."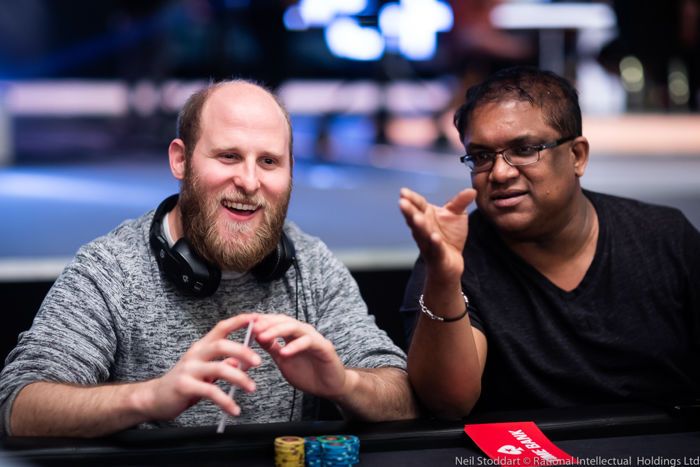 Two Brothers Remain
And then there were two. We asked them about the experience of all making the money, and about Max's foray back into the game in the form of a $25K.
For Sam, it's nice that they all made the money, but it's hard to get too pumped yet with the "big money" still a ways off.
"I started getting the 'What if we all made Day 4?' thoughts in my head. But then Luc busted.'"
"I started getting the 'What if we all made Day 4?' thoughts in my head," Max said. "But then Luc busted.'"
For Max, the decision to come out of retirement for a one-off in the PSPC isn't too hard to explain.
"Well they added $1 million to first and it was rake-free and in the Bahamas, so I decided to come play."
The WSOP bracelet winner with $2 million in live cashes to his name has been spending the last several months hanging out and doing some traveling with his now wife.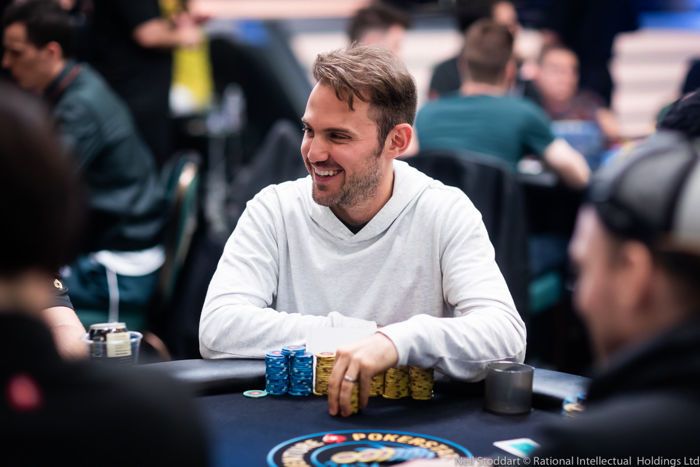 At their cottage with the family over Christmas, Sam was taking a well-needed break from the game, while Max was diving back into the game he mostly got out of more than two years ago. In preparation, Max played two online sessions and did a bit of studying that included watching videos and studying some charts.
"There's just way better information out now than when I was playing," he said.
"Max has been asking me and Luke for check-ups because he's a little rusty and that sort of stuff," Sam added.
"I'm just trying to make good decisions because I'm not super sharp right now."
"I'm just trying to make good decisions because I'm not super sharp right now," Max said of his approach in the PSPC. "So just trying to think every hand through and make sure I don't screw anything up."
As the tournament goes on, Max feels the rust is already falling off as the game comes back to him.
"I sent them way less hands today than yesterday. Part of that was because there were less spots and we're less deep, but it's definitely coming back a little bit."
It may be a bit early still, but the family has already guaranteed a profit, with two horses left and $5.1 million up top.
"Hopefully we can get a little deeper and see what happens."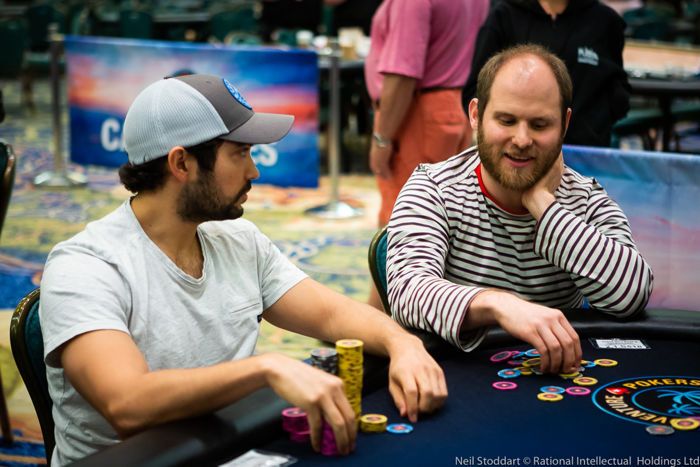 The Stars Group owns a majority shareholding in iBus Media.