Kevin Martin Departs Team PokerStars as partypoker Signs Matt Staples and ALLinPav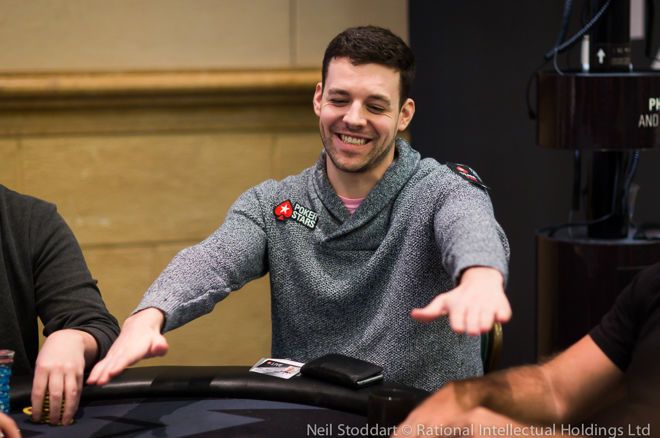 Just as PokerStars is moving sponsorships away from the streaming community, partypoker is doing the opposite. Last week, party announced they would be the official sponsor of Bill Perkins' revived Thirst Lounge channel that has 10 hosts providing daily content and entertainment via Twitch. On Monday, they announced the formation of a new "Team Online" to represent the brand on partypoker's Twitch channel.
Matt Staples Joins partypoker Team Online
The first member announced for that team is Matt Staples, the younger brother of Jaime Staples, who recently cut ties with PokerStars along with Jeff Gross. The 22-year-old grinder has been quietly building his channel and climbing up stakes for more than three years to get him to his current status with more than 52,000 Twitch followers.
Staples received a bankroll boost last year when he and Jaime successfully completed a weight loss and weight gain prop bet they booked with Perkins getting 50-1 odds. Over the course of a year, the underweight Staples brother, Matt, bulked up and put on over 50 pounds while Jaime dropped more than 110 pounds to meet at the same weight of 188 pounds and earn them a payday of $150,000.
The dedicated streamer is now achieving yet another goal, patching on with a major online poker room that will only further support his professional post as an online poker streamer.
Very excited to announce that I have officially joined @partypoker Team Online. The future looks very bright and i'… https://t.co/VzUev2npPv

— Matthew Staples (@MattStaplesPKR)
"Becoming a sponsored pro is something I've aspired to for a while now, and I couldn't be happier about the partnership," Matt said. "There's nothing I like more than streaming tournaments on Twitch and I'm pumped to have the opportunity to showcase and help grow partypoker and their Twitch community."
partypoker managing director, Tom Waters said: "We have been a bit behind the curve when it comes to streaming, but we are hoping to make up for lost time by compiling an elite team that will be able to stream entertaining and engaging content 24/7.
"We are delighted to have Matt join the team and will be able to announce some more exciting additions to Team Online in the coming days."
ALLinPav Joins partypoker Team Online
One of those additions was announced today. Australian-born Hristivoje "ALLinPav" Pavlovic, now residing in New Zealand, has made a name for himself on the Twitch streets, amassing nearly 40,000 followers in the process.
Back in November, "Pav" won the Run It Up PSPC Platinum Pass competition, where he was crowned the "Next Great Top Twitch Poker Streamer." Earlier this month, he posted on Twitter that he had crossed the quarter-million lifetime online poker earnings mark.
About his sponsorship deal, Pavlovic said: "Signing with partypoker ranks as one of my proudest achievements. I'm stoked to represent a company that has strong ethics at its heart, and I can't wait to help build the great game of poker."
Proud to announce my signing with @PartyPoker Team Online. After grinding Twitch Poker for over three years, this i… https://t.co/6DDOt41YXu

— weeee (@ALLinPav)
Waters: "We have been a bit behind the curve when it comes to streaming, but we are hoping to make up for lost time..."
As part of partypoker's newfound commitment to "focus on streaming quality, engaging content across partypoker's main Twitch channel," they also announced plans to stream invite-only high-stakes cash games, so poker fans will be able to watch the best of the best battle it out in the nosebleeds.
Additionally, current Team partypoker members like Fedor Holz, Patrick Leonard and Ludovic Geilich will be leading some streams on a variety of poker topics, to be announced.
PokerStars Parts with Kevin Martin
While partypoker seems to be amping up their Twitch presence, PokerStars continues to move away from sponsoring streamers, as we saw recently with the departure of Jeff Gross and Jaime Staples. The latest streamer to announce cutting ties with PokerStars is Kevin Martin.
Winner of Big Brother Canada 5, Martin was on Team PokerStars for the past three years during which time his followers watched as he sharpened his game online and had the poker year of his life in the live arena in 2018, racking up over $200K in live cashes. That included four tournament wins in Calgary and his biggest-ever live cash of $48,210 for finishing runner-up in the Run It Up Reno VII Main Event.
After 3 years with @PokerStars my time as an ambassador for them has come to an end.

— Kevin Martin (@KevinRobMartin)
Martin thanked Stars for giving him a shot in his early twenties when he wasn't a top player by any means.
"[The sponsorship] meant a lot and it gave me a lot of freedom to chase the poker dream, so I'm thankful for that."
"This wasn't a firing; I left on my own accord."
He continued: "The poker dream is still alive. It's harder than it was in 2005, 2006 but I'm more motivated than ever."
Martin told his fans he'll be continuing to work on his game and will be back to poker streaming right away, so the break from PokerStars won't be slowing him down. He also clarified at the end of his video announcement:
"This wasn't a firing; I left on my own accord."
Plenty of reactions to Martin's leaving PokerStars included questions about him joining partypoker. As PokerStars continues to clean house and partypoker charges on with adding members to their elite team of streamers, a clearer picture of streamer alliances should emerge in the coming months.
For more on these streamers, you can visit their respective Twitch pages:
The Stars Groups owns a majority shareholding in iBus Media.