888poker LIVE Heads to Bucharest from March 4-10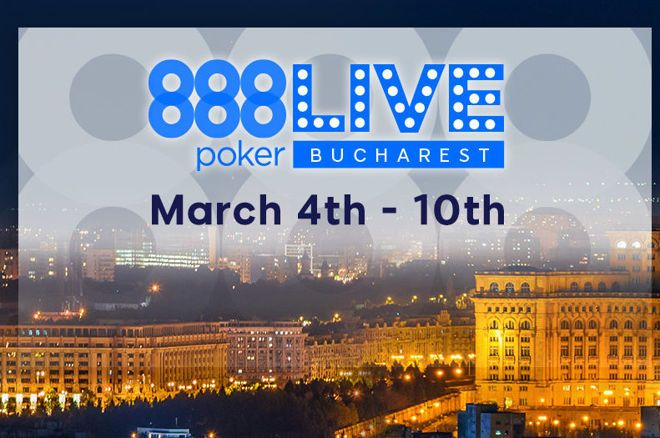 The 888poker LIVE Bucharest festival is just around the corner taking place at the InterContinental Bucharest March 4-10.
The festival kicks off in style with an affordable €230 Opening Event that comes with a lofty €50,000 guarantee. The tournament features two opening days on March 4-5 with the surviving players battling it out for one final day on March 6 until a winner is crowned.
€300,000 Guaranteed Main Event
The highlight of the festival is, of course, the 888poker LIVE Bucharest €888 Main Event featuring a huge €300,000 guarantee. The tournament will be fully covered at PokerNews by reporters and a video team from March 6-10.
The tournament boasts four opening flight on March 6-8 with players starting off deep with 30,000 in chips. In addition to players starting off with a deep stack, they will enjoy an amazing structure facilitated by both the use of a single big blind ante and a 30-second shot clock. The first three opening flights feature 40-minute blind levels while the final flight is a turbo affair with 20-minute blind levels.
Players bagging chips will compete for two more days on March 9-10. The final table will provide more time to react with blind levels extended to 60 minutes in length.
Besides a hefty first-place prize, the winner will also receive a WSOP Main Event package, courtesy of WSOP sponsor 888poker.
Other Events
The schedule also boasts many other events including the €230 Turbo Bounty on March 6, the €60 Ladies Event on March 7, the €1,700 High Roller on March 9-10, the €330 Deepstack on March 9-10, and the €220 Turbo Deepstack on March 10.
In addition, there are five live €115 satellites to the Main Event and two live €200 satellites to the High Roller.
888poker LIVE Bucharest Schedule
| Date | Time (EET) | Event | Buy-in | Starting Chips | Blinds |
| --- | --- | --- | --- | --- | --- |
| March 4 | 5 p.m. | Opening Event Day 1A | €230 | 15,000 | 30 min. |
| | 9 p.m. | Satellite to Main Event | €115 | 10,000 | 15 min. |
| March 5 | 5 p.m. | Opening Event Day 1B | €230 | 15,000 | 30 min. |
| | 9 p.m. | Satellite to Main Event | €115 | 10,000 | 15 min. |
| March 6 | 1 p.m. | Main Event Day 1A | €888 | 30,000 | 40 min. |
| | 2 p.m. | Opening Event Final Day | | | 30 min. |
| | 5 p.m. | Satellite to Main Event | €115 | 10,000 | 15 min. |
| | 8 p.m. | Turbo Bounty | €230 | 15,000 | 15 min. |
| March 7 | 1 p.m. | Main Event Day 1B | €888 | 30,000 | 40 min. |
| | 3 p.m. | Ladies Event | €60 | 10,000 | 15 min. |
| | 5 p.m. | Satellite to Main Event | €115 | 10,000 | 15 min. |
| | 8 p.m. | Satellite to High Roller | €200 | 15,000 | 15 min. |
| March 8 | 1 p.m. | Main Event Day 1C | €888 | 30,000 | 40 min. |
| | 4 p.m. | Satellite to Main Event | €115 | 10,000 | 15 min. |
| | 9 p.m. | Main Event Day 1D | €888 | 30,000 | 20 min. |
| March 9 | 1 p.m. | Main Event Day 2 | | | 40 min. |
| | 2 p.m. | Deepstack Day 1 | €330 | 20,000 | 40 min. |
| | 4 p.m. | Satellite to High Roller | €200 | 15,000 | 10 min. |
| | 8 p.m. | High Roller Day 1 | €1,700 | 50,000 | 30 min. |
| March 10 | 1 p.m. | Deepstack Day 2 | | | 40 min. |
| | 1 p.m. | Turbo Deepstack | €220 | 20,000 | 15 min. |
| | 1:15 p.m. | Main Event Final Day | | | 40 min./60 min. |
| | 2 p.m. | High Roller Day 2 | | | 40 min. |