Win a Free Seat to the XL Blizzard $250 Main Event at 888poker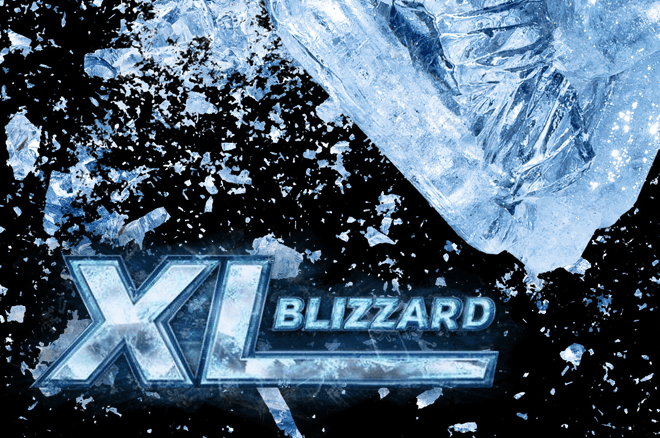 The XL Blizzard is just around the corner at 888poker. The festival features 34 action-packed events with more than $1.7 million in guarantees from April 4-14.
The highlight of the festival is, of course, the XL Blizzard #32 - $500,000 Main Event on April 14 at 6 p.m. GMT. This is just one of four XL Blizzard events that PokerNews is covering live from start to finish.
Other big events we are covering include the XL Blizzard Event #1 - $100,000 Opening Event on April 4, the XL Blizzard #16 - $100,000 High Roller on April 9, and the XL Blizzard #33 - $50,000 Mini Main Event on April 14.
Freeroll Your Way into XL Blizzard Events Online
You can qualify into these events and many others on the schedule for a fraction of the cost through the many satellite and feeder tournaments already running. However, we are about to also share with you how you can qualify into the Main Event and one other on the schedule absolutely for free.
If you already have an account at 888poker and have made a deposit, you should have already noticed that 888poker has granted you two free tickets for daily freeroll satellites to the XL Blizzard #2 - $20,000 Mini Opening Event that comes with a $16.50 buy-in and the Main Event. You can earn more tickets to these freerolls by completing simple missions.
If you don't already have an account, you can also get free tickets. Simply by signing up to 888poker through PokerNews and making your first deposit of at least $10 using the "BLIZZARD10" bonus code, you will automatically get three freeroll tickets.
The XL Blizzard Mini Tune-Up Event – Qualifier runs every day at 5 p.m. GMT and awards 30 seats to the $16.50 buy-in target event. This means every day, 888poker is giving away $495 in free value in this freeroll alone.
The XL Blizzard Main Event – Qualifier runs daily at 9 p.m. and is even more lucrative than the other freeroll with 12 players walking away with Main Event Seats valued at $250 each for $3,000 in total value.
This is not the only XL Blizzard promotion. You will be awarded with a ticket to a freeroll that awards a $12,600 WSOP Main Event package and three $2,700 Crazy 8's packages simply by playing in just five XL Blizzard events.
XL Blizzard Full Schedule
| Date | Time (GMT) | Event | Buy-in |
| --- | --- | --- | --- |
| Thurs., April 4 | 6:00 p.m. | XL Blizzard #1 - $100,000 Opening Event | $109 |
| | 6:01 p.m. | XL Blizzard #2 - $20,000 Mini Opening Event | $16.50 |
| | 8:00 p.m. | XL Blizzard #3 - $20,000 Late Opening Event | $55 |
| Fri., April 5 | 6:00 p.m. | XL Blizzard #4 - $30,000 PKO | $55 |
| | 6:00 p.m. | XL Blizzard #5 - $20,000 Mini PKO | $22 |
| Sat., April 6 | 6:00 p.m. | XL Blizzard #6 - $30,000 Crazy 8 | $88 |
| | 6:00 p.m. | XL Blizzard #7 - $10,000 Mini Crazy 8 | $8.80 |
| | 8:00 p.m. | XL Blizzard #8 - $10,000 Late Crazy 8 | $44 |
| Sun., April 7 | 5:30 p.m. | XL Blizzard #9 - $120,000 Mega Deep | $215 |
| | 6:00 p.m. | XL Blizzard #10 - $100,000 Tune Up | $160 |
| | 6:01 p.m. | XL Blizzard #11 - $50,000 Mini Tune Up | $16.50 |
| | 7:00 p.m. | XL Blizzard #12 - $10,000 Micro Tune Up | $5.50 |
| | 9:00 p.m. | XL Blizzard #13 - $20,000 Late Tune Up | $55 |
| Mon., April 8 | 6:00 p.m. | XL Blizzard #14 - $30,000 R&A Event | $55 |
| | 6:00 p.m. | XL Blizzard #15 - $10,000 Mini R&A | $5 |
| Tues., April 9 | 6:00 p.m. | XL Blizzard #16 - $100,000 High Roller | $320 |
| | 6:00 p.m. | XL Blizzard #17 - $30,000 Mini High Roller | $55 |
| | 8:00 p.m. | XL Blizzard #18 - $20,000 Late High Roller | $109 |
| Wed., April 10 | 6:00 p.m. | XL Blizzard #19 - $50,000 PKO | $109 |
| | 6:00 p.m. | XL Blizzard #20 - $20,000 Mini PKO | $16.50 |
| | 8:00 p.m. | XL Blizzard #21 - $10,000 Late PKO | $33 |
| Thurs., April 11 | 6:00 p.m. | XL Blizzard #22 - $75,000 PKO 8-Max | $215 |
| | 6:00 p.m. | XL Blizzard #23 - $20,000 Mini PKO 8-Max | $22 |
| | 8:00 p.m. | XL Blizzard #24 - $20,000 Late PKO 8-Max | $55 |
| Fri., April 12 | 6:00 p.m. | XL Blizzard #25 - $30,000 DeepStack | $55 |
| | 6:00 p.m. | XL Blizzard #26 - $20,000 Mini DeepStack | $16.50 |
| | 8:00 p.m. | XL Blizzard #27 - $10,000 Late DeepStack | $33 |
| Sat., April 13 | 6:00 p.m. | XL Blizzard #28 - $30,000 6-Max | $109 |
| | 6:00 p.m. | XL Blizzard #29 - $20,000 Mini 6-Max | $16.50 |
| | 8:00 p.m. | XL Blizzard #30 - $15,000 Late 6-Max | $55 |
| Sun., April 14 | 5:30 p.m. | XL Blizzard #31 - $120,000 Mega Deep | $215 |
| | 6:00 p.m. | XL Blizzard #32 - $500,000 Main Event | $320 |
| | 7:00 p.m. | XL Blizzard #33 - $50,000 Mini Main | $33 |
| | 7:30 p.m. | XL Blizzard #34 - $15,000 Micro Main | $5.50 |