Ahn Phan Leads After Day 1 of PNPC Main Event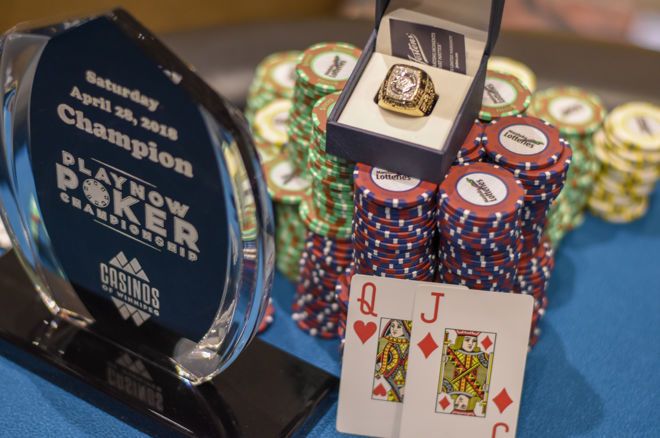 Ahn Phan Leads After Day 1 of PNPC Main Event
The first day of the $1,100 buy-in Main Event of the 2019 Spring PlayNow Poker Championship presented by Farmery Estate Brewery has come to a close. There were a total of 254 entries that began the day looking to take home the ring, prize money, and the new winners jacket (similar to the masters) by creating a $254,000 prize pool. After 15 45-minute levels of play, only 32 players remain.
This years winner is set to receive $66,840 while a min cash for anyone finishing in the top 26 spots will see the players receive at least $2,491.
Top of the chip counts is Anh Phan who amassed a whopping 483,000. Claire Leclerc ended the day as the short stack with 30,000 from her 20,000 chip starting stack.
Dylan Ellis (353,000), Jordan McAllister (344,500), Bob Allen (337,000) and Evan Gach (336,500) all bagged a top five chip count to finish the day.
World Poker Tour (WPT) Champion Patrick Serra (258,000) remains in the hunt for the Main Event crown as well as other notables, Sonny Lubana (78,500), Vlad Sharypov (111,500) and Eric Wasylenko (169,500).
When play resumes at noon on Sunday April 28 with only 6 players needing to be eliminated to reach the money.
Here are the top 10 payouts the players are playing for:
| Place | Prize |
| --- | --- |
| 1 | $66,840 |
| 2 | $42,187 |
| 3 | $28,047 |
| 4 | $19,563 |
| 5 | $14,259 |
| 6 | $10,819 |
| 7 | $8,512 |
| 8 | $6,918 |
| 9 | $6,785 |
| 10$ | 4,961 |