The Canadian Sunday Briefing: FrioPequeno Wins $90K+ on partypoker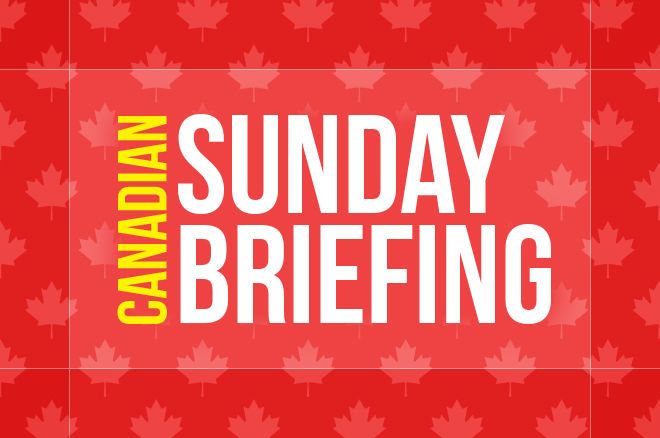 Every Sunday, millions of dollars are paid out to poker players around the world when sites like 888poker, PokerStars, and partypoker host the week's biggest and best online tournaments. Each week, we take a look at how players from Canada fared in the Sunday majors.
This Sunday, April 14, 2019, "FrioPequeno" had the best Canadian result after grabbing fourth in partypoker's massive Powerfest #69-SHR for close to $100,000. Honourable mention this week goes to partypoker ambassador Kristen "krissyb24" Bicknell who notched three cashes on Sunday for close to $60,000. Here's the full report on major Canadian results from this Sunday:
Sunday Majors on PokerStars
Sunday Marathon
The biggest tournaments of the day get started on PokerStars every week with the $55 Sunday Marathon featuring a $100,000 prize pool guarantee. This week's edition had 3,110 entries creating a prize pool worth $155,500.
The only maple leaf at the final table belonged to "random_chu" but ninth place was the best they could manage, worth $1,091.34. Bruno de Oliveira "bubbleboybr" Severino from Brazil managed to outlast the field though to win $19,651.47.
High Roller Club: Sunday Warm-Up
The High Roller Club: Sunday Warm-Up offers up a guarantee of $225,000 for eight-max action that costs $1,050 to enter. When the dust cleared, 370 entries meant the prize pool was $370,000 deep.
One Canadian found a spot in the final nine, and it was a familiar name and face. Kristen "krissyb24" Bicknell added $28,764.39 to her Sunday winnings with fourth place. Top dog in this one was "papan9_p$" from Russia for a score of $67,636.76.
High Roller Club: Sunday HR
The highest-priced regular Sunday major on PokerStars is the High Roller Club: Sunday HR with a hefty buy-in of $2,100 and guaranteeing $225,000 in prizes. With 159 entries this week, the total prize pool ended up at $318,000.
One Canuck found the final nine in this one, and once again it was Kristen "krissyb24" Bicknell. She notched another score with seventh place for $13,354.66. All the chips for this one ended up in front of Ben "jenbizzle" Jones from the United Kingdom for a prize of $64,110.81.
High Roller Club: Sunday 500
With a buy-in of $530, the High Roller Club: Sunday 500 guarantees $125,000. A total of 396 entries beat the guarantee, coming in at $198,000 to play for.
Two players with the maple leaf made the final table. Eighth place, worth $4,425.99 went to "mraink" while fellow canuck "skitzo333" made it as far as fourth place to collect $14,677.62. The winner was "DamoWain" from the United Kingdom who pocketed $36,069.66 for the victory.
Sunday Majors on partypoker
Sunday High Roller Bounty Hunter
Sunday action on partypoker got underway this weekend with the Sunday High Roller Bounty Hunter. For $530, players were guaranteed $150,000, but when 320 entries showed up with money in hand, the prize pool topped out at $164,000.
Two seats in the final eight had Canadian flags draped over them. Eighth place went to "Melania_Trump" for more than $4,000 in combined prizes. The other Canadian in the final eight made it to heads-up play as "floppymcsets" took second place for nearly $19,000 total. The winner was Austrian player "Kraaaaaut" for a total score of more than $27,000.
Powerfest #68-HR
For $1,050, Powerfest #68-HR guaranteed $500,000 in prizes for eight-max deep play. When the dust cleared on registration, 594 entries combined for a prize pool of $594,000.
Three maple leafs were spotted at the final table. The first player to bust from the final eight was "skitzo793" who pocketed $9,444.60. The next player to exit also wore a Canadian flag with Hugh "bigbluffzinc" Drummond taking seventh place for a prize of $13,305.60. The top Canadian flag on the final table belonged to US poker refugee Chance "ChanceSeeYou" Kornuth for a fourth place finish worth $36,352.80. The best player in this one was Finland's Sami "LarsLuzak1" Kelopuro for a cool score of $109,414.80.
Powerfest #68-H
For a cost of $215, Powerfest #68-H guaranteed $250,000 in prizes for deep stack play. When late registration was complete, 1,609 beans in the jar meant they were actually playing for $321,800.
Canada found a couple spots in the final eight of this one. Fifth place went to "WWWpartyCOM" for $11,843.24 but "vuks0n" made it to second place for a score of $38,519.46. The winner for this one was Malta's "GGuantanam3ra" for $54,287.66
Powerfest #69-SHR
The biggest game on partypoker this weekend was Powerfest #69-SHR. For $5,200 entry fee, players were guaranteed a minimum of $1 million in prizes. When 237 players turned up, the prize pool grew to $1,185,000.
One Canadian figured into the final table action in this one with "FrioPequeno" capturing fourth place money worth $92,430. The winner was "HaHaHakim" from the Netherlands for $210,183.20 after a heads-up deal.
Sunday High Roller Terminator
For an entry of $1,050 the Sunday High Roller Terminator offered up bounty action with $200,000 guaranteed. A total of 206 entries combined to grow the prize pool to $210,120.
Four Canadian flags were spotted in the final eight in this one. "Melania_Trump" and "WWWpartyCOM" both got their second scores of the day with eighth ($2,500+ combined) and seventh place ($4,000+ combined) respectively while one of Canada's poker power couples finished fifth and fourth. Alex "FkTheseGuysBro" Foxen took fifth place for a combined score of more than $9,000, while his other half, Kristen "krissyb24" Bicknell, did him one better with more than $15,000 in combined prizes for fourth place. The winner was "A23456789" from the United Kingdom for a combined win of more than $45,000.
Powerfest #70-H
Powerfest #70-H put $1,000,000 guaranteed into the middle for the low price of $320. After 3,152 players clicked through the turnstiles, there wasn't quite enough to break the guarantee, so $1,000,000 was all they were playing for.
One Canadian got a piece of that million dollar action as "ro0b1ckne11" grabbed more than $22,000 in combined prizes for fifth place. The top dog in this one was Brazilian Thiago "tgrigoletti" Grigoletti who won more than $120,000 in bounties and prizes.
That's our report of Canadian results in this week's Sunday majors. If you don't already have an account on each of these sites, make sure you download through our links and use our bonus codes to take advantage of the best promotions you can find. Good luck; see you in next week's headlines!