The Canadian Sunday Briefing: slarki1 Chops Sunday Million for $80K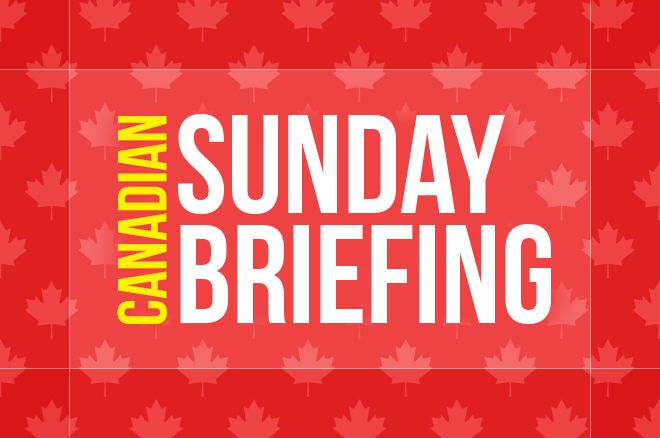 Every Sunday, millions of dollars are paid out to poker players around the world when sites like PokerStars host the week's biggest and best online tournaments. Each week, we take a look at how players from Canada fared in the Sunday majors.
This Sunday, April 28, 2019, "slarki1" was the best player wearing a maple leaf. They pocketed more than $80,000 after chopping the Sunday Million heads-up. Here's the full report on major Canadian results from this Sunday:
Sunday Majors on PokerStars
Sunday Marathon
The biggest tournaments of the day get started on PokerStars every week with the $55 Sunday Marathon featuring a $100,000 prize pool guarantee. This week's edition had 2,484 entries creating a prize pool worth $124,200.
Kyle "ChedrStack" Chang from Ontario was the only player to find a final table spot, and he finished fourth for $5,548.29. "mysto20" from Malta managed to outlast the field though to win $16,124.87.
High Roller Club: Sunday Warm-Up
Sunday heats for high rollers with the High Roller Club: Sunday Warm-Up which guarantees $225,000 in prizes for a buy-in of $1.050. This week, 261 runners brought the pool to $261,000.
The only Canadian to make this eight-handed final table was Hugh "bigbluffzinc" Drummond, but he bowed out in sixth place for $11,706.92. The player with all the virtual chips at the end was UK player Ben "jenbizzle" Jones for a win of nearly $50,000.
Sunday Warm-Up
The $215 Sunday Warm-Up heats up the action with a $150,000 guarantee. This week, it was a Milestone Giveaway tournament, and after late registration there were a total of 926 who bought into the tournament to create a total prize pool of $185,200.
Two Canadian flags were spotted at the final table. "Chopper100" took fourth place and pocketed $11,600.72, but Tim "TTWIST" Kelly went one better with third and $15,985.57. Bulgarian "AchoBogdanov" took the victory, collecting $30,354.69.
Sunday Storm
Moving on to the lowest-priced tournament that could be considered a Sunday major, the $11 Sunday Storm is the best value you'll find in online poker. Despite the tiny buy-in, the prize pool is set at a guaranteed $200,000 and this week was a Milestone Giveaway. The tournament this week saw 20,883 players enter, creating a prize pool of $204,653.40.
Three maple leafs stormed the final table this week. "Kevin Mason" came sixth ($2,924.39) wearing a maple leaf, but two Canadians figured in the three-way deal at the end. "FarleyMac" took third place and $11,552.47 and Ontario's "laruegg" took third place for $12,341.44. Hungarian player Tóth "SlyderS1" Béla got the best of the three-way deal with first and $17,217.37.
High Roller Club: Sunday HR
The highest-priced regular Sunday major on PokerStars is the High Roller Club: Sunday HR with a hefty buy-in of $2,100 and guaranteeing $200,000 in prizes. With 104 entries this week, the total prize pool ended up at $208,000.
Ontario's "fishbones11" was the only player wearing a Canadian flag near the end of this one, and they ended up taking second for $36,811.77. The winner was Scott "Aggro Santos" Margereson, playing from Mexico, for a tidy sum of $47,930.46.
Sunday Million
This is the most coveted online poker tournament in the world with a buy-in of just $109 but a $1,000,000 guarantee. This time around, entries came to 10,224 to create a total prize pool of $1,022,400.
The only Canadian to make the final table was "slarki1", who cut a heads-up deal for second and $81,770.62 with the winner, "sica26" from Romania, who won $101,770.63.
Mini Sunday Million
Giving the Sunday Million feel for a tenth of the buy-in is the weekly Mini Sunday Million where the buy-in is $22 with a $175,000 guaranteed. This time around there were a total of 9,483 entries to create a total of $189,660 up for grabs.
Doug "dlanger610" Lang was the only Canadian to make the final nine and score a ticket to the full Milly and he also pocketed $2,373.97 for his troubles. The player with all the chips at the end was "Advenator" from Russia, worth $19,588.21 after a three-way chop.
High Roller Club: Sunday Cooldown
The high rollers cool down on Sunday with the $2,100 High Roller Club: Sunday Cooldown, an eight-max, progressive knockout event. With a guarantee of $200,000, 108 entries brought the actual prize pool to $216,000.
One Canadian figured in the final table. Matt "OLD TIME GIN" Stone added to his $5 million plus online earning with more than $21,000 in combined prizes for third place. Austria's Thomas "WushuTM" Mühlöcker pocketed more than $60,000 in combined prizes for the win.
Sunday Cooldown
Sunday gets icy cool with the $109 Sunday Cooldown eight-max progressive knockout. A guarantee of $150,000 attracted 1,654 entries who ended up playing for $165,400.
The only Canadian flag in the mix belonged to "alextaz27" who won nearly $8,000 in bounties and prizes for fourth place. Russian player "veeea" took down the top prize for a combined total of more than $18,000.
That's our report of Canadian results in this week's Sunday majors. If you don't already have an account on each of these sites, make sure you download through our links and use our bonus codes to take advantage of the best promotions you can find. Good luck; see you in next week's headlines!