Negreanu Gets Off to a Running Start in 50th WSOP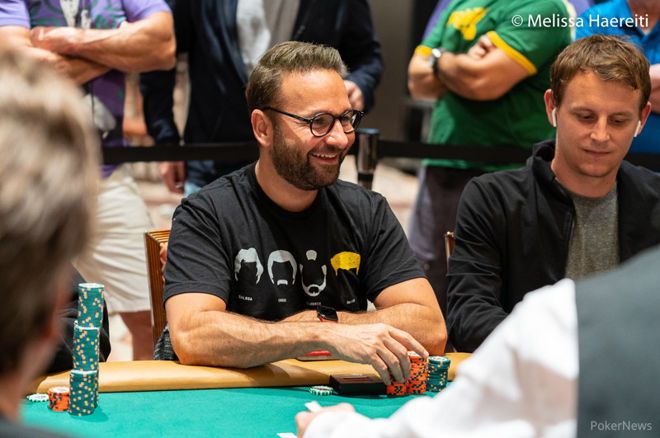 While it's technically billed as Event #2, the $10,000 No-Limit Hold'em Super Turbo Bounty is the first open event of the series. With play reaching the final six, it will also be the first bracelet in play and Daniel Negreanu has booked a seat in the final six.
Arguably the most well known poker player in the world, Negreanu is unquestionably the most recognized Canadian player. Fans and observers might have been forgiven for wondering if he might be distracted by some pretty monumental recent life changes, but he seems to have hit the ground running for the 2019 World Series of Poker (WSOP).
Its not as if Negreanu doesn't have things in his life to distract him from his game. Not only has he recently ended a very long employment relationship with PokerStars, he married long-time friend Amanda Leatherman just weeks before the start of WSOP. The couple rekindled an attraction, thwarted by bad timing, that had been brewing for years during last year's WSOP, and Negreanu proposed on New Year's Eve.
For anyone else, big life changes might mean a loss of focus, or even a change in priorities. For Negreanu, it seems to have fired his desire to get back in the game. In the first event he could enter this year, Negreanu also made his first final table.
When action resumes at noon Vegas time on Thursday, "KidPoker" will bring the fourth biggest stack to the table to face an otherwise all-American field. The big stack, Asher Conniff, bagged up 53 big blinds, and both of the other big stacks outstack him by more than 10 big blind. The full final table draw is below:
Final Table Seat Draw
| Seat | Player | Country | Chip Counts | Big Blinds |
| --- | --- | --- | --- | --- |
| 1 | Brian Green | United States | 720,000 | 9 |
| 3 | Ali Imsirovic | United States | 2,180,000 | 27 |
| 4 | Asher Conniff | United States | 4,215,000 | 53 |
| 5 | Daniel Negreanu | Canada | 1,015,000 | 13 |
| 8 | Ping Liu | United States | 990,000 | 12 |
| 9 | Loren Klein | United States | 3,130,000 | 39 |
With just 13 big blinds, he'll have to dig a bit in the corners to find scoring chances if he wants to win the first bracelet awarded in 2019. But this is Daniel Negreanu we're talking about, an originator of "small ball" poker and second biggest money winner, well, ever. He already has six bracelets to his name, but he'd surely love to add a seventh to his collection, not least for the bragging rights of being the first in 2019.
No matter how Day 2 goes for the Canadian poker legend, Negreanu's quick start in this 50th Anniversary WSOP bodes well, both for his prospects, and Canada's, for the remainder of the series. Go Canada go!