PokerNews Reporters Join the Bracelet Hunt, Lamers Makes Final Table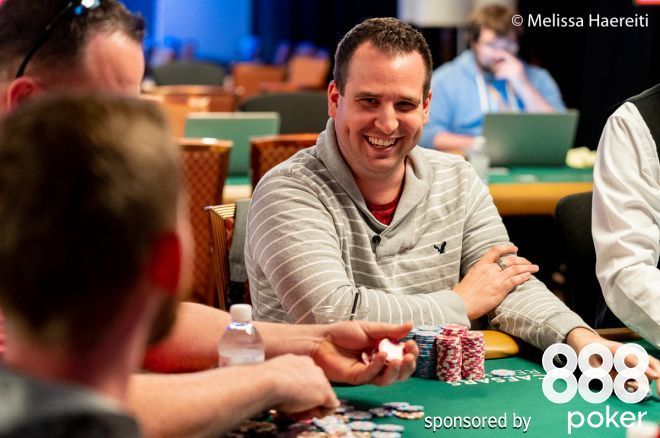 The 50th Annual World Series of Poker kicked off just two days ago, launching the chase for one or more of the 89 gold bracelets up for grabs over the next seven weeks. As players get their minds ready for the long grind, so do the many hardworking people involved in putting together such a big event. This includes dealers, floor staff, registration, payout staff, and the media – just to name some of the many moving pieces involved in the beast that is the WSOP.
The first day of the WSOP is also the one and only chance that employees have to win a coveted bracelet and score a decent chunk of change. Members of the PokerNews team took to the felt in a reversal of roles, looking for a piece of the pie that is the $500 Casino Employees Event.
Chad Holloway Hunts for Bracelet #2
PokerNews' very own United States Live Reporting Manager Chad Holloway, won this event in 2013 for $84,915 and his first gold bracelet. This year's Casino Employee Event gives everyone 25,000 in chips playing 40-minute levels, much different from when Holloway took it down six years ago. "If I recall correctly, they only started us with 3,000 in chips that year, so it was pretty turbo-ish."
Holloway has come a long way in this industry, beginning as an intern for BLUFF Magazine, and then live reporting for the first time at the 2010 WSOP. "The best part of live reporting is having a front-row seat to historic moments in poker. It also gives you the added benefit of watching and learning from the best players in the world."
Team PokerNews Shoots for Gold
Milko van Winden was also in the field, trying to enjoy his time in between studying and working as a Live Reporter for his second year. He is going into his final year as a journalism student, all while writing hand histories and finding time to spend with his girlfriend. "I really like just being a part of it all. Us reporters get to see some of the most amazing players do their thing and that's just awesome!"
Van Winden hails from the Netherlands and plays plenty of poker back home. "Mostly online. I prefer all the weird games over the too boring no-limit hold'em. In the Netherlands, they only offer no-limit hold'em and pot-limit omaha live so I always try to sneak in some $4/$8 mix sessions between workdays."
One of the fresh faces this summer includes Oliver Biles, a poker player and YouTube vlogger, and now a member of the PokerNews Video Team. Biles fired this event but unfortunately only lasted 45 minutes. While he doesn't have much experience in the Media world, he plans on learning as much as he can to improve his game.
"Last year I played my first WSOP. I fired a fair few bracelet events with a couple of deep runs. I can't wait to be on the other side of things this summer!"
When he isn't on the felt or behind a camera, Biles is off traveling the world and taking in new experiences.
PokerNews Live Reporter Adam Lamers Makes the Final Table
Finally, of the 686 entries in this event, just six remain coming into the final day. Still remaining in the field with a shot at a bracelet and $62,345 is none other than Canadian live reporter Adam Lamers.
This will be his third full summer working at the WSOP, but he began his career in this industry as a poker dealer in 2010. He is now a staple among the PokerNews Live Reporting Team and is likely to continue with this career path that he clearly enjoys. "My favorite part is being able to watch the greats play the game. And watching the characters like Hellmuth and Matusow blow up in real life. I wanna be the guy that tilts them one day," joked Lamers.
This has also been a whirlwind of a year for Lamers on the other side of the felt. He has amassed $45,017 CAD in cashes in his live career, of which $44,767 has been earned in 2019 alone across four events. Lamers won his first ever tournament on January 18th, 2019 for $39,539, topping a field of 246 entries in the 2019 Alberta Poker Championship $888 Main Event in his hometown in Edmonton, Alberta.
Lamers credits his role in the poker media when looking back on his success on the felt. "For sure it has helped. I've noticed that my game has got better in the past year. Bet sizing is crucial in tournaments and that's what I think has changed the most for me."
Today, Lamers comes into the $500 Casino Employees Event final table of six players with the second-shortest stack, guaranteed a payout of $9,776. The average stack is shallow, so it's certainly not out of the question that the Canadian could lock up his first bracelet and biggest career cash should he spin his way to the top.
"It feels pretty damn good actually. I never expected to make the final table, but you know I've had a lot of confidence from the start of the year," explained Lamers.
When asked if he has done much to prepare coming into the tournament, Lamers admitted he doesn't study or use solvers or study charts. "The best way I learn is from my friends. I pretty much have only poker friends," he said. Lamers continued to explain that he finds it more helpful to go over hand histories with his friends who play poker for a living.
Regardless of the outcome today, Lamers' colleagues can rest assured that he will be back on the other side of the felt to continue his job as a live reporter this summer. As for poker, Lamers is happy to have some extra money in his pocket to keep playing the game he loves. "I do wanna play more tournaments going forward, so I think having some success will give me the confidence to do that."
Cards will be in the air at 12:00PM PT with live updates available here. Live streaming will begin at 1:00PM PT at PokerGo.