Ladies' Week: An Orbit with Denise Pratt at the 'Fun Table'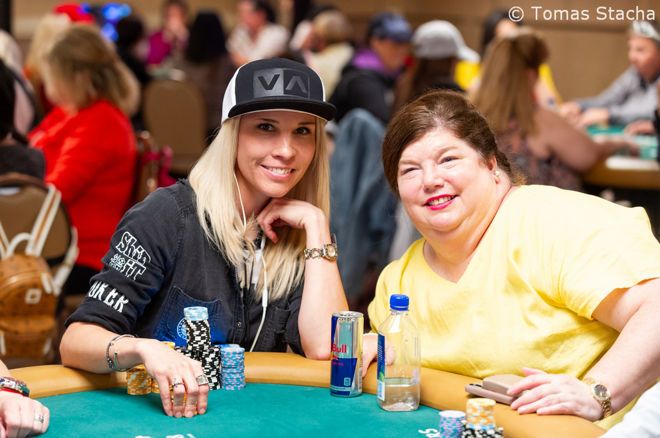 Day 2 of the 2019 World Series of Poker $1,000/$10,000 Ladies No-Limit Hold'em Championship is happening now and PokerNews decided to catch up with arguably the funniest woman in the field, Denise Pratt
Pratt was introduced to the poker masses towards the end of 2018 after she roasted Dan Shak in a video posted on Twitter.
As of today, Pratt has made appearances on PokerGO and has been frequenting the poker circuit, spreading her wisdom and wit everywhere she goes. She has cashes in the Bahamas and Barcelona, with her biggest score being a fourth-place finish in the WSOP Circuit Main Event in Milwaukee for $70,262.
Playing Poker with the Ladies
Pratt is known for her free spirit at the tables, so that makes her preference to play in ladies events a no-brainer. "It's a lot more fun because you can say stuff, and we talk about more things. I busted out and went and played the $2,500 event. I can't say some of the stuff as freely as I would at the ladies," laughed Pratt.
"We just had a good time you know. We were talking about having babies, got into some funny hands and we just had a good time," exclaimed Pratt.
In talking about gameplay, Pratt thinks ladies events are quite different from open fields in that regard: "I think the ladies are a little bit tougher because we tend to be a little bit more aggressive with one another."
Comfort is also a huge factor for Pratt and is important to her when playing poker. "I do better when I'm comfortable, and I'm funnier when I'm comfortable," Pratt told PokerNews. "The ladies were telling me, 'you really need to quit poker and become a comedian'."
"We just had a good time you know. We were talking about having babies, got into some funny hands and we just had a good time!"
Furthermore, Pratt believes that the ladies prize pools are smaller because women "aren't willing to put more money in to make the prize pool bigger. I think we need to change the way women think about poker."
Pratt talked about women being more responsible overall: "They take less risk and feel guilty for splurging on this (tournaments), but they don't feel guilty about splurging on a slot machine. They gotta get outta that mindset! I want to see more women playing poker."
The 'Fun Table': An Orbit at Table 611
The atmosphere in the Ladies' event is hard to capture in words, so PokerNews hung out at Table 611, which was easily the loudest in the room.
Level 11: 800/1,600/1,600
Hand #1: Action folded to Pratt in the big blind and she got a walk. She flashed the

and let out a cheer: "Thank you! I had an ace!"
Hand #2: Jannalla Wadlington made it 4,600 to go from late position and the player in the big blind defended. The flop came



, the big blind checked, Wadlington fired out a bet of 8,500 and the big blind folded.
Hand #3: Sayako Kawamura moved all in for 18,300 from under the gun and Veronica Brill asked for a count from late position. She eventually called and Kawamura tabled


, needing to improve against Brill's


.
The dealer put out a flop of



to give Brill a commanding lead with a pair of queens and the nut flush draw. The turn was the

and Kawamura was left drawing dead to the

on the river.
As Brill stacked up her chips, the tabled engaged in some conversation about fillers and botox. "The beauty we see in magazines is airbrushed," said Brill. "That's not real."
Hand #4: Starr Valdez just sat down at the table and raised to 4,000 from the hijack. Wadlington was in the big blind and snap moved all in. Valdez asked for a count, which ended up amounting to 80,800. "Why so much?" asked Valdez, still stacking her chips up from being moved from Pavillion. Wadlington shrugged her shoulders and Valdez eventually mucked. Wadlington claimed to have had queens.
Banter at the table continued, with the ladies laughing and admitting to being the best table in the room. "And we're all fucking beautiful too!" exclaimed Brill.
Hand #5: Pratt raised to 4,000 from the hijack and the big blind shoved all in for 32,900. Pratt folded.
Hand #6: A player in late position raised to 4,000 and everyone folded. Brill asked, "Ace-king again?! Nice hand!"
Hand #7: A player in late position shoved all in for about 30,000. While players folded around, Pratt began to go on a rant about women playing slot machines:
"If I catch anybody on the slot machines, I'm gonna bitch slap 'em! Hold on though. I do go on the slot machines for the points. I learned that from 'Chainsaw' (Allen Kessler)!"
Brill responded: "Chainsaw is the biggest life nit ever!"
Hand #8: The big blind got a walk.
Hand #9: A player in middle position raised to 4,000 and got no action.
The $1,000/$10,000 Ladies' No-Limit Hold'em Championship is well underway on Day 2, so follow the Live Updates as PokerNews is on the ground bringing you all of the action!