Media Personalities Robbie Strazynski & Lane Anderson Live Out a WSOP Dream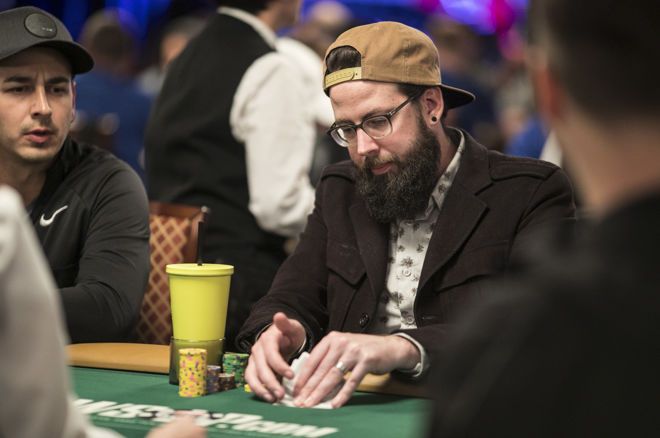 For the many poker pros that await the long grind that is the World Series of Poker every single summer, winning a gold bracelet is the dream. For the thousands of recreational poker players just making it to Vegas and playing in a single event is the dream. Winning a gold bracelet would be the icing on the cake, but making the money would definitely be something to be proud of.
On the other side of the felt sit many industry professionals such as dealers, floor staff and the media. Due to time constraints and even contractual obligations, many of these hard-working individuals don't have much time to play poker. Ensuring the WSOP is a success is the priority, and chasing a bracelet has never been a realistic thought for everyone putting in time and effort to make sure everything goes off without a hitch.
"For 13 years I wanted to come and see the World Series of Poker."
This year, media personalities Lane Anderson and Robbie Strazynski found a way to live their dream of playing in a WSOP event, and they couldn't be happier.
"For 13 years I wanted to come and see the World Series of Poker," Strazynski told PokerNews. This is now his fourth visit to the WSOP, and he has been focused on his media work and expanding his business on CardPlayerLifestyle.com for the last two years. "I didn't want to be caught in a tournament when a business-type of opportunity would come up. I always stuck to cash games in that I left myself free at all times so I could leave on a moments notice and be where I needed to be."
Anderson is the owner of London Road Media and recently left his role as Senior Editor of PokerNews Canada to focus on his growing marketing and social media business. In 2014, he worked his first WSOP as a Live Reporter for PokerNews.
"The poker world is what gave me my start. I could report hold'em but you couldn't put me on a different event because I didn't know anything about any other event," laughed Anderson.
The Decision to Live the WSOP Dream
Between working in the media and juggling family life, it takes a lot of things to go right in order to go to the WSOP to play poker. So, PokerNews asked both Strazynski and Anderson why this was the year they decided to live out their dream to play on poker's largest stage.
"I'll be very frank. Eli Elezra told me to do it," admitted Strazynski. Elezra offered to stake him in his event of choice, but Strazynski refused. "I couldn't accept that offer. I had a piece of myself and I had a dozen homegame buddies who were very happy to put in a few percent each. Eli took whatever no one else bought."
"This year was the 50th anniversary and I'm like, I gotta make it out this year."
Anderson has been busy with work and family life.
"It was my dream to come here last year and we just ended up with other things that we did within our family instead. This year was the 50th anniversary and I'm like, I gotta make it out this year," Anderson told PokerNews. He decided to make this year's WSOP a priority, and it's the first time he has taken time off since starting his business in 2016.
Strazynski has been playing in homegames for 15 years, and has always wondered what it would be like to play against the world class professionals. "Maybe I don't have the raw skills that they have. It's a mental game of all things," said Strazynski. "They put their pants on the same way I do. I said okay, it's time and I'm gonna go ahead and carve out a couple of days of my schedule to give it a shot."
The WSOP Experience
Anderson decided to play the $1,500 No-Limit 2-7 Single Draw event, and started off the day on a high note. "It's really, really exciting. I'm running ridiculously good so that helps," smiled Anderson. He locked up the first bust-out of the day and chipped up from there, playing with the likes of Shawn 'Bucky' Buchanan and Bernard Lee.
Eventually, Anderson bagged up a stack for Day 2 and was just 15 players from the money. He was seated with November Niner Jerry Wong, and hoped to spin up his stack. Unfortunately for him, he took an early beat just five spots from the money and was eliminated.
Despite just missing the money, Anderson clearly had a blast:
My first-ever #WSOP event was a lot of fun. Had a great start to Day 1 with a good stack, managed to make Day 2, pl… https://t.co/887UFoeWYj

— Lane Anderson (@85FastLane)
Strazynski entered the $1,500 Dealer's Choice event, but not before practicing his skills at The Orleans. He hopped in the 8-Game Mix and stone bubbled it, followed by playing R.O.S.E. and finished about seven spots from the money in that tournament.
Unfortunately for Strazynski, his tournament life was short-lived as he was eliminated on Day 1.
"They took all my chips, but they did not take my smile."
"I can't say I played 100% mistake-free, but I can definitely say I was on my A-game the entire time," he explained, adding that it took him about three levels to stop playing scared money, and that he had the good fortune of taking a break with Elezra.
"The money is already gone," Elezra told Strazynski.
Tactically, there was a big difference for Strazynski between the games he practiced and the ones that were called in the Dealer's Choice event.
"A lot of people seemed to call PLO and PLO8 and I realized I didn't expect that. I am certainly outclassed in the big-bet games," explained Strazynski.
"I was a fan before I was a media person," said an excited Strazynski. He talked about playing with Jeff Lisandro and James Obst and having a great time. Unfortunately, the cards didn't go Strazynski's way. "I scooped maybe two, but definitely one pot. Ran into the nuts early on, and at no point was I above starting stack. They took all my chips, but they did not take my smile."
It's safe to say that Strazynski made the most of his experience at the WSOP, and left in good spirits: