Mueller Wins Canada's First Bracelet at WSOP50 in $10K HORSE Championship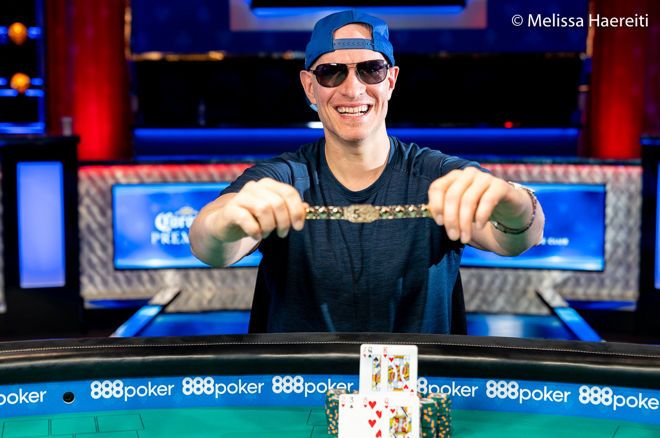 "Chip and a chair" is a well-worn cliche in poker. It stems from a real incident that occurred in the 1982 World Series of Poker, but has become a catch-all phrase that reminds tournament players that you can win from any stack size above 0. Last night during three-handed play, Greg Mueller was on fumes, and put his final chip in the middle on a raise. He was holding bottom pair, no kicker, and had no hope of a fold from his opponent. He got the call, and was in exactly the situation he expected ... his pair ahead of a drawing hand. He held in that spot, and a short time later was the owner of his third bracelet, the first for Canada in this 2019 WSOP season, after powering through a field of 172 entries to win Event #29: $10,000 H.O.R.S.E. Championship (Full Recap: Greg Mueller Wins His Third Bracelet, Takes Down WSOP $10,000 H.O.R.S.E.).
"Technically, I'm dead." Mueller said of the key hand. "What can I beat? I just looked at him. He doesn't have a hand!" Reads like that are difference between a deep run and an early day, or in this case, the difference between a short stack destined for third place money, or the win, and a bracelet. "I got instant confidence and swagger."
Mueller is no stranger to the WSOP winners circle, but he may have missed it a bit after a relatively long absence. He won his first two bracelets 10 years ago, during the 2009 Series. That year, he showed off his Limit Hold'Em prowess, taking down two events in the same series, including Event #33: $10,000 Limit Hold'em Championship. This year's triumph in the H.O.R.S.E. mixed game format shows both how far his game has progressed, but also looks back to that limit hold'em dominance. After all, his third bracelet was essentially won or lost on a limit hold'em hand.
Mueller owes his latest victory less to grinding poker, and more to grinding life as a whole. "I put a lot of effort not so much into studying the game, just into my own physical and mental state," he told the PokerNews team. "When I'm in Canada, I don't play one hand of poker. I do my thing: work out, play hockey three times a week, watch a ton of sports." Spending more time focusing on his off-felt life certainly doesn't seem to have hampered Mueller's on-felt game.
The rest of the Series is still a bit of an open book for Mueller. In true Canadian fashion, he's just going to see what happens. He's not bracelet hunting, or grinding for POY points this year. Instead, he said it was all about balancing his life between poker, the rest of what Vegas has to offer, and his healthy routine. After winning one of the prestigious mixed game Championship events, Mueller isn't even certain he'll play the premier mixed game event at the series, the Poker Players Championship. There's no must-do events in the series for Mueller this year, but he did have an itch to get back to the game.
"I just thought, 'Do I still have it? Has that game passed me by?' and I told myself that I will play a little bit and that I'll be focused."
After bagging Canada's first bracelet win in the 2019 summer show, and taking down a Championship event that requires mastery of five different versions of poker, it's pretty clear the game hasn't passed him by. On the contrary, he showed he's plenty fit and fast enough to stay ahead of the game.