PokerStars Pro Muskan Sethi Discusses Evolution of Poker in India, Prepares for WSOP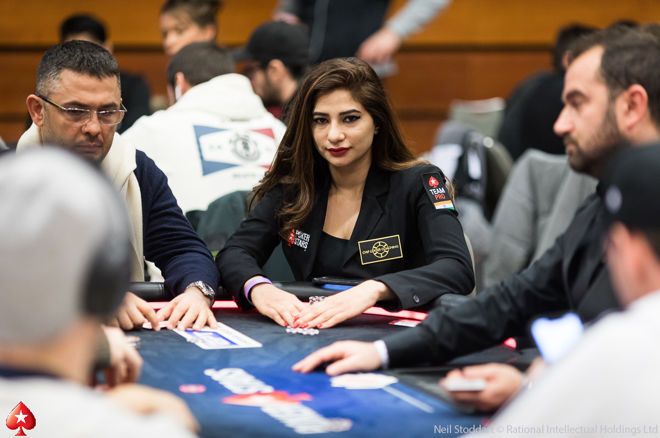 In 2018, Muskan Sethi became the first sponsored female professional poker player to hail from India when she signed with PokerStars. Given the cultural differences between India and North America, this was a huge accomplishment for the poker world and for women in general.
Poker has traditionally been viewed in a negative light in her home country, where it's widely considered to be 'gambling.'
"Being in India, they felt like if you're gambling for a living, it was assumed you are not from a good family, and you're someone who works in basements underground," explained Sethi. She believes that movies have also contributed to negative views of poker and those in her profession.
"I feel like I never lose when I come to the WSOP - I always go back as a better player."
"When I was going, playing cards late nights, my mother used to get phone calls all the time. She would just be defending me left, right and center. It was very low-key; We were trying to hide it as much as we can, but there were crazy rumors," Sethi told PokerNews.
Even Sethi's good friends doubted her, and referred to her as a 'gambler.' "I would be surprised that such educated people who traveled the world don't understand that poker is not gambling. It's a mind sport," said Sethi.
Today, things are much different. "I promise you, everything is changing. People are respecting the game," said a proud Sethi. "In India, people are getting into it because they're making their parents understand. The same people who gambled during the festivals are taking poker seriously and they're getting into this because they realize this is like every other profession."
Putting in the Work
Sethi talked about putting in work and that like any other profession, it's important to study and put your time in. "You're not going to be a successful doctor if you don't study. Similarly as a poker player, you won't necessarily get success immediately." She went on to explain that she doesn't believe that anyone should be entitled to anything. "People should work for what they want. Success is not taken for granted."
In that regard, Sethi has been putting in time on and off the felt in order to improve her game. She is currently at the World Series of Poker and has been working harder than ever. "I have been preparing for this since last year. I did not do well last year, so I was like, how could I give it my 100% because for sure there are people working harder than me."
"This is my calling for sure. Poker has given me a lot."
Sethi is a student of Chip Leader Coaching under the direction of professional poker player and coach Chance Kornuth. "I'm really fortunate that he took me in. So I've been working with him for a year now." She has also been playing regularly on PokerStars India to be able to have hands to study.
"I'm happy with how I'm playing so far (at the WSOP)," smiled Sethi. "If I have any doubts, I keep writing down all the hands. I have notes where I've written down every hand that I've lost or that I'm confused about." Sethi feels as though she is investing money to learn by being able to face such good players. "I feel like I never lose when I come to the WSOP - I always go back as a better player."
Learning the Game and Giving Back
Growing up, Sethi was exposed to card games at an early age. "My Dad had showed [poker] to me on TV when I was a kid. I used to play on Zynga Poker. In general when I was growing up, I was really attracted to card games." Her grandmother and aunts all used to play cards, and every holiday their family used to go to the hills and compete against one another.
"Whoever would win would throw a big party for everyone else. It's just the culture. Instead of me sitting and playing with the kids, I would be hustling kids in the game 'bluff,' or sitting in between all the elders just to understand their body language."
Sethi said she always knew how to read others, and was able to figure out who had it and who didn't. During Diwali, also know as the 'Festival of Lights,' Sethi's family would throw parties where there were card games - poker and three-card flush, to be specific. Sethi cleaned up at these parties, but she would always give back.
"It's all mind power. I have gone through a lot in my personal life. But this game has given me a lot. It gives me a reason to smile, to keep moving on."
"I feel like everyone should do that. If someone wins the lottery, or gets unexpected wealth from somewhere, you should always share it. With poker, I feel like it's more expected because you're planning for it. You're studying for it," said Sethi.
"I come from a very conservative, strict family. My parents believe our respect is our wealth. They just believe that money comes and goes, but if you're strong with your character and if you do the right things, it's going to be hard but it's always going to be worth it."
Sethi explained that she always refused to take pocket money from her parents. She would be the one giving out gifts to her family, and would buy food and distribute it to people in India.
"There's a big gap between the rich and the poor, so when you step out for a drive and you look around, you will find homeless people on the road. I would give them a box of lunch or something. It just makes their day you know."
The Power of Poker
Back in 2014, Sethi played a freeroll on PokerStars to qualify for the Shark Cage and ended up winning it to be a contestant on the show. Her mother had just passed away a few months earlier, and she decided to draw strength from this moment.
"My mom has brought me up like a tiger, you know. She was a social worker but also a person who did everything. Like a limitless superwoman," smiled Sethi.
"It was my thing, that I wanna make her proud." Although Sethi did not win on the Shark Cage, she began to take her game more seriously after she returned home. "I realized that I naturally have it in me. If I just studied a little bit more, I feel like as a kid, being around cards, this means something. This is my calling for sure. It's given me much more than anything in the world. Poker has given me a lot."
Sethi just lost her father a few months ago, and in the span of five years has had a lot happen to her.
"It's all mind power. I have gone through a lot in my personal life. But this game has given me a lot. It gives me a reason to smile, to keep moving on," said an emotional Sethi.
Women in Poker
With the Ladies' Championship fast approaching next week, Sethi reflects on her gender in this industry. "Yes, there are advantages more than disadvantages because people consider you to be very tight." She continued: "You can really exploit that," said Sethi.
In touching on misogyny at the tables, Sethi thinks it's important to stand up for anyone being targeted at the table because of gender.
"I've always stood up for women," explained Sethi. She expressed her interest in ensuring people at the tables are educated and that they realize they shouldn't be speaking to women in a demeaning way.
"I love this industry," said Sethi. "And even as a woman, look at Vicky Coren. Look at all these amazing poker players. It's not a thing that you can just enjoy for a few years. It's something you can grow old doing. Gracefully grow old as a poker player. Poker is never stopping for you - something you're just improving at each year."
Sethi plans on tracking down all of the ladies events next week to interact with people and help grow the game.
"It's such a nice time to meet everyone. I would love to give them that boost and tell them they have an advantage [in this game]."
Muskan Sethi will be playing at the WSOP all summer, so stay locked on PokerNews.com to track her progress.