A Look at Phil Ivey's Demise in the WSOP $50K Poker Players Championship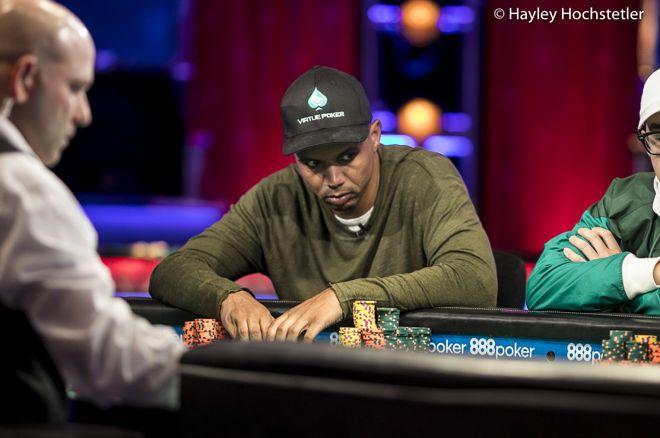 Thursday marked Day 4 of Event #58: $50,000 Poker Players Championship at the 50th Annual World Series of Poker and none other than 10-time bracelet winner Phil Ivey led the final 12 players as things got underway.
Everyone was already in the money, guaranteed $72,078 with a hefty $1,099,311 and a WSOP gold bracelet for the winner.
Now, play is down to just seven players on the final table and Ivey is nowhere to be found. His stack went from top to bottom in a matter of just a few hours, ultimately seeing him hit the rail in eighth place for $124,410. PokerNews did a breakdown of the final five hands that led to his elimination.
Hand #1 - Ivey Relinquishes the Chip Lead
Phil Ivey:


/




/


Dan Cates:


/




/

In Level 20 (60,000/120,000) playing Stud Hi-Lo, Phil Hui was the bring in and Dan Cates completed with the

showing. Ivey put in a second bet, Cates called and proceeded to check-call another bet on fourth street.
Ivey bet both fifth and sixth streets, Cates called and both players checked seventh street. Ivey revealed



for aces with a king-ten kicker, but was no good against Cates'



with king-queen.
Ivey dropped to 1.8 million, putting him below 2 million in chips to relinquish the chip lead.
Hand #2 - Esposito Snags a Big Chunk
Following the elimination of Dario Sammartino in ninth place ($93,764), and still in Level 20, John Esposito raised on the button in 2-7 Triple Draw. Ivey made it three bets from the big blind and Esposito called.
On the first and second draws, both players drew one card each, and Esposito check-called bets from Ivey both times. On the final draw, Ivey stood pat, Esposito drew one and then check-called a final bet from Ivey. Esposito voluntarily revealed





and Ivey mucked.
Ivey dropped to 1.1 million at the end of this hand.
Hand #3 - Hui Bets All the Streets
Phil Ivey:


/




/


Phil Hui:


/




/

In Level 21 (80,000/160,000) playing Stud, Ivey was the bring in with the

showing, Phil Hui completed with the

and Ivey called. Hui proceeded to bet every street thereafter and Ivey came along.
Eventually, Hui tabled



for kings up and Ivey mucked his cards, bringing him down to 845,000 in chips.
Hand #4 - Ivey Drops under Two Big Bets
In the same level playing Omaha Hi-Lo, Ivey was in the cutoff and put in a raise, getting a call from Esposito in the small blind. Cates three-bet from the big blind, getting calls from both Ivey and Esposito.
On a flop of



all three players checked to see the

on the turn. Esposito bet first and Cates and Ivey both called. The river completed with the

and Esposito bet again. Cates folded and then Ivey tank-folded.
Ivey dropped to 305,000 for just under two big bets.
Hand #5 - The Final Hand
Phil Ivey:


/




/


John Esposito:


/




/


Dan Cates:


/



- folded on fifth street
Still in Level 21 and playing Razz, Ivey was the bring in and Esposito completed with a seven showing. Cates called with a jack showing and Ivey called with a king. Esposito bet on fourth, getting calls from Cates and Ivey. Esposito bet fifth, Cates folded and Ivey called all in for his last 65,000.
On fifth, Ivey had a king-eight versus Esposito's pair of fours but a draw to a seven. After sixth street, Esposito made two pair and Ivey was ahead with king-eight still. After seventh, Esposito picked up a king for king-seven and Ivey was unable to improve by pairing his ace, eliminating him from the tournament.
The $50,000 Poker Player's Championship at the 2019 World Series of Poker has reached the final table, so follow along on PokerNews.com as our live reporting team provides updates on the way to crowning a winner.