The Canadian Sunday Briefing: 'fishbones11' Takes Top Canadian Score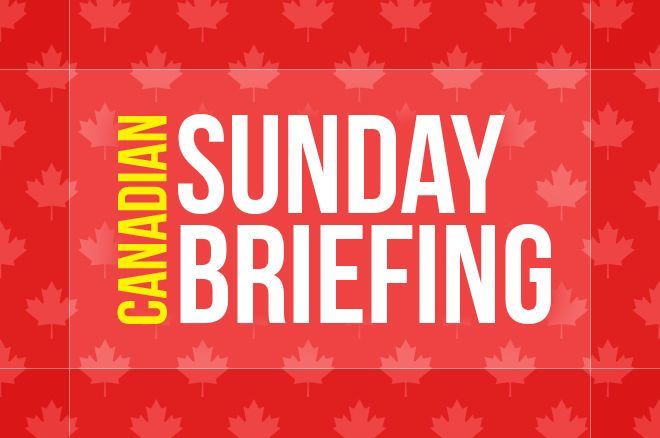 Every Sunday, millions of dollars are paid out to poker players around the world when sites like 888poker, PokerStars, and partypoker host the week's biggest and best online tournaments. Each week, we take a look at how players from Canada fared in the Sunday majors.
This Sunday, June 2, 2019, "fishbones11" had the best result from Canada, with a fifth place finish in the $2,100 Sunday High Roller after a quiet Sunday on the virtual felt with the WSOP kicking off. Here's the full report on major Canadian results from this Sunday:
Sunday Majors on 888poker
The $100,000 Mega Deep
The usual premier Sunday tournament on 888poker boasts a guarantee of $100,000 for a $215 buy-in. This week saw 480 entries to create an overlay and keeping the prize pool at $100,000.
Unfortunately no Canadians made the final table of this event while "rmilheiro" from Brazil won the tournament for $19,350.
$20,000 Sunday Challenge
The $20,000 Sunday Challenge has a buy-in of $109 with a guarantee of $20,000. This iteration of the event saw an even 250 entries for a $25,000 prize pool.
Two Canadians ended up in the final nine spots of this event. "soHORNY1984" was the first eliminated, in eighth spot for $750 while "macchow" finished in fourth position for $2,187.
Sunday Majors on PokerStars
Sunday Kickoff
The biggest tournaments of the day get started on PokerStars every week with the $109 Sunday Kickoff with a $40,000 prize pool guarantee. This week's edition had 570 entries creating a prize pool worth $57,000.
There were no players from our nation who managed to make the final table. "LuckyEgorka" managed to outlast the field though to win $10,047.
Sunday Warm-Up
The $215 Sunday Warm-Up heats up the action with a $150,000 guarantee. After late registration there were a total of 786 who bought into the tournament to create a total prize pool of $157,200.
Of the final nine players, none were from Canada. "deivid29" of the United Kingdom took home the top prize of $26,708.
Sunday Storm
Moving on to the lowest-priced tournament that could be considered a Sunday major, the $11 Sunday Storm is the best value you'll find in online poker. Despite the tiny buy-in, the prize pool is set at a guaranteed $185,000. The tournament saw 20,265 players enter, creating a prize pool of $198,597.
Only one Canadian reached the final table this week. ShayGizzle managed to turn $11 into a four figure payday and collect $2,843 for a sixth place finish.The winner was "Everton S704" from Brazil who took home $18,509 for the victory.
Sunday High Roller
The highest-priced regular Sunday major is the Sunday High Roller with a hefty buy-in of $2,100 and guaranteeing $135,000 in prizes. With 102 entries, the total prize pool ended up at $204,000.
There were two Canadians that reached the final table. "OLD TIME GIN" and "fishbones11" busted out of the tournament and sixth and fifth respectively, both on their second bullets for a $12,561 and $16,356 payday. The winner was "WATnlos" from Austria who outlasted them all to collect $47,008.
Sunday Million
This is the most coveted online poker tournament in the world with a buy-in of just $109 with a $1,000,000 guarantee, this time around, there was an overlay of $101,600 with only 8,984 entrants.
Canada was shut out of the final nine spots with Matheus "pimenta7" Pimenta of Brazil taking home the title and $108,784.
Mini Sunday Million
Giving the Sunday Million feel for a tenth of the buy-in is the weekly Mini Sunday Million where the buy-in is $22 with a $150,000 guaranteed. This time around there were a total of 8,751 entries to create a total of $175,020 up for grabs.
Canada was shut out from the final table in this tournament with "keflrchik106" from Russia collecting $20,629 along with an entry into next weeks Sunday Million.
[I]Sunday 500[I]
With a buy-in of $530, the Sunday 500 guarantees $100,000. A total of 248 entries beat the guarantee, coming in at $124,000 to play for.
One Canadian made the final table. "mraink" bowed out in seventh position though for a $4,278 pay day. The winner was Andras "probirs" Nemeth from Hungary who pocketed $23,843 for the victory.
Sunday Cooldown
The buy-in drops to $109 for the Sunday Cooldown with a turbo structure and a progressive knockout bounty in the mix. The guarantee is set at $125,000 and with $1,545 entries, the guarantee was surpassed with a total prize pool of $154,500.
The final nine players had three Canadians. Exiting in seventh place was "DJILLDILL" who collected $1,544 aling with $150 in bounties. "Kirito777" was the next to leave, in third place for $5,980. "junior227007" was the top Canadian but managed to fall in the heads up battle to Poland's "k7allinn" to collect $8,390 and $926 in bounties while the Polish player won $11,771 and over $10,000 in bounties.
Sunday Supersonic
The Sunday majors conclude on PokerStars with the $215 Sunday Supersonic — a six-max hyper-speed tournament with a $100,000 guarantee. This week a total of 580 entries pressed their luck to create a total prize pool of $118,760.80.
This week three Canadians made the final table. All three Canadians scooted into the top five spots with "marlin5555" being eliminated first, in fifth place to collect $5,508. "chickensssss" was the next Canadian eliminated, in third place for $10,744. "edoiler" was the top Canadian but just missed out on the top spot, losing a heads up battle but still collecting $15,005 for their troubles. The winner was Moldova's "Spells7777" who collected $20,957 for the victory.
Sunday Majors on partypoker
Sunday High Roller Gladiator
The Sunday High Roller Gladiator features a $2,100 buy-in and a $150,000 guarantee. This weeks edition saw 90 entries to create a prize pool of $184,500.
Nobody from Canada managed to finish in the final nine spots while "SpiritDNA" from the United Kingdom collected $46,390 in prize pool and bounties after a heads up deal.
Sunday Gladiator
The Sunday Gladiator features a $320 buy-in and a $150,000 guarantee. After late registration had closed there was a total of 625 entries present to create a $192,500 prize pool.
Two Canadians managed to make the final table. "Blocs" was the first Canadian to exit, in eighth place for $1,641 along with $1,513 in bounties while "vulks0n" finished in third spot for $9,178 and also collecting $2,303 in bounties for $11,481.
That's our report of Canadian results in this week's Sunday majors. If you don't already have an account on each of these sites, make sure you download through our links and use our bonus codes to take advantage of the best promotions you can find. Good luck; see you in next week's headlines!