The Winamax Grand Prix: Are You The Next Player of the Month?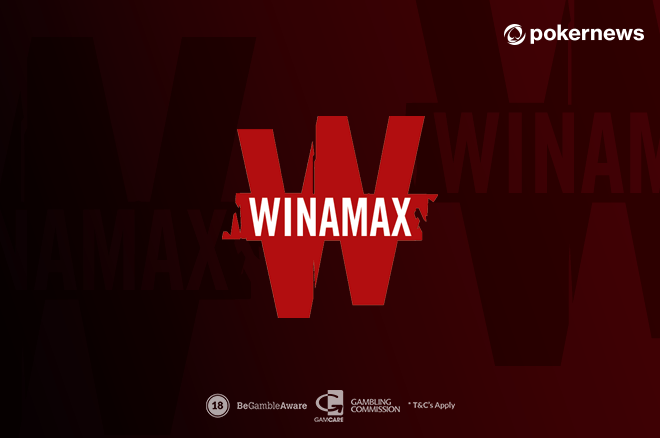 Multi-table tournaments (MTTs) are one of the most exciting poker formats available today. The ever-increasing blinds, players moving all-in and putting their tournament lives at risk, the bragging rights of being crowned a poker champion, and the fact you can turn a relatively small investment into a big payday. Thanks to the €18,000 Winamax Grand Prix Challenge, MTTs just got a whole more thrilling.
What is the Winamax Grand Prix?
The Winamax Grand Prix is a pair of leaderboards where the top 50 finishers receive a cash prize ranging from €10 to €3,500 just for playing their favorite tournaments. Points are earned towards the leaderboards, which are split into two based on tournament buy-ins, your finishing position, and the tournament structure.
You can get involved in as much tournament poker Winamax has to offer, but only your best 10 results are taken into account when it comes to calculating your leaderboard score.
Winamax Grand Prix Prizes
| Place | Low Limit Prize (€0-19 buy-in) | High Limit Prize (€10+ buy-in) |
| --- | --- | --- |
| 1 | €700 | €3,500 |
| 2 | €450 | €2,250 |
| 3 | €300 | €1,500 |
| 4 | €200 | €1,000 |
| 5 | €150 | €750 |
| 6-7 | €100 | €500 |
| 8-10 | €70 | €350 |
| 11-15 | €50 | €250 |
| 16-20 | €30 | €150 |
| 21-30 | €20 | €100 |
| 31-50 | €10 | €50 |
Previous Winamax Grand Prix Winners
The player known as "samolinhos" won the April 2019 Winamax Grand Prix Low Limit top prize after earning 63,622.34 points despite only playing 41 tournaments in total, going to show that this ongoing promotion is more about quality over quantity, although the latter does help you reduce variance.
In March 2019, "CAPUN-KPUN" played 88 tournaments and their best 10 results scored 46,233.87 points. Compare this to the runner-up "Black&Indian" who grinded out an impressive 665 tournaments during the month and finished with 45,023.83 points.
It was a similar story in the High Limits Leaderboard with April 2019's winner being "Sir.Watson" whose 115,753.05 points tally stemmed from the best 10 results from 168 tournaments played. "MegaLowBoy" topped the charts in March 2019, earning 71,009.87 points after playing 166 tournaments during the month.
How To Do Well In MTTs
It makes sense to try and perfect your multi-table tournament (MTT) strategy if you want to excel in the €18,000 Winamax Grand Prix with the promotion revolving around this Winamax poker variant.
There is a saying that states "fail to prepare, prepare to fail" and this is particularly true for MTTs. A significant part of your success or failure in the Winamax Grand Prix will stem from how well you prepare before you even think about registering for some tournaments.
If you are feeling tired from a lack of sleep or maybe you have endured a stressful day at the office, it may be best to not play any MTTs that day. The reason for this is simple: if your mind is otherwise distracted you are not going to play to the best of your ability and with only your best 10 results counting towards your leaderboard tally, you need to play your A-game each time you sit down to play Winamax poker.
You should try to rid yourself of distractions too. By this we mean turn off your social media channels so you're not tempted to check Facebook or the like. Turn off YouTube – those cat videos can wait for a few hours – and do not have the television on in the background. Your sole focus should be on playing the best poker you can.
Next, you should only play in MTTs that you have the bankroll for. Playing in tournaments outside of the constraints of your bankroll can and will lead you to playing scared due to fear of not cashing and losing a significant percentage of your bankroll. You may find that you suddenly change your game once the money bubble approaches, simply hoping to cash rather than going all out for the victory where the major points lay in wait.
It certainly pays to learn about the distribution of small stacks, medium stacks and big stacks in a tournament and how to approach them. Your stack size and that of your opponents will fluctuate greatly during the course of a tournament, so knowing the best way to approach the different stack sizes will give you a better chance of going deep in your tournaments and earn plenty of points for the Winamax Grand Prix leaderboards.
We would also recommend learning at least the basics of ICM, or Independent Chip Modeling, especially if you are going to play in the higher buy-in tournaments Winamax has to offer where players are more likely to be more skilled at the game.
You should also only play the tournaments you feel you may have an edge in, to maximize your chances of glory. Some players are adept at playing dozens of tables at once and will register hundreds of tournaments during the month in hopes that the stars align in a handful of them and they manage to go deep. If this is you, great, if not, don't start playing several tables simultaneously, otherwise you will find yourself leaving value at the table.
Above all, have fun. Poker is a fantastic game but it is much better when you are actually enjoying what you are doing. Play your game, play it to the best of your ability and let Lady Luck take care of the rest.
Winamax Bonus Code From PokerNews
One way to give your bankroll a boost during the Winamax grand Prix is to claim the welcome bonus Winamax has to offer. By downloading Winamax via PokerNews, making your first deposit with our code bonus, Winamax will reward you with a bonus that releases into your account as you play real money games, even MTTs. Imagine raking in cash from using the PokerNews code promo Winamax has given us and bolstering that haul with a prize from the Winamax Grand Prix.