Apple Relaunches Texas Hold'em; the First Ever Game Sold in the App Store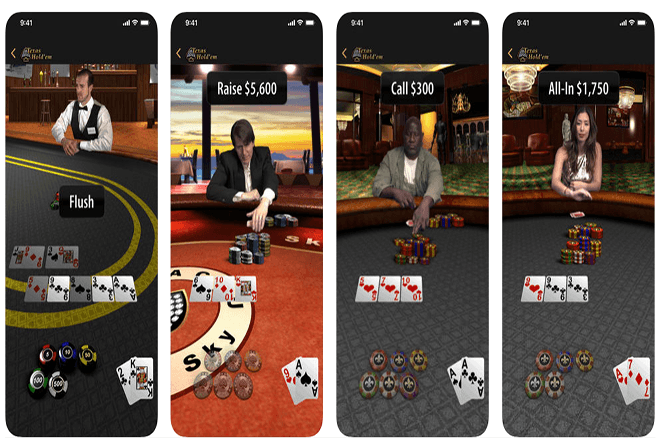 One of the most popular games ever created for the Apple App Store, Texas Hold'em, is available again after originally being launched 11 years ago.
The App Store classic is back! the app store page flaunts. Texas Hold'em was the first-ever game sold in the App Store, becoming available on Jul. 6, 2008. It was one of two apps that launched the App Store, the other being one called Remote, and it allowed you to play Texas Hold'em against the app's computer-controlled opponents, or against up to nine friends over WiFi if they were running the app on their iPhone's too.
Texas Hold'em was the first-ever game sold in the App Store
The game originally appeared on the iPod back in 2006 before making it onto iPhones via the App Store in 2008. Unfortunately for fans of the game, of which there were hundreds of thousands, Apple only updated the app once (six weeks after launch) before leaving it to essentially die.
It has now been revived and it is alive and kicking, ready and willing to be downloaded. Apple has redesigned the graphics so they look better on screens that are far larger than they were back in 2008. Animations have been revamped, so has the magic that goes on behind the scenes as Texas Hold'em now has 64-bit architecture that Apple launched with iOS11.
Perhaps best of all, however, is this latest edition of Texas Hold'em is free to play; the original cost $4.99 to download. Texas Hold'em is, at the moment of writing, the only game developed by Apple in the App Store.
What's New With the Apple Texas Hold'em App?
We have already mentioned the graphics have been brought up to date and are now sporting a high-resolution. Sound is one area that has vastly improved on mobile devices over the last eleven years and this is reflected in the new sounds here.
Apple has created ten unique locations to play Texas Hold'em in, each sporting a distinctive look from Paris to Macau and, of course, fabulous Las Vegas.
There are now two views to choose from and you can switch whenever you wish. Choose from top-down gameplay or switch to a first-person view.
Then there are the computer AI opponents, of which there are 24 characters, each with their own personal style, skill level, and even tells. These computer-controlled opponents can be played offline and in airplane mode, making it the perfect travel companion.
If you get fed up of playing against "robots" you can invite up to eight of your friends to play, as long as they have the Apple Texas Hold'em App installed on their compatible phones.
How To Win at Apple Texas Hold'em
The Apple Texas Hold'em game is actually good fun and can be challenging at the higher stakes games as the computer-controlled opponents play a variety of style that keeps you on your toes.
The best way to be profitable against the computer AI is to keep things simple and not bluff too much.
That said, you can enjoy success with a loose or a tight style, just make sure you are aggressive and value bet your made hands as much as possible.
It pays to watch your opponents too because some will only ever bet with a strong holding where others are happy to bet and call your bets with any piece of the board or even a draw. Like in actual poker, study your opponents and make notes on any reads you may have.
Since the game follows traditional Texas Hold'em poker rules, we have an extensive library of poker tips available right now:
If you're getting the hang of it, and like some more poker in your life, we have some good news for you! Poker is available worldwide, where you can play for real money against people from all countries. Give PokerStars, partypoker, or 888poker a try. Those are the biggest online poker rooms around, with besides Hold'em a ton of different games on offer as well. If you're in the United States, you can give Play WSOP a shot!
Apple Texas Hold'em comes into its own when you are playing against human opponents. While there are no monetary prizes to be won, the app could easily be used in place of actual cards and a poker table if you wish, speeding up play and allowing for a relaxing game of poker. There would be nothing stopping you and eight of your buddies paying an actual buy-in then using the Apple Texas Hold'em game to play the game and crown a champion!
Overall, the Apple Texas Hold'em game is great fun whether you're playing against friends or your iPhone. You can download the app here.
It's available in English, Catalan, Chinese (Hong Kong), Croatian, Czech, Danish, Dutch, Finnish, French, German, Greek, Hebrew, Hindi, Hungarian, Indonesian, Italian, Japanese, Korean, Malay, Norwegian, Polish, Portuguese, Romanian, Russian, Simplified Chinese, Slovak, Spanish, Swedish, Thai, Traditional Chinese, Turkish, Ukrainian, and Vietnamese. There are no in-app purchases available. The 2.0 version of the app requires iOS12 or higher for the game to work properly. You need to have at least 1.5GB of free space, and there is an age limit of 12-years-old due to the frequent simulated gambling.
At the time of writing, it's listed as the #28 most downloaded game in the Casino section of the App Store. It has 4.7/5 stars with 3,600 ratings.