Jill Bryant Not Backing Down During Deep WSOP Main Event Run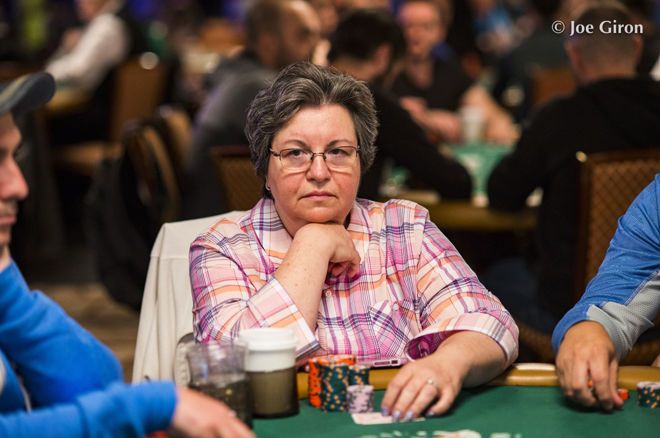 With women making up just 4% of the field in the 50th annual World Series of Poker $10,000 Main Event, many eyes are on the ones that remain here on Day 5.
One of these women is WSOP Circuit ring winner Jill Bryant, hailing from Aurora, Illinois. The full-time Quality System Coordinator began playing tournaments after her son taught her how to play.
"My son, Matthew, played no-limit hold'em in high school. I was always a 'card' person, but once I learned this game I started to play in some local Chicago charitables every weekend, and learned from there."
Bryant has almost $200,000 in lifetime earnings, along with a gold WSOP Circuit ring from Event #2: $250 No Limit Hold'em - Seniors Event in Milwaukee for $14,524. With fewer than 250 players remaining in the Main Event, Bryant is guaranteed a payout of $43,935, about $10,000 shy of her biggest career score.
Coaching and Instincts
Last year, Bryant briefly sought out coaching, but eventually decided to follow her own instincts instead. "I'm just self-taught. Just intuition. Reads. I feel like I can read people - I can sense weakness. It doesn't always work, but I'm pretty good. I've been told I have big balls," laughed Bryant.
When asked what it feels like having her hard work come to fruition and go deep in the Main Event, Bryant stated: "It feels amazing. I feel really confident. I have a huge support group called 'LFGO' - total support. I just have that kind of personality where I try not to get flustered."
"I've been told I have big balls."
She went on to talk about how she doesn't claim to meditate or do any sort of exercise. Bryant is all about the "good vibes" and is hoping that translates to her game on the felt. She explained how coaching was not for her, and she preferred to navigate the felt on her own terms.
Bryant was down to just under 10 big blinds towards the end of Day 4 on Tuesday, but went on a tear to climb up to just shy of 70 big blinds. "In the last couple of hands of the night, I had pocket sixes and busted two players - they had ace-king and ace-four. I also had pocket aces five times yesterday, so that helped," Bryant told PokerNews.
Representing Women
On a stage with so few women, Bryant hopes to go all the way not only for herself, but to bring more women into the game. "I don't understand why there are not more women playing. I hope I can make the final table - maybe more women will play. I just feel good right now. You have to just fight back against these guys - you can't play scared."
Being a champion for any cause usually comes with some stellar advice. "Try to find a local charitable event in their community - start there. Small tournaments in casinos. Just start that way," advised Bryant.
"You have to just fight back against these guys - you can't play scared."
According to a report on the 2019 World Series of Poker demographic breakdown posted by PokerNews, the percent of women in the Main Event field saw an increase of from 3.8% in 2018 to 4.1% this year in 2019.
While we might take this as a positive sign for women in poker, the line isn't moving much and the number can definitely be much higher. Bryant hopes to set the tone with a deep run in the Main Event and hopefully bring many women with her on the journey.
Coming back to Vegas July 3rd to play my first ME on 4th of July! Sold 50% of my action and I'm planning on making… https://t.co/mWJoPtx8yT

— Jill bryant (@Jillbryant1961)
So far, she's holding her own, one of nine ladies to make Day 5 of the 350 that entered. Here's a look at the chip journeys of those nine through Day 4, provided by the Poker League of Nations (PLON) women's poker organization via Twitter.
The chip stack journey of our 9 remaining women in the @wsop main event. @PokerSasha @dmoongirl @aprilshih… https://t.co/VPEBnxILPh

— PokerLeagueOfNations (@PokrLeagNations)
You can follow Jill Bryant and all the other ladies looking to break the mold at the live updates here as the 2019 World Series of Poker Main Event gets deeper into the money on Day 5 at the Rio in Las Vegas.