2019 SIGA Championship Just One Week Away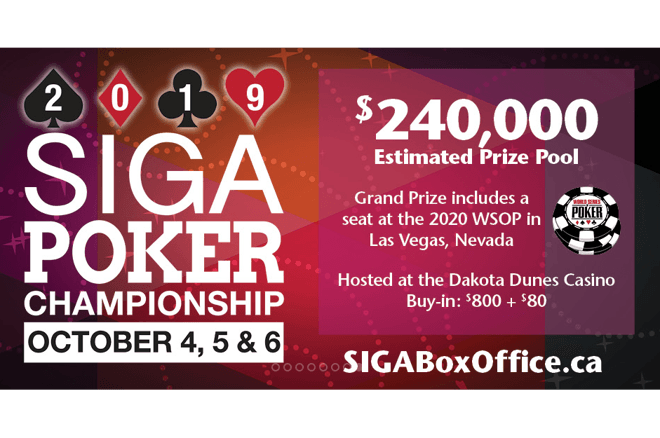 Once a year, the Saskatchewan Indian Gaming Authority (SIGA) invites the best poker players in Canada to Dakota Dunes Casino for the SIGA Poker Championship. Located 20 minutes south of Saskatoon, this year Dakota Dunes will play host to the eighth annual running of this Thanksgiving tournament.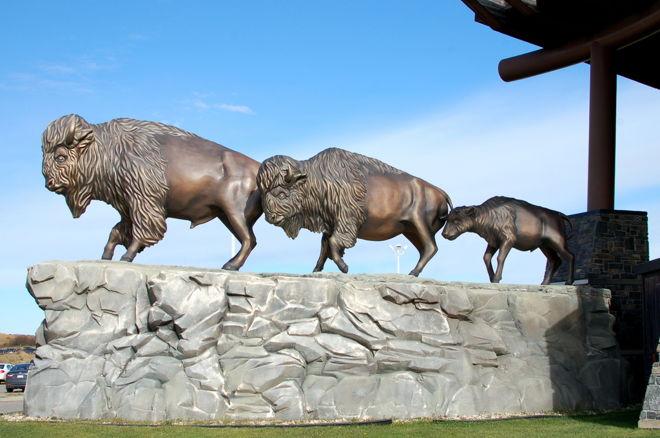 The home of the Championship, Dakota Dunes, is on the Whitecap Dakota First Nation (WDFN), a modern, progressive First Nation that is part of the larger Dakota nation. The roots of the WDFN go back to 1889 when it was first established as Moose Woods. The modern name stems from an instrumental leader at the time of establishment, Chief Whitecap. Today, the progressiveness of the nation extends to hosting one of Saskatchewan's largest poker tournaments every year on Canada's Thanksgiving weekend.
First run in 2011 as a $550 buy-in, the tournament increased to $675 in 2017 as popularity increased. This year for 2019, the buy-in has gone up once again, to $800 with an $80 admin fee. That means the expected prize pool for this year will be around $240,000, with a first place prize that includes a free ticket to the 2020 World Series of Poker Main Event added on top.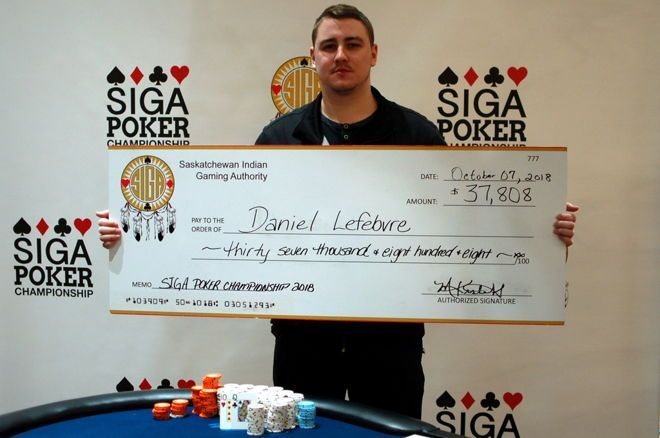 From the beginning in 2011, the SIGA Poker Championship has been a popular event. That first year, Winnipeg's Leo Leclerc managed to get through a field of 336 entries to win $36,840, and last year, Daniel Lefebvre made it through 366 runners for the $37,808 first prize. Other winners through the years include Trevor Norlander and Chris Bowers.
With the high turnout, SIGA decided to go to a double Day 1 format in 2017, allowing players to qualify for a final day on Sunday through either Day 1a on Friday or Day 1b on Saturday. Players start each Day 1 with 30,000 chips, and play 16 30 minute levels on the first day, with action playing down to a winner on Day 2. If action on either day 1 gets down to 15% of the starting field, play will be halted early.
This year, cards go in the air for Day 1a at noon CT on Friday, October 4th, with Day 1b running on Saturday, October 5th. As has been the tradition here, the Championship bracelet will be handed out in the evening on Canada's Thanksgiving.
PokerNews Canada will be on the floor from start to end to bring you all the action, and as an added bonus this year, the SIGA Poker Championship will be showcased to the world on the global domain of PokerNews as well. My Stack will also be in play this year, allowing players to manually update their own stacks directly from their phone, even share updates to Twitter and Facebook yourself. Click here for Android, or here for iPhone to download the app early, and be ready to keep your friends and family updated with your progress as you fight for the bracelet.