The Muck: Jaime Staples and Doug Polk Debate $100K a Year Benchmark for Going Pro in Poker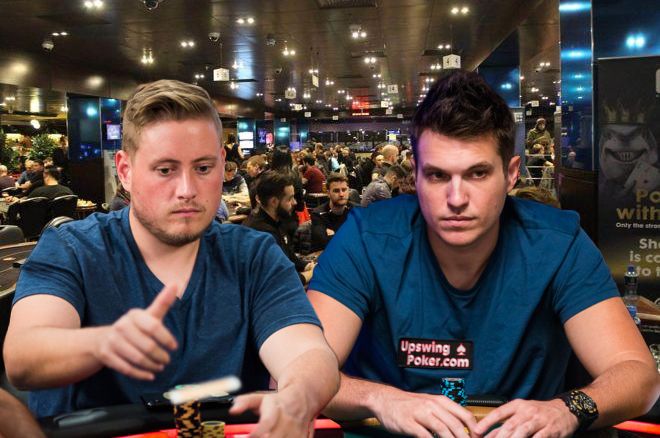 What started as a Twitter debate resulted in two poker players on different sides of some issues coordinating a video call to discuss their issues like grown-ups — truly, a shocking development in the poker community.
It all started when Jaime Staples took to Twitter this week posting about the recommendation that aspiring poker players not quit their day jobs and not pursue poker as a full-time gig without having consistent results showing they could make at least $100,000 a year.
Been thinking about all the old advice threads on 2+2 poker forums where regular poker players ridiculed others for… https://t.co/WqVYPdx5An

— Jaime Staples (@jaimestaples)
Staples followed up by explaining his issues with that benchmark, providing his own experience as a counterexample.
"This all or nothing mentality is just not realistic for the entire population. There is nothing wrong with trying your best at something you love, getting by, and moving on to other things when the time comes. There is no shame in that. I did for five years before I 'made it.'
"And I 'made it' by diversifying my income from other poker sources (entertainment), not by crushing people on the table. And all that is valid. Your poker dream is YOUR poker dream. Don't let them tell you how to get there. They don't have the context of YOUR life."
While $100K may seem like an arbitrary number, another YouTube poker personality, former poker pro Doug Polk chimed in that he thought it was quite a reasonable target to achieve before going pro, and the debate proceeded from there.
Hashing it Out
In their podcast-like call, which they posted on YouTube, it became clear that the two were coming from different assumptions, beginning with how many people actually make six figures in the world and specifically in the U.S. Polk was way too high and Staples a bit on the low side. It's actually closer to around 5%, according to a 2018 Quora post.
Which begs the question — why would poker players need to bank so much, when more than 90% of the population makes due with less?
"The income you're going to need to be responsible in your life, to realize your goals, is relative," Staples said during the chat, taking issue with the number that he does not think applies to the majority of Polk's followers.
Polk admitted that his recommendation was targeted mostly to potential American poker pros, or others living in first-world metropolitan areas, where it's most possible to make a living playing poker due to access to live poker opportunities.
He also conceded, "You can certainly find ways, especially if you live in a country where you're not taxed on gambling winnings, you can definitely find ways to do it at a lower price point.
Staples: "The income you're going to need to be responsible in your life, to realize your goals, is relative."
From a U.S. perspective, Polk breaks down what $100,000 a year looks like as a poker player after paying taxes and setting aside a quarter of your money for your bankroll, which leaves a person with between $4K and $5K per month. Considering rent, food, expenses, travel, insurance, retirement savings, emergency funds and so on, Polk sees this figure as pretty much the minimum that most will need to have the cushion necessary in the poker profession.
And of course, there are other things to consider when choosing poker over a traditional job that comes with benefits and security. Your "job security" is subject to the poker market which is ever in flux, and for most, there's a lack of long-term viability of playing for a living. High-stakes pro Chris Kruk pointed out on Twitter that when you do quit playing or stop making money playing, you're left with a gap in your resume and many will also be lacking a skill set valued by the job market.
"I think one of the reasons that 100K is used (aside from being a round number) is that people are generally trying to convey that much like a pro athlete you have to earn your $ up front," wrote Kruk. "You (probably) don't get to do this until you're 60."
For and Against the Pro Poker Plunge
During their conversation, Polk points out that a fundamental difference between he and Staples' opinions is that he thinks "most people should not try to go pro" while Staples feels that people should go for it if it's their dream, generally speaking. The merits and risks of going pro in poker is an ongoing debate, one that is addressed in detail in this PokerNews article. Most agree, the risks are high and very few can do it successfully and sustainably.
Staples agreed that people shouldn't go pro if they are trying to do so to get rich or make a quick buck, because it isn't easy. However, he followed up with:
"If you're getting into poker because you love strategy games and you love competing, brain against brain, mind against mind, you want to compete for that money, then you're in the right spot and you should follow your dreams. Whether you're making $40,000 a year or whether you're making $100,000 a year because you, doing what you want to do in life is more important than all of this other thing of like being able to set yourself up for X amount of financial future. It's worth taking that risk."
Polk: "I think most people should not try to go pro."
They agreed it's a very different situation for someone who is young and can go back to school if poker doesn't work out, versus those with stable jobs and familial obligations. They also were in agreement that to leave a solid job behind for poker should require a larger figure due to the risks associated with poker as a profession as well as the additional costs involved with self-employment.
Staples' main argument is that the $100K figure is well above what the majority of potential poker pros would need the world over to fulfill their needs, have a decent sense of security, and be fulfilled. He takes issue with Polk posting about $100K as a good benchmark, as he doesn't feel it applies to many of his followers, many of whom need less to make it work as a profession according to their circumstances.
While Polk admits it will vary according to the situation, he stands by the $100K mark as a good figure on average that people can adjust from depending on their individual circumstances.
Staples: "If you're getting into poker because you love strategy games and you love competing, brain against brain, mind against mind, you want to compete for that money, then you're in the right spot and you should follow your dreams."
It seems Staples seeks to defend the decisions of those who are pursuing professional poker despite making far less than six figures, which describes a great number of full-time players. They go on to debate what it means to be a poker professional. Polk tells it straight: for him, there are no participation trophies in poker. You have to make money to sustain yourself and your family if you have one to be considered a professional.
For an 18-year-old kid in rural Canada enjoying free national health care, free room and board at his parents' house, and the safety net of a family to fall back on, well sure — you have little to lose in trying your hand at full-time poker, and you may only need $20K-$30K a year to live on. But Polk seems reasonable in pointing out, this is far from the case for most people, especially those who are debating pursuing a gambling profession at the cost of leaving a stable career behind.
Streaming Sustainability
Their second big point of contention that started on Twitter is that Polk doesn't think that streaming poker as a career is sustainable long-term, a point with which Staples disagreed.
"If you want to make a reasonable income from streaming, you have to put in a massive number of hours on the platform," Polk wrote on Twitter.
I disagree @DougPolkPoker . I think the large majority of streamers don't need to or even aspire to have a massive… https://t.co/3DgeG4FCb9

— Jaime Staples (@jaimestaples)
It's an interesting discussion, but the two agree that consistently streaming and also playing the game well is a lofty challenge, and streaming may have a short shelf-life for most. Staples' fellow partypoker pro Kevin Martin is among those to recently walk away despite seeming to be in strong position with a good following to his stream.
Staples mentioned that while it's not necessarily a big moneymaker in and of itself, a lot of the value that comes from streaming is in networking, which can lead to other opportunities in and around poker to make money later.
They got more into the strains put on streamers, which developed into a discussion of food, obesity issues and a larger discussion on the health care industry.
Staples Starts "Weekly Poker Showdown" Show on YouTube
Speaking of streaming leading to other opportunities, Staples found himself in a good spot five years back as one of the first and most consistent poker streamers on the Twitch scene. His early success on the platform led to his being signed as a Team Online pro for PokerStars, followed by his current sponsor partypoker.
Needless to say, these sponsorships are hard to come by for most, and Staples has been fortunate to find ample opportunities and create multiple revenue streams through the game that he loves.
His latest endeavor is the launching of a new show on YouTube, where he already has a successful channel approaching 70,000 subscribers.
It appears his "Weekly Poker Showdown," sponsored by partypoker, will address some major issues in poker on a weekly basis. Based on Episode 01 of Season 01, Staples will be focusing mostly on partypoker company, event and software updates, as well as providing some strategy advice relevant to playing online on partypoker's offerings.
He also announced a "Hero of the Week" segment, where one player will win a $320 ticket for the Sunday Gladiator event. Staples asks a question to the audience, who tweets their answers with the hashtag #jspokerhero for a chance to win their seat and have the show sweat them in the Sunday tournament.