Mikki Gagic Wins Event 1 from PlayNow Poker Championship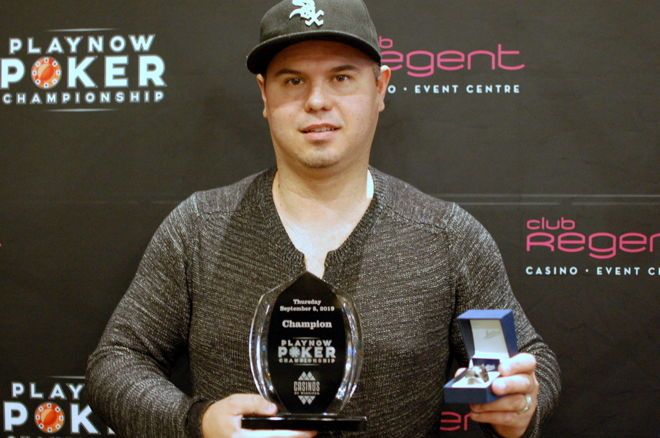 Day 2 of the $600 NLHE lasted for just over an hour, and Mikki Gagic has won the first Championship ring and trophy from the 2019 Fall PlayNow Poker Championship.
Play got underway on Day 1 with about 130 players sitting at the tables, but those numbers swelled to 195 by the time registration closed. That put more than $100,000 in the prize pool, and more than $28,000 up top for first.
Action played down pretty quickly early on Day 1, with hand for hand play on the money bubble getting underway before midnight. Less than half a dozen hands later, the money bubble was burst, and it kept going from there. Dave Shiska and Mel Podaima were the first two players to collect money from the event, after a brutal hand where the both ran into the pocket aces of Mark Charles.
The final table was set by 1 a.m., and for a time it looked like it might all end on Day 1, given the pace of play. But things slowed down considerably as the final few levels of the night approached. There were still five players left going into the final level, but it would prove deadly for two of them.
Codey Chief ended his solid run in 5th place when he ran his ace-rag into the pocket aces of Mikki Gagic. Chief was one of the satellite winners from Wednesday night, and so he's already made good on his discounted entries.
Paul Esposti very nearly made the Day 2 play, but was eliminated on one of the last hands of the night after his suited king-ten ran into the big slick of Zoe Chua.
When the final three returned to the felt for Day 2, they decided to reduce the variance a bit. Each players agreed to $18,000 which left $4,820 on the table, as well as the trophy, ring, and player of the series points up for grabs.
Mark Charles was the first to exit from the final three. He got his chips in with king-four on a king high flop, but he ran into the flopped flush of Zoe Chua.
The final two battled heads up for more than 30 minutes before Mikki Gagic finally managed to take it down. Chua got his money in with king-deuce on a king high flop, but was facing pocket aces in Gagic's hand. Chua couldn't find any more help, and he had to settle for second place, while Gagic took down the big prizes.
Here are the full payouts:
| Place | Player | Prize |
| --- | --- | --- |
| 20 | Dave Shiska | $1,367.00 |
| 19 | Mel Podaima | $1,367.00 |
| 18 | Nick Lahowy | $1,408.00 |
| 17 | Tyler Odell | $1,458.00 |
| 16 | Jim McCarter | $1,519.00 |
| 15 | Jeremy Plett | $1,594.00 |
| 14 | Mark Andrade | $1,687.00 |
| 13 | Ron Lauzon | $1,807.00 |
| 12 | Alex Tong | $1,956.00 |
| 11 | Khai Nguyen | $2,152.00 |
| 10 | Charles Rinn | $2,410.00 |
| 9 | Keith Sanburn | $2,758.00 |
| 8 | Anders Prokopowich | $3,237.00 |
| 7 | Eddy Watt | $3,910.00 |
| 6 | Anthony Joubert | $4,884.00 |
| 5 | Codey Chief | $6,336.00 |
| 4 | Paul Esposti | $8,576.00 |
| 3 | Mark Charles | $18,000.00 - Deal Adjusted |
| 2 | Zoe Chua | $18,000.00 - Deal Adjusted |
| 1 | Mikki Gagic | $22,820.00 - Deal Adjusted |