More Than $450,000 in Prizes Awarded at 2019 Fall PNPC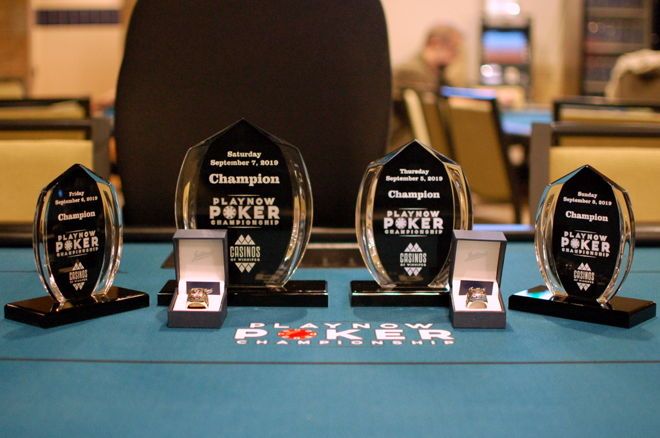 The first week of September always means poker in Winnipeg as the PlayNow Poker Championship (PNPC) rolls into town for its annual Fall edition. This year, a total of $452,225 was awarded across four paying events, and the bulk of that was awarded in the $1,100 Main Event, won by Sheldon Kent, which saw a prize pool of $233,000.
Held at Club Regent Casino, when you you descend through the "tropical island" themed entrance, the poker room opens up into a large, well-appointed, modern room with plenty of space for cash and tournament action. There's seating for 300+ players across the poker room, and its always filled to near capacity for the duration of the PNPC week.
Action for the PNPC always gets underway with a huge multi-table satellite tournament. For $180, players competed for a one in ten shot at tickets to the two marque events of the series, the $600 and the $1,100. A total of 277 entries gave it a shot, putting 27 full tickets up for grabs, plus a 28th prize that was worth just an $1,100 Main Event ticket plus $90. Rodrigo Silva took down that prize, and turned the Main Event ticket into a 12th place finish in the Main for $3,755.
The full poker action gets underway on Thursday with Event 1: $600 NLHE. As the first of two series' events that award a championship ring along with the trophy and prizes, the $600 event is always sought after. Its also the first chance to get a significant score in the Player of the Series race, which awards a full slate of tickets to the next PlayNow event to the player who gets the most points across the series.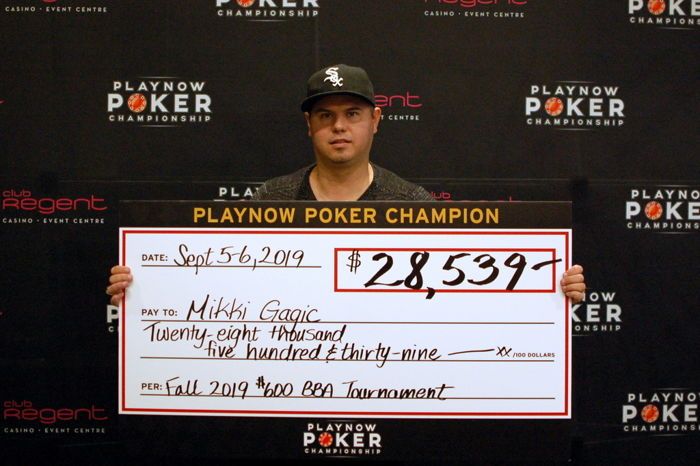 Nearly 200 entries came out for the first event, and while this was the first year it was officially scheduled as a two-day event, it looked for much of the day like it might finish on Day 1. As play went into the final level of Day 1, they were five-handed, but two eliminations before the final buzzer meant there were still three people in contention for the top prize coming back on Day 2. When they came back, it took around an hour to finish it out after they cut a deal at the start of the day. Mikki Gagic took down first place and $22,820, while Zoe Chua and Mark Charles won $18,000 each for second and third respectively.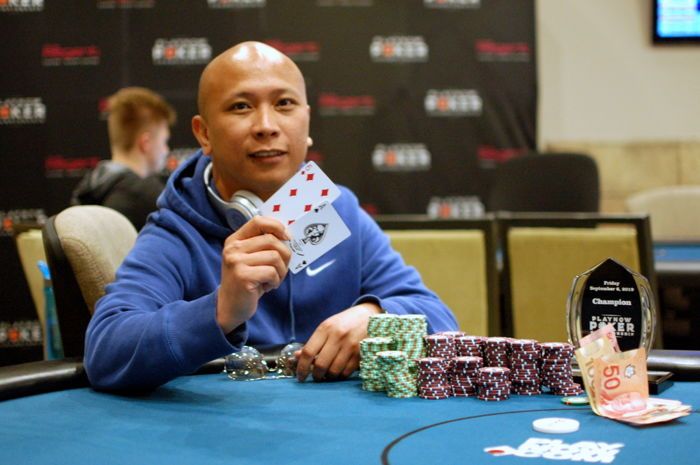 While Day 2 of Event 1 was finishing up in the Champions Room, Event 2: $300 Turbo Bounty was firing up in the main poker room area. The bounty event is always one of the most anticipated tournaments of the series and with a low price point, $50 bounties, and a fast structure, its designed to be the kind of event where chips fly around easily and quickly. This year it took about 13 hours to play down from 251 to four left, and when the final four made an ICM chop (roughly), it all ended pretty quickly. In the aftermath, Kyle Hartree took the most money ($10,000) from the deal but finished third on the table, while Norbert Rosario took the third highest money at $8,300 but finished first on the table.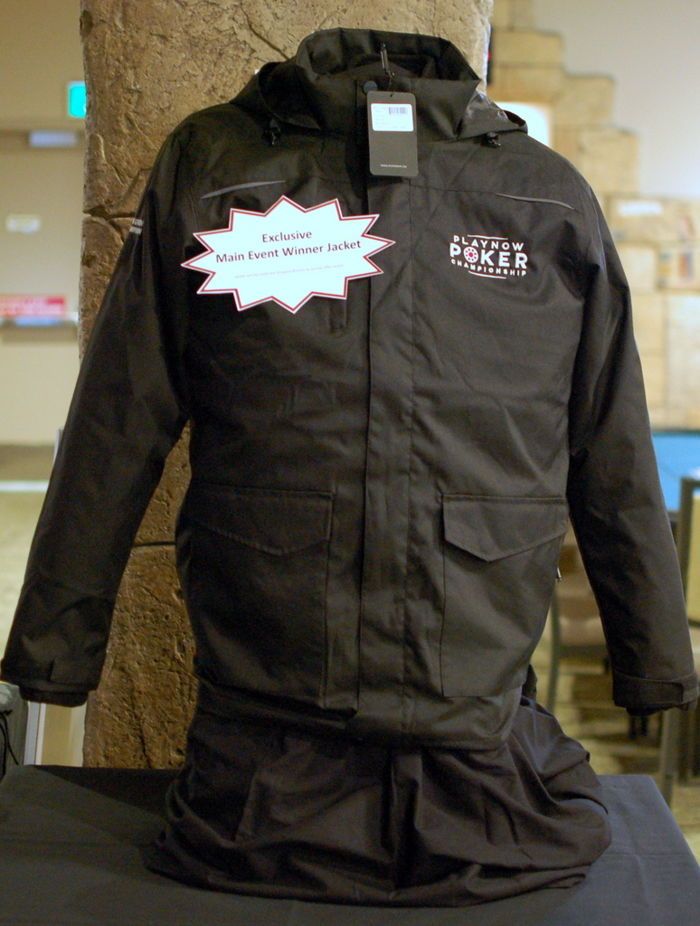 Saturday is when the Main Event gets underway, and its the premiere event that everyone wants to win at PNPC. There's routinely more than $50,000 up top, and it comes with the extra prestige of a trophy, a championship ring, and an exclusive jacket awarded only to Main Event winners. As an added bonus, the face of all Main Event winners will forever hang above the tables in the Champions Room.
A total of 233 entries were recorded for the Main, the second highest in history for this event in either the Spring or the Fall edition. That meant there was over $60,000 up top for the eventual winner, and it was a hard fought battle through Day 1 that still left 46 players bagging chips at the end of the day.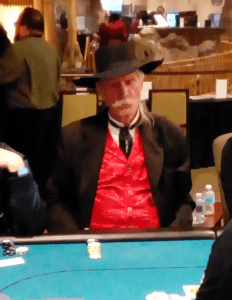 Not everyone was able to find a bag and some familiar faces and some interesting characters fall by the wayside before bags came out, including Murray Lowe, who came out dressed like he just won a massive pot off of H.G. Wells on a riverboat in 1896. Others who made an appearance on Day 1 but couldn't make the end of the day were Kyle Hartree, Deven Lane, Norbert Rosario, and Mark Charles. Additionally, controversial Finnish-Canadian fashion icon Peter Nygard bought in on Day 1 and ran up a big stack in middle of the day, but ultimately went card dead and busted in the final level of Day 1.
When Day 2 began, it looked like it might be a long day before a winner was decided, but the pace of poker is hard to predict. Day 2 started with 46 people remaing, but it only took a couple hours for 2018 Spring Champion Shaner Yo to run his tens into aces to end up as the bubble-boy. Before the first break of Day 2, play was well into the money. Patrick "@SuperSerda" Serda was one of the big names to make Day 2 but not make the cash spots, while Eric "@Wasy8" Wasylenko managed to make the cash spots, but busted in 18th place just before the first break for a score of $2,565.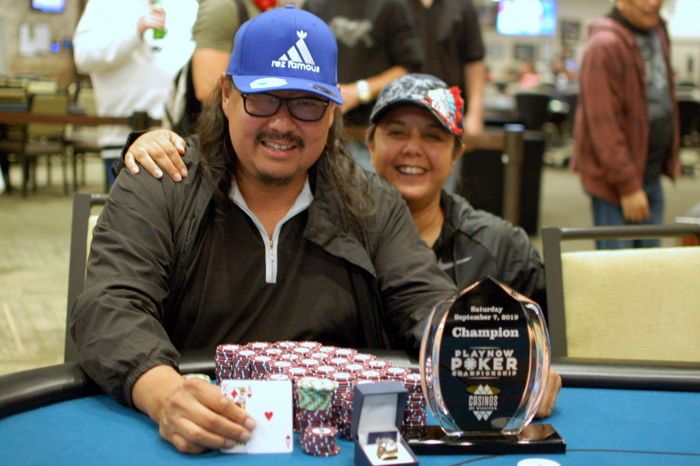 It took around six hours to play down to a ten-handed final table, with Kenora, ON's Dave Shiska, who is a regular with deep runs in Winnipeg, busting in 11th place for a prize of $4,180 to set the final table. Play slowed a little bit at the final table as it took around five hours to play down to a winner, but it still made for a shorter than expected Main Event Day. The final four players agreed to a chop of $32,000 each with $16,444 left to play for, but then when Dylan Ellis and Sheldon Kent got heads up they chopped the remaining prize down the middle again. Kent took home the hardware and the glory for first place
| Place | Name | Home Town | Prize |
| --- | --- | --- | --- |
| 1st | Sheldon Kent | Black River, MB | CA$40,222* |
| 2nd | Dylan Ellis | Winnipeg, MB | CA$40,222* |
| 3rd | Anders Prokopowich | Winnipeg, MB | CA$32,000* |
| 4th | Chris Clisby | Kelowna, BC | CA$32,000* |
| 5th | Ethan Ellis | Regina, SK | CA$13,271 |
| 6th | Andrew Pirson | Winnipeg, MB | CA$10,115 |
| 7th | Zachary Warrington | Erickson, MB | CA$7,999 |
| 8th | Eddy Watt | Winnipeg, MB | CA$6,536 |
| 9th | Terrence King | Arviat, NU | CA$5,497 |
| 10th | Anh Tuan Pham | Winnipeg, MB | CA$4,741 |
*Denotes four-handed deal
In the outer room, while the Main Event was playing out, the final event of the series, Event 4: $400 NLHE played down to a winner. Initially, it seemed like there might be some drama with the Player of the Series (PoS) points, as second place finisher Paul Esposti was also fourth in Event 1. When Jason Fennell took it down for $13,641 after a deal though, Esposti knew he couldn't win the PoS race.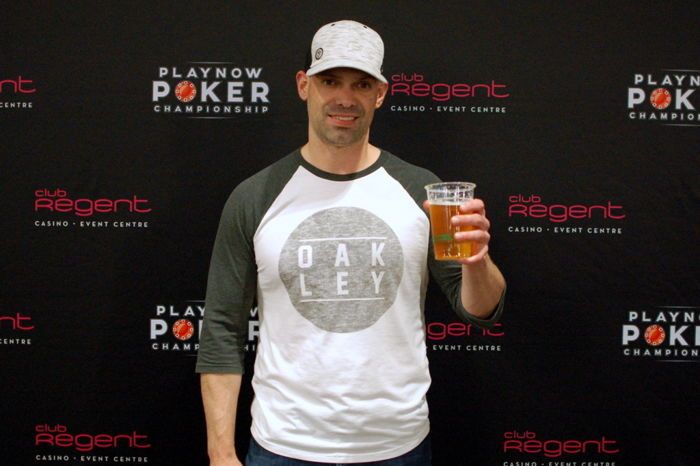 It turned out that Anders Prokopowich had a lock on the PoS race the whole time. Once he secured a third place finish in the Main to go along with his eighth place finish in the first event, he had more points than anyone could catch up with. That means Prokopowich will be playing the 2020 Spring PlayNow Poker Championship series for free thanks to two deep runs.
2019 Fall PlayNow Poker Championship Winners
That's all from Winnipeg for now. PokerNews Canada plans to be back in Winnipeg for the 2020 Spring Championship, but before then, follow along as we head to Dakota Dunes Casino for the Saskatchewan Indian Gaming Authority Poker Championship Oct 4-6, 2019