Twenty-Eight Players Win PNPC tickets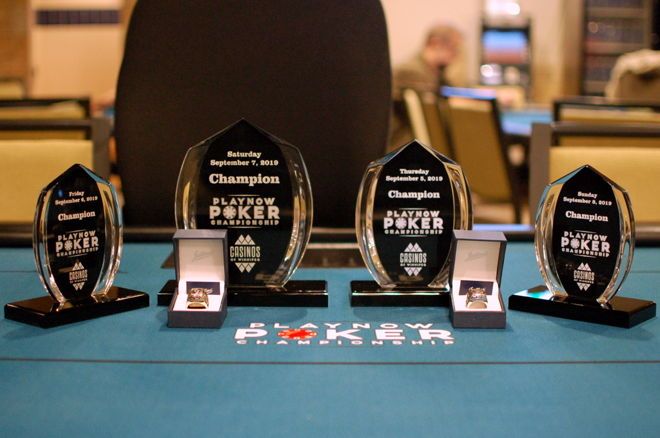 After about six and half hours of play, the satellite is now in the books with 27 players booking tickets to the Main Event plus the $600 NLHE, for a total package worth $1,700, while the 28th place player booked a ticket to the Main Event worth $1,100 plus $90.
A total of 277 entries tried their hand at the prizes, and 1 player in 10 was going to win tickets to future events. Action went very quickly for the first few levels after registration closed, with the field falling from 199 down to just 40 left in a few hours. As play got closer to the money bubble though, play slowed down quite a bit, and it took several levels to finally burst the bubble.
Play went hand for hand with 30 players left, and things slowed down even more. There was a deal to pay the 29th place player, but even that didn't speed things up much. Eventually though, they finally made it down to the full prizes.
Here is the full payout list:
| Place | Player | Prize |
| --- | --- | --- |
| 1 | Codey Chief | $1,700.00 |
| 2 | Anthony Joubert | $1,700.00 |
| 3 | Romoe D'Angiolo | $1,700.00 |
| 4 | Rory Springman | $1,700.00 |
| 5 | Anthony Imperial | $1,700.00 |
| 6 | Elaine Sutherland | $1,700.00 |
| 7 | Brett Multan | $1,700.00 |
| 8 | Kyle Hartree | $1,700.00 |
| 9 | Nick Luhowy | $1,700.00 |
| 10 | Chris Wallmuth | $1,700.00 |
| 11 | Thoi Cung | $1,700.00 |
| 12 | Brad Gross | $1,700.00 |
| 13 | Khai Nguyen | $1,700.00 |
| 14 | Paul Esposti | $1,700.00 |
| 15 | Henry Menard | $1,700.00 |
| 16 | Jason Wilson | $1,700.00 |
| 17 | Joseph Taruc | $1,700.00 |
| 18 | Jeremy Plett | $1,700.00 |
| 19 | Larry Hardy | $1,700.00 |
| 20 | Jiwan Emre | $1,700.00 |
| 21 | Igor Grinevsky | $1,700.00 |
| 22 | Ernie Ritchie | $1,700.00 |
| 23 | Andrew de la Salle | $1,700.00 |
| 24 | CJ Mauroudis | $1,700.00 |
| 25 | Evelyn Masesar | $1,700.00 |
| 26 | Chris Lahoda | $1,700.00 |
| 27 | Carl Pottinger | $1,700.00 |
| 28 | Rodrigo Silva | $1,190.00 |