John Hashem is the 2019 SIGA Poker Champion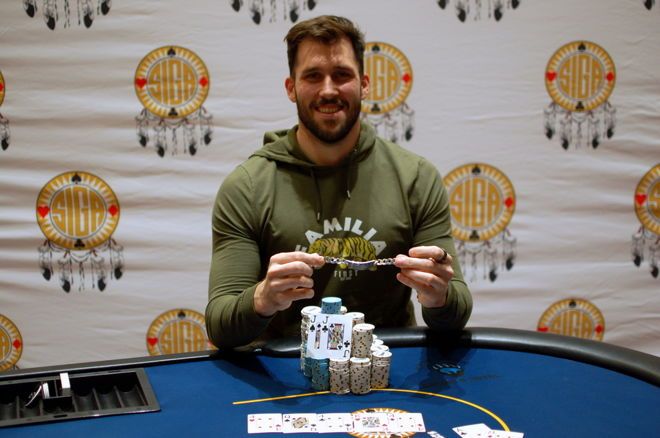 Table Of Contents
The final hand of the 2019 SIGA Poker Championship has been played, and all the chips are in a single stack. That stack belonged to Regina's John Hashem after he made his way through a field of 346 entries to claim the first-place prize of $45,769.
As usual, it was a well-attended affair right from the start. Day 1a saw a total of 146 entries with a total of 200 entries try their hand on Day 1b. A total of 57 players bagged chips at the end of the second starting flight. That meant 97 players returned on Sunday for Day 2, and they'd be fighting for one of 51 shares of the $263,800 prize pool.
2019 SIGA Poker Championship Final Table Results
| Position | Player | Country | Prize in CA$ | Prize in US$ |
| --- | --- | --- | --- | --- |
| 1 | John Hashem | Canada | CA$45,769 | US$34,347 |
| 2 | Lyndon Knutson | Canada | CA$30,997 | US$23,262 |
| 3 | Warren McCallum | Canada | CA$20,708 | US$15,540 |
| 4 | Josh Hopkins | Canada | CA$16,751 | US$12,570 |
| 5 | Kyle Stronski | Canada | CA$14,113 | US$10,591 |
| 6 | Ray Hallett | Canada | CA$11,739 | US$8,809 |
| 7 | Dallas Larson | Canada | CA$9,629 | US$7,225 |
| 8 | Jason Topp | Canada | CA$7,782 | US$5,839 |
| 9 | Todd Derdall | Canada | CA$6,199 | US$4,651 |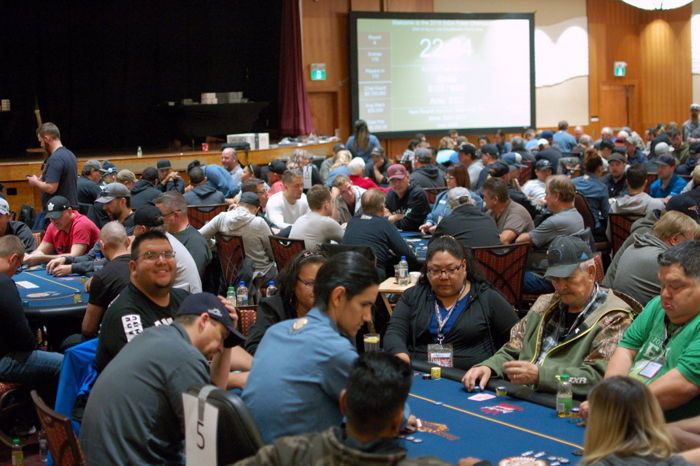 2019 SIGA Poker Championship Day 2 Recap
Day 2 started at a rocket's pace, with just 80 players remaining after the first level of play. The hand-for-hand play started at the end of the fourth level of the day, and they were in the money before the end of that level. Angus McLeod was the unlucky bubble player after his kings were cracked by ace-five.
Two former champions managed to make Day 2 of this year's field. 2017 Champion Trevor Norlander came into the second day with a short stack and couldn't quite manage to get into the money. 2018 champ Daniel Lefebvre had better luck, making it all the way to twenty-third place for a score of $2,638.
A few other notables to make the money included M.A. Jeffery who managed a min-cash, and Skylar Kingdon, Ming Ashing, and Clint Cockburn who cashed for $1,979. Cashing at the $2,638 level were, in addition to Lefebvre, were Harley Hudson, Connor Joinson, and Caren Pfeif, while Adrian Baran and Kyle Woloshyn cashed for $4,089.
Bin Xu was the first to exit the final table when he ran jacks into John Hashem's kings. Next, Todd Derdall got his money in with king-ten only to run into Warren McCallum's kings. Hashem continued his run with a double knockout when he called the smaller stack shoves of Dallas Larson and Jason Topp with pocket tens and held to bring the game six-handed.
Ray Hallett was the next player to run into a John Hashem pocket pair and bust. This time, Hashem had fives and held against the suited gapper over cards of Hallett. Lyle Stronski was the next to fall when he shoved a suited king-jack but got called by the suited ace-four of Lyndon Knutson and couldn't find any help on the board.
That brought the game to a four-handed battle between Prince Albert and Regina, with Josh Hopkins and Warren McCallum representing Prince Albert, and Hashem and Knutson representing Regina.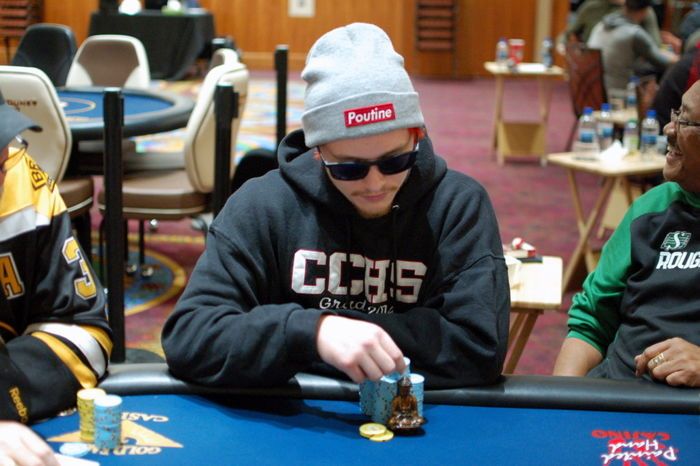 Josh Hopkins got the nickname "The Cat" after surviving through doubles multiple times four-handed. He eventually still ended his run in fourth, though, after he finally got it in bad with a suited king-queen against the suited ace-jack of McCallum and failed to get there.
Warren McCallum was the next to exit when he shoved with jack-ten into the big slick of Hashem. Hashem held to get heads-up against his fellow Regina friend Lyndon Knutson. The heads up match only lasted a couple of hands until Knutson shoved with an ace, and Hashem woke up with jacks and held for the win.
That's a wrap for the 2019 SIGA Poker Championship. Stay tuned to PokerNews Canada for all your news from the Canadian poker scene.