PokerNews Canada Managing Editor One of the Quintet Interviewed For Chasing Poker Greatness Podcast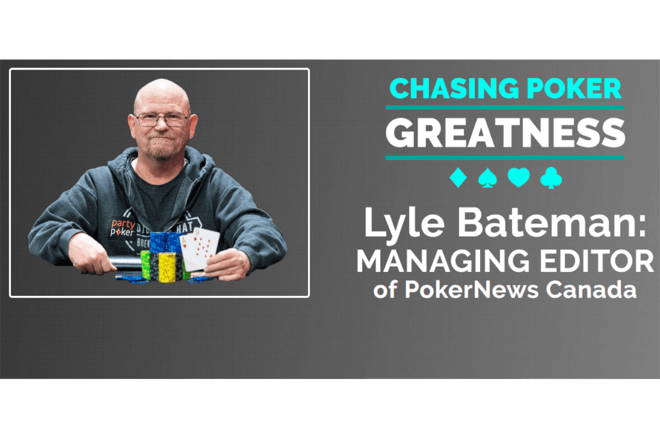 The Chasing Poker Greatness Podcast released five episodes on October 17th with host Brad Wilson from Enhance Your Edge, joining the company of Matt Berkey and Robbie Straszynski was PokerNews Canada's own, Managing Editor, Lyle Bateman.
Bateman discussed how he got into poker along with how longtime PokerNews Canada Editor in Chief, Lane Anderson stumbled upon his blog, bringing him onto the site as a contributor many years ago. The article outlines a trip from Alberta to Playground Poker Club in Montreal in November, a snowy trip headlined by playing the WPT Main Event.
Wilson and Bateman also discussed his favourite and most popular article, where Bateman went into the technical details of RFID poker tables, and how it would be hard to cheat by trying to intercept the transmission of the cards. This interview was before the Mike Postle saga started and also never discussed the other ways an RFID system could be used for cheating, just the technology behind an RFID table.
The two talked about their daily grinds, Wilson's grind of his training site and playing full time, along with Bateman's bankroll challenge stream, where he is trying to build a community of low stakes players that come and hang out and discuss hands all while he tries to run up a stack from playing freerolls to qualifying for the Unibet Open and playing the biggest Unibet MTT's on a regular basis. Bateman talks about getting worn down during his first streaming venture, called Anything But Hold'em where he streamed mixed games but the grind of working full time and then coming home and streaming all night wore him out.
Lastly Bateman sifts through what players at live tournaments should do to get covered, or on the contrary, what players should do if you don't want to be covered. In the end, tournament reporters want to have just as much fun at events as players.
The first podcast featured high stakes pro Matt Berkey. Berkey discusses his start in poker, from cruising the low to mid stakes in college to his recent battles in the famed "Ivey's Room". The SolveForWhyAcademy.com training site founder discusses how it feels to move up in stakes, the fears associated with it, and the highs and lows of poker from session to session.
Berkey's discussion with Wilson was highlighted by a discussion about a $1 million pot he played.
Robbie Strazynski of Carplayer Lifestyle was also on a podcast. Since being a part of the poker media in 2009, Strazynski has many stories from around the felt which are featured on his website CardplayerLifestyle.com along with a wide range of strategy articles and interviews. Strazynski talks about two personal stories about Daniel Negreanu and Phil Hellmuth.
The last two podcasts featured Jesse Yaginuma, who plays both cash games, and has just under $2 million in tournament winnings, and "Q" from the Ps and Qs Poker Vlog.
You can listen to all episodes by searching for Chasing Poker Greatness in your podcast player of choice or visiting the direct show pages listed below.