2019 PokerNews Holiday Gift #5: Master Tournament Poker In One Class: Special Edition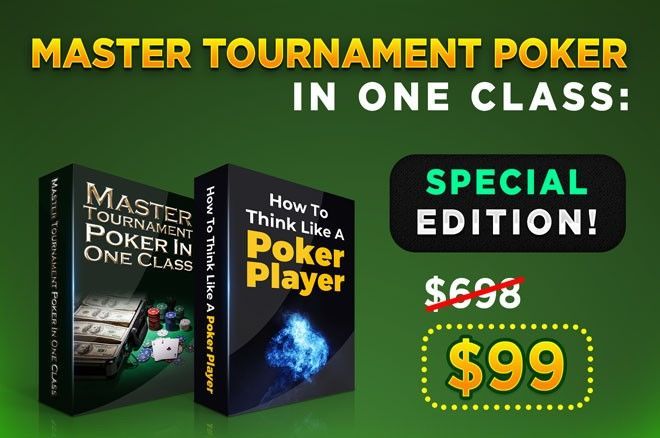 Master Tournament Poker In One Class: Special Edition! is the newest version of Alexander Fitzgerald's premiere product. Based on real analytics that reveal what your opponents are ACTUALLY doing, MTPIOC: SE! will prepare you for any tournament you will play.
Alexander Fitzgerald's product differs from others in a major way. He works exclusively with exploitative strategies that are easy to memorize and apply. There is no discussion in his work about what GTO strategies will work best in nose-bleed games in Macau. He knows your tournament opponents are not Rhodes Scholars, so he doesn't pretend like you need to balance against them. Instead, he tells you statistically what your opponents are doing, and then he gives you the plays to actually exploit them.
Due to its practical application in real-world games, it's not shocking to see that real poker players love Alex's product. Read these real customer reviews he's received!
@WSOP @TVPokerRoom @TheAssassinato Hey thanks Alex for all the instruction. It paid off @WSOP Circuit @TVPokerRoom… https://t.co/aY4WjJtMEp

— Thomas Kornechuk (@tkornechuk)
"Since I started working with you, I really learned poker man...I really learned how to think like a poker player, how to bet the flop, how not to call the river, all those basics very well put, at ease to learn...man excuse me I'm writing an essay here but I've just reached the point where I can use those basics to develop a whole new and unique strategy for each hand I play. I manage to think correctly during the hand and also to see how they can't do s*** to me and I'm doing whatever I want to them...I feel I terrorize their asses...no one wants to play hands with me at 20-50 euros stakes."
Check out the first episode for free now!
Sponsored content by Master Tournament Poker In One Class: Special Edition!.