Deven Lane is the Fall Super Stack Champion for $26,559.52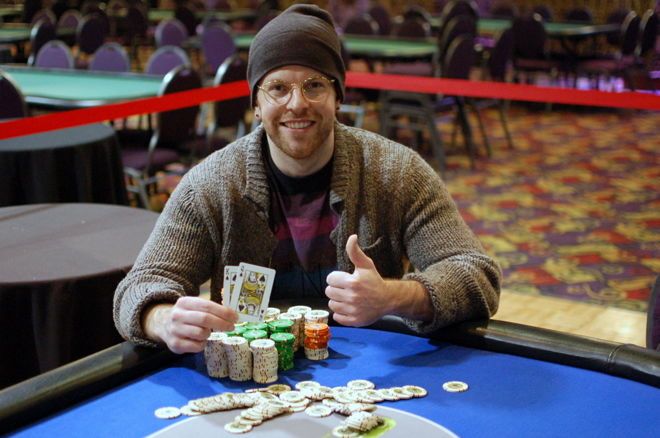 Table Of Contents
The 2019 Fall Super Stack Main Event is done, and Deven Lane is the Main Event Champion. Lane powered his way through the 135 entry field to take down first place. The final three players chopped it up, so Lane pocketed $26,559.52.
Play got underway with a somewhat small Day 1a on Friday. By the time registration closed after 7 levels of play, there were a total of 40 entries. For a time near the end of Day 1a, it looked like they might not play the full 15 scheduled levels, as they got down to just nine left part way through Level 14, and then lost two more before the end of the night. If they'd gotten down to five players, they'd have stopped for the day, but in the end, seven players still had chips at the end of the first starting day.
With $100,000 guaranteed, Day 1b needed to get around 70 entries to ensure there was no overlay. Entries started out brisk though for Day 1b, and by the time registration closed, there were 95 total entries for Day 1b, which put the prize pool well over $125,000. Among those who came out for a Day 1 but failed to advance were Karim Chatur, Ferida Balic, Toby Wu, Raymond Trieu, Frédéric Normand, Tyler Warken, John Abbott-Brown, Malcolm Bolger, Wendy Clark, and William Yoneda.
Fifteen players made it through Day 1b, and they joined the 7 from Day 1a for a 22 player field coming into Day 2. Eight of those players would go home empty handed though, as there were only 14 cashing spots available. They pushed through the bubble pretty quickly, and Erich "E-Rich John" Leidums was the unfortunate bubble player just before the end of the second level of play in Day 2.
It took less than a level to go from the bubble to the final table after Ali Ghanem bubbled the final table in 10th place for $2,900. Once they got nine-handed, the pace didn't slow down much. Short stack Graeme Frank got it in within a few minutes of the start of the final table, and ran nines into tens to exit in ninth place for $3,650.
Final Table Recap
They played eight-handed for about an hour and a half before a huge cooler hand resulted in a double knockout. It all took off on the



flop when Alex Tuhl shoved, and Gurdeep Parhar and Joel Bullock called off with smaller stacks. Everyone had a significant piece of the flop with Tuhl holding tens for top set, Bullock holding eights for bottom set, and Parhar playing pocket sevens for the open-ended draw. The turn and river bricked out for Parhar and Bullock, and they were sent to the cage in eighth and seventh place respectively.
It took nearly two more hours to award sixth place. Toms Varghese, who was second in the opening event of this series, had a chance to make a run on the Player of the Series prizes, but he needed fourth or better in the Main Event to get there. Unfortunately, the best he could manage today was sixth place for a score of $6,300.
Next to exit was Michael "Berny" Bernstein. Bernstein was decimated in a blind on blind hand where small blind Bilal Ghanem flopped a straight and extracted maximum value. He busted shortly after to collect fifth place money worth $8,825. Damian Mineu quickly followed Berstein out in fourth place for $12,625.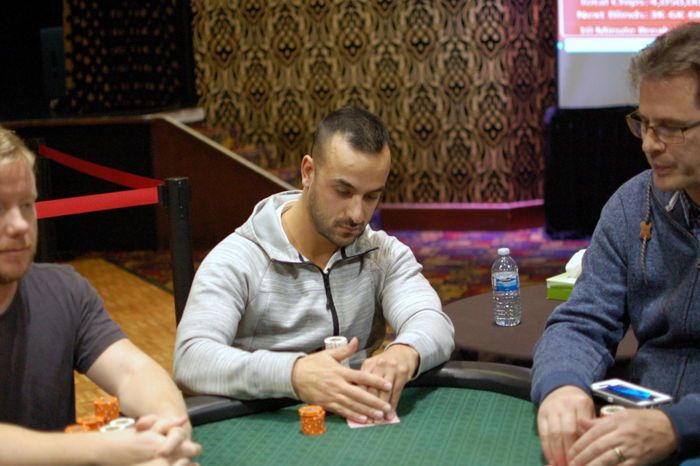 The final three players played it out for a few minutes, but they were very deep stacked, and decided to chop it up rather than play for what could be hours more. When the deal was struck, Bilal Ghanem was in third place and grabbed $22,454.57 while Alex Tuhl had the second biggest stack, and took $22,985.91 for second place.
The top dog in this one was Regina resident Deven Lane. Lane has been making a name for himself in Western Canadian poker tournaments this year, with a second place in the recent Fall PlayNow Poker Championship, which PokerNews Canada was on hand to report on, as well another second last week in Regina during the Harvest Poker Classic at Casino Regina. The Main Event win here, however, marks Lane's first win according to Hendon Mob, but it seems certain he'll become a force to be reckoned with in Canadian poker in the coming years.
| Place | Player | Prize |
| --- | --- | --- |
| 1st | Deven Lane | $26,559.52 (orig $32,865) |
| 2nd | Alex Tuhl | $22,985.91 (orig $22,725) |
| 3rd | Bilal Ghanem | $22,454.57 (orig $16,410) |
| 4th | Damian Mineu | $12,625 |
| 5th | Michael Bernstein | $8,825 |
| 6th | Toms Varghese | $6,300 |
| 7th | Joel Bullock | $5,300 |
| 8th | Gurdeep Parhar | $4,450 |
| 9th | Graeme Frank | $3,650 |
Player of the Series
The other big story on Sunday was the Player of the Series race. Each event had points awarded for cashing spots, and the player with the most points at the end of the series was in line to win free entry to all the multi-day events at the next Deerfoot Super Stack series, while the second highest point total would get entry into the biggest two multi-day events.
As Sunday loomed, the race looked very tight. There were five players in action with a chance to take it down, depending on how they did. Toms Varghese went deep in the Main Event, and would have been able to jump into the lead with fourth or better. He was halted at sixth however, leaving him out of the running.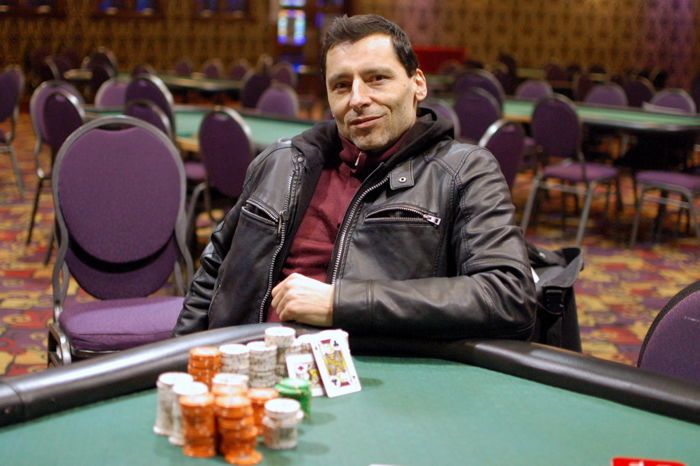 Paul Sokoloff came into Sunday with the points lead, but he failed to make Day of the Main. He, along with Wayne Hoffert, Trevor Simpson, and Brad Coultas jumped into the final event of the series, the NLH $50 Bounty. Regardless of what else happened in the day, Sokoloff could have guaranteed the top spot with a win in the bounty, but as it turned out, there was less drama than expected. One by one, Hoffert, Simpson, and Coultas dropped out of the event, and when Varghese busted the Main in sixth, Sokoloff ended up in the top spot by default. He still picked up some cash with four bounties and a bubble deal after he bubbled the Bounty in fifth place.
That wraps the Fall Super Stack. They'll be back in action at Deerfoot Inn & Casino in later January 2020 for the Winter Super Stack, and the Super Stack schedule is already set for all of 2020. Stay tuned here for all the details of 2020 poker at Deerfoot in the coming weeks.