Fall Super Stack at Deerfoot Casino Puts $100k Up for Main Event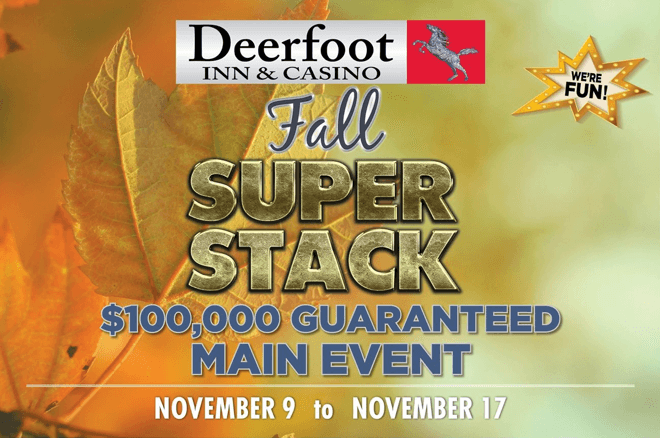 Halloween is over, and that means its time for the Deerfoot Inn & Casino Fall Super Stack. With 12 events over nine days ranging from a $100 Rapid Fire Rebuy all the way up to the $100,000 Guaranteed $1,100 Main Event, there's a game that suits everyone's bankroll.
The Fall Super Stack is the fourth edition in 2019 for the popular Super Stack series at Deerfoot. With events in the winter, spring, summer and fall, the Super Stack series have become must-attend events for western Canadian poker players.
This year's Fall edition gets underway Saturday, November 9th with the first event, the $300 + $40 DeepStack. There are two Day 1s on Saturday and Sunday, feeding into the final Day 2 on Monday. Players get 20,000 chips to start and will play 30 minute blind levels on Day 1, and 40 minute levels on Day 2.
Alongside Event 1, a satellite to the 1 Day MegaStack and Main Event will run on each day. For $200 + $20, players get 10,000 chips to play 20 minute levels, with one in eight players getting a seat.
The first event for satellite winners, the $500 + $50 1 Day MegaStack, runs on Wednesday, November 13th. Players start our with 20,000 chips and play 30 minute levels until someone has all the chips.

The final weekend is time for the Main Event. The $1,100 SuperStack runs two Day 1s, on Friday, November 15th and Saturday, November 16th. Day 1 has 40 minute levels, while Day 2 plays for 60 minutes before changing blinds, and players sit down at the felt with 30,000 chips.
In addition to the marquee events, the week is full of poker action. If you like four card action, there are two pot limit Omaha events, including one bounty. There is also a no limit hold'em bounty event, as well as special events for the Ladies and Seniors. And as always, the final Saturday night of the series will feature the ever popular Team Event.
As if that's not enough poker value, there is also a Player of the Series race. This time, there's a bit of a twist though - it won't just be the winner walking away with prizes. The top point earner over the series will win a Super Stack package worth $2,390 (Tickets into the all multi-day events) and second place will get a Super Stack ticket package worth $2,050 (Mega Stack and Main Event). And there's always plenty of cash game action happening as well, with the 4T jackpot now up over $100,000 again.
There's a room code available as well - FSS2019 will get you a rate of $139 at the on-site hotel. If you're looking for poker value, look no further than the Fall Super Stack at Deerfoot Inn & Casino.
Full Schedule:
| Date | Time | Event | Name | Total | Reg Fee | Chips | Blinds |
| --- | --- | --- | --- | --- | --- | --- | --- |
| Sat, 9-Nov. | 12:00 p.m. | Event 1 | Deepstack Day 1A | $340 | $40 | 20000 | 30 Min |
| Sat, 9-Nov. | 7:00 p.m. | | Satellite To Event 6 & Main | $220 | $20 | 10000 | 20 Min |
| Sun, 10-Nov. | 12:00 p.m. | Event 1 | Deepstack Day 1B | $340 | $40 | 20000 | 30 Min |
| Sun, 10-Nov. | 7:00 p.m. | | Satellite To Event 6 & Main | $220 | $20 | 10000 | 20 Min |
| Mon, 11-Nov. | 12:00 p.m. | Event 1 | Deepstack Day 2 | n/a | n/a | n/a | 30 Min |
| Mon, 11-Nov. | 2:00 p.m. | Event 2 | Ladies | $250 | $25 | 15000 | 20 Min |
| Mon, 11-Nov. | 7:00 p.m. | Event 3 | PLO $100 Bounties | $330 | $30 | 25000 | 20 Min |
| Tues, 12-Nov. | 2:00 p.m. | Event 4 | Seniors 50+ | $250 | $25 | 15000 | 20 Min |
| Tues, 12-Nov. | 7:00 p.m. | Event 5 | NLH Rapid Fire Rebuy | $100 ($20 rebuys, $50 Addon) | $20 | 5000 | 20 Min |
| Wed, 13-Nov. | 2:00 p.m. | Event 6 | 1 Day Mega Stack | $550 | $50 | 20000 | 30 Min |
| Wed, 13-Nov. | 7:00 p.m. | Event 7 | Bankroll Builder | $300 | $30 | 15000 | 30 Min |
| Thu, 14-Nov. | 2:00 p.m. | Event 8 | PLO | $250 | $25 | 20000 | 20 Min |
| Thu, 14-Nov. | 7:00 p.m. | | Main Event Satellite | $200 | $20 | 10000 | 20 Min |
| Fri, 15-Nov. | 12:00 p.m. | Event 9 | Superstack Day 1A | $1,100 | $100 | 30000 | 40 Min |
| Fri, 15-Nov. | 7:00 p.m. | Event 10 | NLH $100 Bounties | $330 | $30 | 20000 | 20 Min |
| Sat, 16-Nov. | 12:00 p.m. | Event 9 | Superstack Day 1B | $1,100 | $100 | 30000 | 40 Min |
| Sat, 16-Nov. | 7:00 p.m. | Event 11 | NLH Team Event | $250 | $50 | 20000 | 20 Min |
| Sun, 17-Nov. | 12:00 p.m. | Event 9 | Superstack Day 2 | n/a | n/a | n/a | 60 Min |
| Sun, 17-Nov. | 2:00 p.m. | Event 12 | NLH $50 Bounties | $270 | $20 | 15000 | 20 Min |