2019 PokerNews Holiday Gift #4: Holiday Poker Study Guide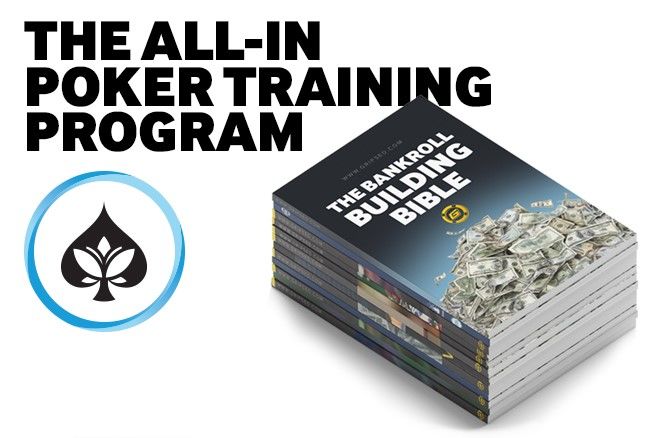 The ultimate holiday poker study guide for every kind of player!
You've got the time, now make the money!
I'm going to show you how to make the most of studying poker during your holiday break.
Step up your game for big returns in 2020 and make it the year you turn a profit on your passion.
The strategy I'm going to impart is going to be simple, and the results? You can take them to the bank—literally.
Anyone of any skill level can benefit from this information, but it is going to take patience and practice.
Thankfully, it's the holidays, so you likely have some time to invest in your game.
Read on! In this article, I'm going to give you:
Tips for Big Budgets
Got a chunk of change to spare? Then the best value for your money is going to be training bundles for the holiday season.
Check out our All-In Poker Training Program with special holiday price.
This program is next-level, and dives deep into the three, often overlooked, competencies in poker that will take you from chump to champ.
Want some other good value offers? Check out the PokerNews Holiday Gift Guide!
For Small Budgets
Being short on cash doesn't mean you're short on opportunity.
There are plenty of ways you can build your bankroll on a budget.
Your best bet is to invest in specific training on something you need to improve, like your short stack play or your under-the-gun strategy. Or, likewise, invest in a game you play exclusively, like sit 'n' gos or tournament poker.
This narrow focus will help you develop your edge so you can cash in for 2020.
My top recommendation? Master Tournament Poker in One Class by Alexander "Assassinato" Fitzgerald.
This comprehensive guide covers everything no-limit hold 'em tournaments, but keeps its lessons precise and powerful, so you won't be overwhelmed with your newfound knowledge. You can take it straight to the bank.
Play mostly cash games? I definitely recommend Master Poker in One Hour a Day--another gem from Alex Fitzgerald.
This brilliant program is designed specifically for players with day jobs who want to improve their game, but don't have a ton of free time to study the game.
Tips for No Budgets
No money? No problem. There's tons of great content on YouTube and the Gripsed live streams. Check out the Gripsed Bankroll Challenge--LIVE NOW!
This YouTube series is perfect for players with new or small bankrolls, teaching you proper bankroll management while divulging mind-blow hacks to build your bankroll quickly and consistency.
Psst: don't forget the rest of the free content on the Gripsed YouTube channel!
How to Get the Most out of Your Studying: Your Fool-Proof Checklist
Before you hit the books and start binging YouTube videos, take heed of these poker studying tips.
I've been coaching for over a decade, and these are the strategies that make and break a solid study regime.
Poker Study Checklist
Take breaks
Get up, take a walk, stretch. Do something that has nothing to do with poker. You need this distance to refresh your brain so it doesn't become overburdened.
Digest theory with gameplay
This variety will ensure you're getting the most well-rounded results from your holiday study sessions.

Don't binge all the content
There's a lot of content out there, so steer clear of trying to digest it all.

Not all of it will be applicable to you and your situation. Watch the videos and read the books and articles that cater to your specific goals.

If you don't play live games, you don't have to watch 10 hours of videos on how to read facial tells.

Come up with a study plan
Make your plan, and stick to it. But make it realistic.

If you don't think you can commit to three hours a day, make it one. Also, pick a time that works best for you.

For some people, that will be the first thing in the morning. Other people come alive at night. Write your plan down and stick to it.

Map out what you are planning to study every session, and try to work in a logical sequence.

A beginner would want to know about c-bet strategy before they took on a course on how to cash at the WSOP.

Review what you need to improve
If you're the master of playing out of position, then don't waste your time or money reviewing that.

The holiday break isn't that long: make the most of your study time and hone in on the areas where your lack of knowledge is costing you.

Alternate between studying and playing
This tactic will allow you to put into practice what you're learning.
Solicit feedback from poker friends
Everyone loves to share their opinion and the learning possibilities are endless.
If you can adhere to these guidelines and keep yourself focused, your holiday break could mark the turning poker in your poker career. 2020 is looking good!
Sponsored content by Gripsed.