Play Titan via PokerNews, get 12 Exclusive Freerolls in May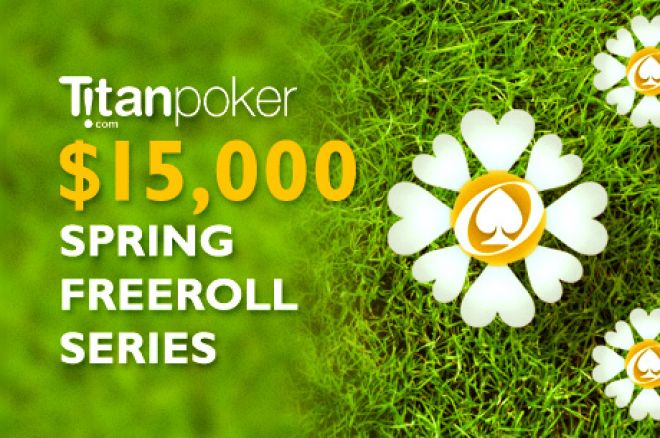 Join and deposit at Titan via PokerNews Canada and you're into all 10 of our $100 freerolls this month, deposit and rake just $7 to join our exclusive $1000 events May 19th and 26th. Full info at our $15,000 Titan Spring Freeroll Series promo page.
What we do: For years, our global network of sites has allowed us to negotiate with rooms for the most valuable exclusive promotions, so If you're looking to play online poker, join via our affiliate links to get big value added bonuses and exclusive cash added freerolls. We run literally hundreds of thousands in cash and value added promos each year. Also after you join you're qualified for all future promotions we run as well. PokerNews is Simply the Best!
May 2013 Titan Promos: $15,000 PokerNews Spring Freerolls + $5000 Rake Rebate Promotion
Each Sunday from now through June 9, exclusive PokerNews $1,000 freerolls take place at 3 pm EDT at Titan Poker, plus we're giving away passes to 10 straight days of $100 freerolls, just join and deposit (min $25) and you're automatically in to all our exclusive $100 added 'marathon' events.
To play in our $1000 added events sign up and earn only 100 Titan Points (~ $7 in rake) during each of the respective qualification periods and you are qualified—it's that simple. Titan Points are earned at a rate of 15 points per $1 in cash-game rake and 17 points per $1 in tournament fees, so earning 100 of them is a relatively easy task, even for players of micro-stakes games.
Find full event schedules and more information about our exclusive Titan promotions here...
PokerNews Customer Support: If you have any questions or problems with this or any of our promotions contact our Ticketed Promo Support System., we can communicate directly with rooms to solve your problems fast OR check the PokerNews Canada forum, where we can also assist you.