Top 5 Reasons to Play the PokerNews Daily Freerolls!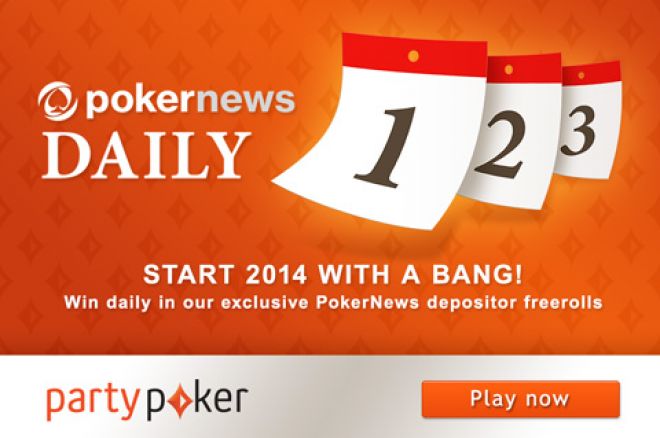 If you are like most players, you are likely a recreational poker player with an eye on taking your poker game to the next level. Wouldn't you like build up your bankroll for free to get you to that next level?
Well, we have the perfect path for you to jump-start your bankroll while working on your poker game with the PokerNews Daily Freerolls! on partypoker!
These exciting freerolls are only available to players that have downloaded partypoker through PokerNews and made at least one deposit.
They run each and every day from now until March 15th listed in the partypoker lobby as PokerNews Daily Freerolls.
Five Great Reasons Why You Should Play!
1) Free $100 on the line every day! - Many of the best poker players started off by playing freerolls. These freerolls provide an excellent way to get your hands on some free money without making deposit after deposit.
2) Limited field size - Unlike many freerolls where you are playing against thousands of players, these freerolls are ONLY available to those that signed up through PokerNews. Since you will not be playing against every player on partypoker, you should have a great chance for some free money every day.
3) Improve your poker skills - Freerolls are a great way to test out new things in your game that you were thinking of trying but afraid to do so in games you have invested money in. If a move you wanted to try didn't work out, you can always play another risk-free tournament the following day.
4) Weak players - Typically freerolls are free from sharks, allowing you to actually have a great chance at winning the top spot. While it is important to learn how to play against the best of the best, when you are first learning poker it is great to have a chance to win on the simple fundamentals and not be faced against professional players.
5) Entertainment - A night out on the town usually costs some money. So why not stay at home and be entertained for free on partypoker in these freerolls? To make things more exciting you can get a friend or two to also play and see which player lasts the longest in the competition. You can even make a prize with your friends that whomever last the longest gets a free drink the next time you go out together.
How Do I Get Involved?
Getting involved is quite easy. All you need to do is create an account through PokerNews Canada and make at least one deposit into your account. This deposit can be the minimal amount and you do not even need to risk it in any games to qualify for these freerolls. You can learn the ropes first in the freerolls before investing in any real-money games or use this deposit for the popular PokerFest coming up in a week.
If you already have an account on partypoker through us, you are automatically eligible to play in these freerolls as long as you have made at least one deposit in your account. Remember, these freerolls are not only fun, but a great way to pad your bankroll.
There are still plenty of chances at some free money every day while having fun at the same time. Why let someone else win free money when it could be you?
Click here for full terms and conditions of the PokerNews-exclusive partypoker Daily Freerolls.
Get all the latest PokerNews Canada updates on your social media outlets. Follow us on Twitter and like us on Facebook!