Play in the 888poker Winter Games for a Share of $300,000!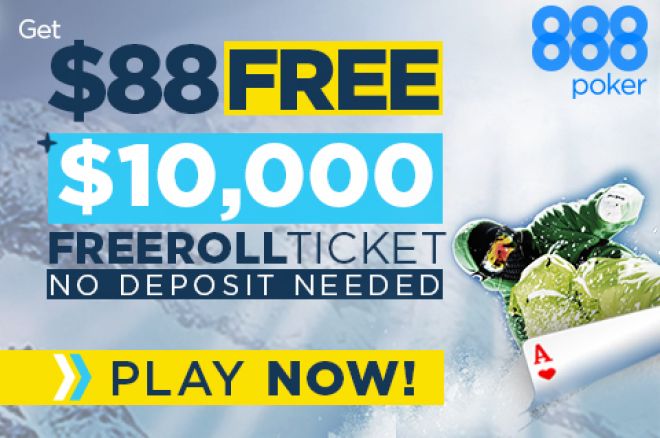 While you sit on your sofa and watch the 2014 Winter Olympics in Sochi, Russia, don't you wish you could get up and get into the action?
Well, unfortunately we can't promise you the chance to compete with the best winter athletes of the world. However, our friends at 888poker want to give you a chance to compete with some of the best poker players in the world in the 888poker Winter Games.
The Winter Games consists of 21 daily $10,000 freeroll tournaments running from Feb. 9 to March 1. Like the Olympics, you will also have a chance to compete in gold, silver, and bronze freerolls with prize pools ranging from $20,000 to $40,000 from March 2nd to March 8th. Added together, 888poker is giving away $300,000 in free prizes!
It is very easy to get involved with this promotion. You will receive one freeroll ticket just for registering for the Winter Games. From there it is up to you to get more tickets each and every day by completing any of the two simple challenges listed below.
Slalom on Mobile Apps - Play at least 30 hands or one tournament with a $1 minimum buy-in on the 888poker Android or iOS app.
Ski in Snap Games - Play a minimum 30 fast-fold hands or one tournament with at least a $1 buy-in.
Snow Jump into Cash Games - Play at least 30 Texas hold'em cash game hands in Texas hold'em cash games.
Skate in Omaha Games - Play a minimum 30 Omaha cash game hands or at least one Omaha tournament with at least a $1 minimum buy-in.
Freestyle in Casino Game - Place at least 30 bets in any casino game of your choice.
The more tickets you win, the more freerolls you can enter. The fun just begins here, because if you win at least three tickets during the promotional period you can compete for a share of $20,000 in the Bronze Hero Freeroll. Win five tickets and you'll be eligible to compete for a piece of $30,000 in the Silver Defender Freeroll. Go for the gold by winning eight tickets and you can find yourself competing for the biggest money available in this promotion in the $40,000 Gold Champion Freeroll.
There has never been a better time to sign up to 888poker via PokerNews Canada. In addition to being able to get your hands on a share of $300,000 you also will be eligible for a 100% deposit bonus up to $888 on your first deposit. Download 888poker today!