5 Easy Steps to Get Your Hands on an iPhone 5S

Jason Glatzer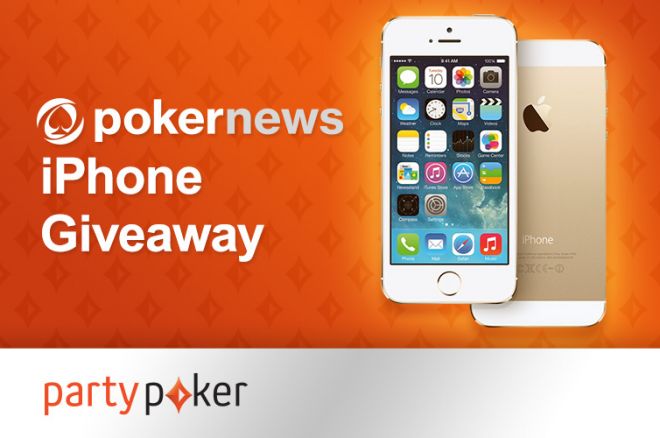 Do you want a new iPhone but aren't quite prepared to open your wallet to pay the price Apple wants for it?
We want you to be a proud iPhone owner too, and thanks to our friends at partypoker, you can do so without any cost to you!
For the next three Wednesdays, partypoker is hosting PokerNews-exclusive iPhone Giveaway where the winner walks away with Apple's latest smartphone.
Just follow the easy steps below and you could find yourself with a fabulous new iPhone 5S!
Five Easy Steps to Get Your Hands on an iPhone 5S
#1 Sign-up to partypoker through PokerNews Canada
If you already have a partypoker account through PokerNews, you are already ahead of the game and can skip this step.
If you do not already have a partypoker account, now is the time to do so. Since these tournaments are only available to PokerNews customers, you must create your partypoker account through our links.
Signing up through us not only is the first step in getting your hands on a new iPhone, but also will make you eligible for other partypoker promotions as well.
#2 Deposit Funds
In order to be eligible for this promotion, you also have to make at least one deposit. If you have already completed step 1 and deposited, you are automatically eligible for the tournament.
If you have not yet deposited, you should consider depositing as much as you can, since on top of being eligible for this tournament, you also will receive an easy-to-clear 100% first-deposit bonus up to $500! The more you deposit, the more you will get out of this special one-time bonus!
#3 Generate 5 Party Points
It costs 5 Party Points to enter these high value tournaments. Don't worry if you do not already have 5 Party Points since they are very easy to accumulate.
All you need to do is generate $2.50 in rake in any of your favourite partypoker games, and you will have enough Party Points to play in this exclusive tournament.
#4 Enter the Tournament
These exciting tournaments are run every Wednesday in March listed in the partypoker lobby as the PokerNews iPhone Giveaway.
#5 Win, Win, Win!
Now comes the part where your skills will be tested. Although these tournaments award only the 1st place winner, they do not get many entrants because they are only available to PokerNews customers. So put your skills to the test and play to win!
The next tournament runs on March 12th, so you still have some time to sign up to partypoker through PokerNews Canada, generate 5 Party Points, and play to be the next lucky winner of a brand new iPhone 5S.
Click here for full terms and conditions of the PokerNews Phone Giveaway.