Would You Like a New iPhone 5S?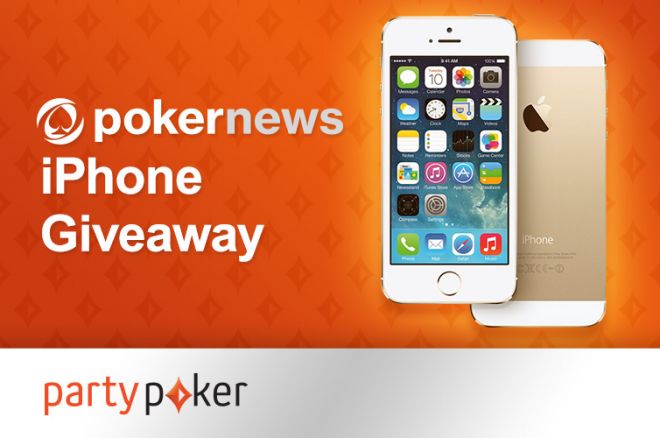 Apple's iPhone is hands down the most sought after smartphone around. It is no wonder with all the amazing apps and the ability to play poker from the palm of your hand.
Now is your chance to have your very own state-of-the-art iPhone 5S compliments of partypoker! On March 5 and March 12, partypoker is giving you a chance to get your hands on this fantastic mobile device in the PokerNews-exclusive iPhone Giveaway.
How Do I Get Involved?
To get involved you need to have a partypoker account through PokerNews and have made at least on deposit into your account. If this describes you, you are automatically eligible to enter this great tournament.
If you do not already have a partypoker account and want to get your hands on a new iPhone just go ahead and download partypoker through PokerNews Canada and make a deposit. It is that simple to be eligible for this exciting tournament!
What Does it Cost?
The iPhone Giveaway tournament does not cost any money to enter. This does not exactly mean it is free as it does cost 5 Party Points to enter.
The good news is getting your hands on 5 Party Points is quite easy. All you need to do is generate $2.50 in rake in your favorite poker games on partypoker and you will have enough points to enter this exclusive tournament.
Why Should I Enter?
You might be thinking why should I play in a freeroll with thousands of players where only one winner receives an iPhone. There is no reason to worry about this in these great tournaments.
Remember the iPhone Giveaway tournaments are exclusive to PokerNews players only and cost 5 Party Points, so the field sizes will be much more limited. That gives you excellent opportunity to get your hands on Apple's latest smartphone.
If you already have an iPhone, you should also consider playing these great tournaments. If you win, you can either give your iPhone to a loved one, or accept an alternative prize of T$300 which can come in handy with the exciting Pokerfest tournament series already underway.
There isn't much time left until the next giveaway tournament. So hurry up and sign up to partypoker today for a great chance to get your hands on an iPhone 5S in the next PokerNews iPhone Giveaway tournament.
Click here for full terms and conditions of the PokerNews Phone Giveaway.