Reminder: We Are Giving Away 100 Tickets to PokerStars 1m Gtd. Sunday Storm – For Free!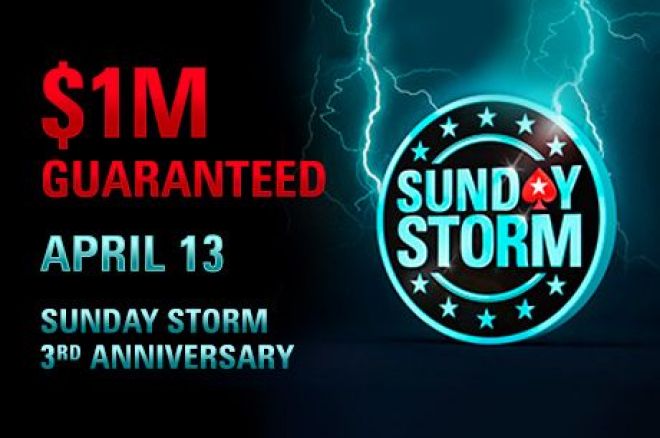 As you may have already heard, our friends at PokerStars are celebrating their 3rd anniversary of the Sunday Storm this Sunday with something that we are sure is going to please thousands of players from all around the globe.
Just like everything PokerStars does, the room is going to celebrate this in style, by generously increasing the prize pool up to a huge $1 million guarantee!
And, before you worry about the guarantee being just a simple trick to hide a buy-in increase ... well, read this: the entry fee is going to stay at just $11!
Yes, just like every other week, joining the (super) Sunday Storm will cost you nothing more than the usual $11. Not too bad for a tournament that will give its winner a 1st prize of at least $100,000, don't you think?
So, here's the deal: this exciting tournament takes place on April 13 at 14:30 ET, and can be found in the tournament lobby listed as $11 Sunday Storm 3rd Anniversary, $1M Gtd, $100K+ to first.
Mark it on your calendar. Write it down on your agenda or even on the palm of your hand if that helps. Because you don't want to miss the chance to play it, do you?
Fancy a Free Buy-in? Keep Reading!
Truth is, why should you spend even just $11 to play the upcoming 1m Gtd Sunday Storm if you can do that for free?
How about you save your money and invest those 11 bucks on some other tournament or cash table and let us do the work for you and get you a ticket to play for the $100,000 top prize for free?
PokerStars is generously giving away 100 free tickets to 100 lucky PokerNews readers with a satellite tournament taking place on April 12 at 13:30 ET.
So even if you were planning to buy into this great tournament anyway, there is no reason not to take a shot at one of the many free tickets being given away during our freeroll.
You can easily find this PokerNews-exclusive freeroll satellite tournament by searching for tournament ID# 890736175 or in the PokerStars tournament lobby under the private tournament tab listed as the PokerNews Sunday Storm 3rd Anniversary Freeroll, 100 Tickets Added.
The password to this free tournament is bigsunStorm$1m
So remember to mark this tournament on April 12th on your calendar, as we want you to be one of the lucky 100 players to play in the Sunday Storm for free.
If the stars align and you play well enough in both this exclusive satellite and the Sunday Storm itself, you could find yourself rolling around in money without even having had to open your own wallet.
Obviously, if you do not already have a PokerStars account, there's probably never been a better time to run to the world's #1 poker room and open one.
By doing this you will bot only potentially compete for a share of at least $1 million, but you will also be treated to a lavish 100% deposit bonus up to $600 and be eligible for benefits our readers can only enjoy including a $20,000 PokerNews-exclusive freeroll in May!
Don't be crazy. Don't waste your money for something you can get for free. Join PokerStars now and let your poker skills do the rest.
Get all the latest PokerNews Canada updates on your social media outlets. Follow us on Twitter and like us on Facebook!