Catch Football Fever at PokerStars; Win a Share of Over $1.7 Million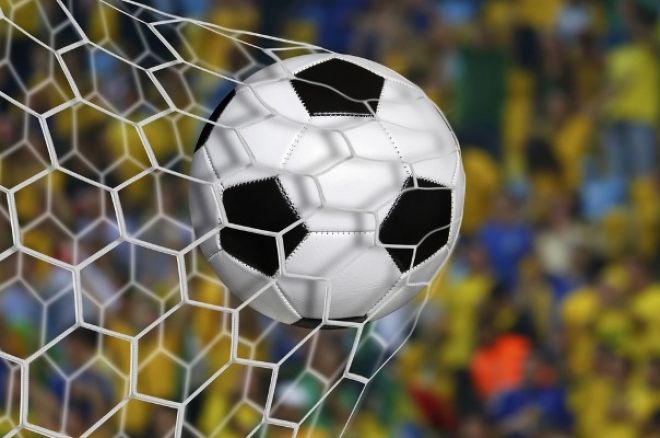 Gooooaaaaaaallllllll!!! The 2014 FIFA World Cup is finally here and boy did we have some exciting matches to start this amazing football celebration!
PokerStars wants to give you 1.7 million more reasons to celebrate this football festival that only graces its presence once every four years in their Football Fever promotion.
Football Fever at PokerStars means two things - money and pride. Everyone loves money, and we aren't talking nickels and dimes here, as PokerStars is giving away over $1.7 million!
Win a Share of $500,000 in Daily Football Fever Missions
PokerStars is providing you a few different paths at big bucks. The PokerStars Football Fever daily missions combines your love of poker with your love of football.
Each day you can view the available missions in the PokerStars client. Most of these missions are very easy to do, such as play in a few sit n go's or cash game tournaments. Once you have accomplished the goals of the mission you will be awarded a ticket to an all-in shootout freeroll.
Now here is where your love of football comes into play. Your ticket is good for one of three freerolls for a match yet to come. When using a ticket to enter a tournament, you are also choosing any of these three scenarios - Team A wins, Team B wins, or tie.
If your prediction is correct, you and everyone else that also selected the correct tournament will have a chance at a share of $10,000 where the lucky winner walks away with $1,000!
If you really have what it takes, you can opt into a special bonus mission which rewards a ticket to a $100,000 all-in freeroll. Win this freeroll and you will find yourself $10,000 richer! All you need to do to get a ticket is complete ten missions, which isn't hard to do even if you aren't playing at PokerStars every day.
Win a Share of $225,000 in the Football Fever Missions Week
As the World Cup is heating up, so are the rewards. PokerStars is giving you three separate paths from July 7 to July 13 to win a free ticket to one of their exciting three $75,000 all-in shootout freerolls on July 16 where the winner of each freeroll will add $7,500 to their PokerStars account.
You should find winning a ticket to be quite simple regardless of whether you are a cash ring game player, tournament player, or sit n go player. Here is a look at the three paths you can take to get a free ticket.
Ring Game Mission - Play 200 Real Money Ring Game hands (ZOOM included)
Scheduled Tournament Mission - Play 7 Real Money Scheduled Tournaments
Sit & Go Mission - Play 10 Real Money Sit & Go's
Win a Share of at Least $1 Million in the Football Fever Phase Tourney
If a share of at least $1 million dollars doesn't get your heart pumping, we are not sure what will. PokerStars is hosting at least five $27 buy-in phase one tournament a day where if you find yourself with chips you are automatically entered into a Phase 2 tournament on July 6 at 12:25 ET.
From there you will be competing with others that have made it to Phase 2 for a share of at least $1 million with at least $100,000 set aside for the winner!
This tournament could be easier to win than other big money tournaments since it coincides with the World Series of Poker Main Event. This means many of the sharks you would normally see at the tables will be too busy trying to win their place in poker history and will not be entering this tournament.
If you haven't played Phased tournaments at PokerStars, here is how they work. Phase 1 offers many flights where you are playing to get into a Phase 2 tournament with other players that have successfully found themselves with chips at the end of the Phase 1 tournament.
If you fail to make it to the end of Phase 1, there are plenty of chances to re-enter, however, you can't re-enter if you made it to Phase 2 and are unhappy with your chip count.
With this in mind the best strategy here is to try to accumulate as many chips as possible in Phase 1 so you wind up with a healthy stack to start Phase 2.
The worst thing that can happen in a Phase 1 tournament is that you find yourself low on chips when the tournament ended, since you will not be allowed to enter another Phase 1 tournament and be stuck with the chips you have to start Phase 2.
Therefore we recommend that if you find yourself low on chips near the end of a Phase 1 tournament, that you consider gambling it up a bit so either you build a stack you can put to good use in Phase 2. If you bust out gambling it up, you can start again with a fresh stack in another Phase 1 tournament.
Proudly Display a Custom Made Avatar
We have shown you the money, now time for some pride. Why not let everyone at PokerStars know how much pride you have in your team?
During the World Cup, PokerStars will allow you to pick a custom made football avatar displaying your team's national colors. Your custom football avatar will be displayed as long as your team is still alive in the World Cup.
If you do not already have a PokerStars account, now is a great time to do so. If you sign up to PokerStars through PokerNews Canada using the unique marketing code "POKERNEWS.COM" and make your first deposit using the bonus code "STARS600", you not only will be eligible for a share of over $1.7 million in the Football Fever promotion, but also receive a healthy 100% deposit bonus up to $600 and be eligible for great promotions only available for our players such as the PokerNews-exclusive $10,000 freerolls.
Get all the latest PokerNews Canada updates on your social media outlets. Follow us on Twitter and like us on Facebook!