Add Some Football Excitement to Your Summer at Everest Poker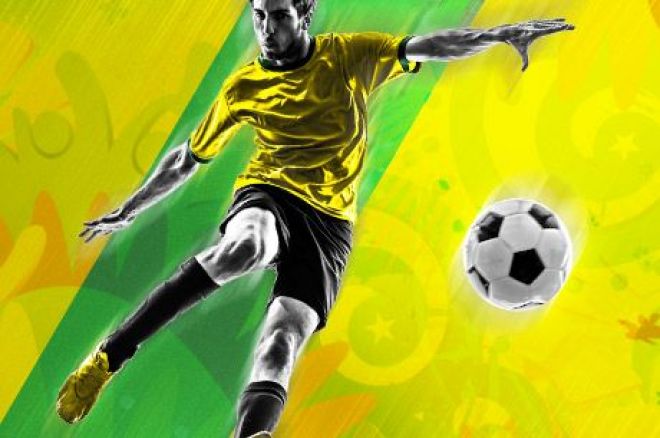 Have you been enjoying all the great 2014 FIFA World Cup matches? The excitement is just building and building until we have the final two teams face off and a winner is declared.
If you are looking for other ways to celebrate this exciting football festival other than watching it on TV, look no further than Everest Poker's FREE Summer Football Predictor promotion.
How Much Can I Win?
Everest Poker's FREE Summer Football Predictor will reward 50 Everest Poker players prizes ranging from a minimum of €5 to a maximum of €1,000. So, ask yourself: do you have what it takes to climb to the top of the leaderboard and win the top prize?
Even if you don't win the €1,000 grand prize, there are many other spots on the leaderboard to compete for. Just find yourself in the top 50, and you will win a share of the €2,000 in cash and tokens Everest Poker is giving away.
Here is a look at all the prizes you can win in this great promotion.
| Finishing Position | Prize |
| --- | --- |
| 1st | €1,000 cash |
| 2nd | €400 cash |
| 3rd | €200 cash |
| 4th | €100 cash |
| 5th-10th | €25 cash |
| 11th-20th | €10 generic token |
| 21st-50th | €5 generic token |
Free Money Sounds Great, What's the Catch?
If you think getting involved in this contest is difficult, think again. This is truly a contest anyone can win. Just follow the steps below to get started, and we'll help you out and give you a tip that may give you the edge to win as well.
Log into Everest Poker (if you don't have an account, you can open a free one here ).
Find each match in the "Summer Football" tab in the Everest Poker lobby.
Register for free to the no-play tournament matching the outcome of your choice and everyone registered to the correct outcome will receive 10 points towards a special leaderboard.
Need Some Tips on How to Climb the Leaderboard?
With many matches in this exciting football festival already completed, you will be behind the proverbial 8-ball to win the top spot. This doesn't mean you still can't win something, and you have nothing to lose by trying.
For those of you that have already been involved in this contest, you may need that edge to get to the top spot. If you are debating which team to pick, give yourself an edge by taking a look at what team is favoured according to BookieSmash, one of the best and most informative betting guides available online.
The odds at all the sportsbooks signaled on BookieSmash are set by betting experts. These experts are no dummies and would not be experts if they did not know what they were doing. If these folks believe a team should win based on the odds they personally set, there is definitely a better chance for this team to win than the team who is listed as an underdog.
This doesn't mean you should always pick the favourites if betting on sports outside of this contest. However, this contest is designed that you get the same amount of points if the team you picked won regardless of whether they were a heavy favourite or heavy underdog.
So what are you waiting for. Add to your summer football excitement by signing up to Everest Poker through PokerNews Canada today. Not only will you compete for a share of €2,000 in cash and tokens, but you also will receive a mind-blowing 200% bonus up to $2,000 on your first deposit!
Please read all the terms and conditions of this promotion at Everest Poker.
Get all the latest PokerNews Canada updates on your social media outlets. Follow us on Twitter and like us on Facebook!